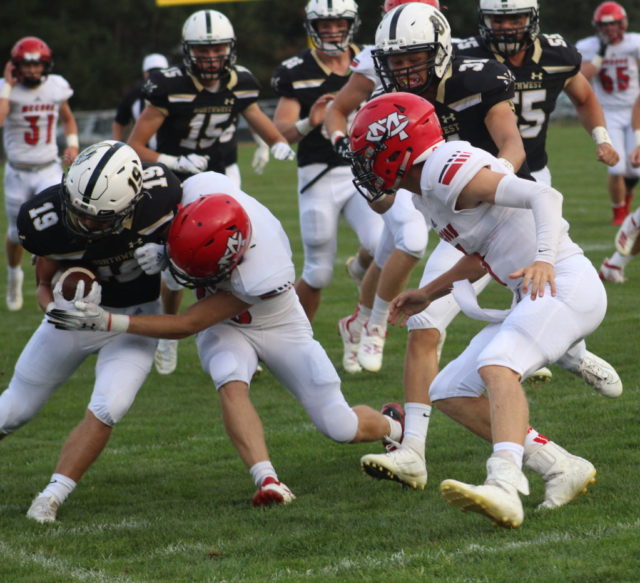 The temperatures should be falling but they aren't. Maybe it's a sign that the games are starting to heat up as we near the mid-way point of the season (that's halftime tonight for the 11-man teams). You can find all of the Striv games right here. Here are five more that will pit some of the best in the state.
Class C-1, No. 3 Adams Central (3-0) at Class C-1, No. 8 Gothenburg (3-0): The first of back-to-back ranked opponents for the Patriots who have allowed just 22 points in three outings and shutout Gothenburg 21-0 last year. The Swedes have been just as good, allowing a single touchdowns in each of their first three contests. 
Cross County (1-1) at Class D-1, No. 7 Fullerton (2-0): Cross County is back in 8-man after a two-year 11-man run. They fade the Warriors after having week of rest after they defeated Palmer 78-28 two weeks ago. The Warriors have had a pair of close wins against perennial playoff teams Arcadia/Loup City and Osceola/High Plains.
Class C-1, No. 7 Ord (2-1) at Central City (1-2): The Bison face their third ranked opponent in four games to start the season, while the Chants come to Central City off a loss to second-ranked Pierce last week. Junior Tommy Stevens is averaging 113 yards/game on the ground for Ord, and CC counters senior quarterback Michael Rutherford who has 429 yards passing and 122 rushing in three games.
Class B, No. 1 Omaha Skutt (3-0) at Class B, No. 8 York (2-1): A simple question will be answered on homecoming at Levitt Field in York. Can the Dukes defense somehow contain Omaha Skutt quarterback Tyson Gordon? If they do they have a chance. The Dukes 42-37 loss last year was the closest Skutt game in a championship season.
Class B, No. 4 Northwest (2-1) at Class C-1, No. 6 Aurora (1-2): The defending C-1 champion Huskies continue their brutal, pre-district schedule with a Viking team that features one of the top defenses in Class B. Aurora's defense will need to be great and there offense will have to score against a Viking defense led by middle linebacker Ty Heaton who is second in Class B in tackles. Rans Sanders is the top punter in the class as well.