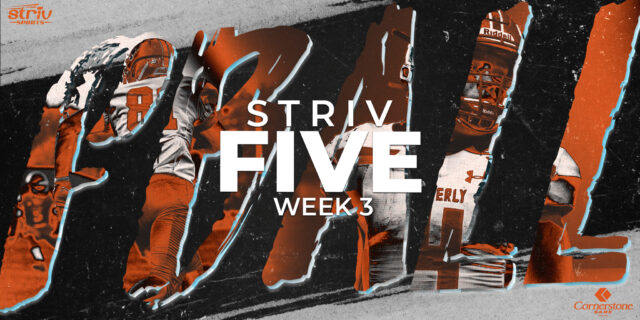 Back for week three and a load of the top games in the state are on the Striv Network. Remember, you can watch on Roku now, give us a download. 

Class A, No. 2 Millard South (2-0) vs. No. 5 Millard West (1-1): Last week Millard South won a slugfest with No. 4 Elkhorn South. They'll likely have another tonight in the Q Street Showdown with the fifth-ranked Wildcats who lost to Elkhorn South on a late field goal.
Class B, No. 9 McCook (0-1) at No. 6 York (2-0): It's almost as if the football gods and Mother Nature knew that Glen Snodgrass and Jeff Gross would coach against each other tonight. First one to 15? 20? A classic grinder: defense, field position, line play.
Class C-2, No. 9 Centennial (1-1) at GICC (0-2): Three early losses for these two teams, all to highly ranked opponents: Aquinas, Fremont Bergan and Sutton. But, come for the history. The Crusaders will play their first ever "on campus" game in school history. That's pretty neat. 5:00 kick!
The Eight-Man Trio: Yeah, it's the Striv Five, but this Class D-1 trio of games all deserve a little light.
Class D-1, No. 7 Neligh-Oakdale (2-0) at No. 2 Burwell (2-0): A matinee kick in Burwell at 3:00. Settle for the physical Longhorns against the high-flying Neligh-Oakdale offense.
Class D-1, No. 9 Amherst (2-0) at No. 8 Elm Creek (2-0): Amherst — who mave have the toughest schedule in the class — woke us all up a little last week with a 28-26 win over Cambridge. Elm Creek won a bruiser 22-20 over Arcadia-Loup City in week one. The Fort Kearney Conference is a meat grinder.
Class D-1, No. 3 Howells-Dodge (2-0) at No. 4 Cross County (2-0): A rematch of the Cougars upset of H-D in the 2019 playoffs. Two great programs. Two great coaches. Expect points and great offense — most of it on the ground.