ST. PAUL — It's likely that St. Paul volleyball coach Matt Koehn-Fairbanks knew the phone calls would be coming this week.
His Wildcats, still a bit under the radar at this time last week, rolled through the Harvest Festival volleyball tournament last weekend in Gothenburg.
So, when his team stayed undefeated and didn't lose a set in six matches over two days to a loaded Class B and C-1 field, his team woke up Tuesday morning as the top-ranked team in the class; ahead of fellow tournament participants that included four-time defending C-1 champion Kearney Catholic, and state-ranked Chadron and Ogallala.
"It was a just a grueling tournament," Koehn-Fairbanks said. "I thought on Friday we played pretty consistent. But then on Saturday to beat Minden and Ogallala and Chadron we had to play very well."
It was the beginning of a 12 games in 12 days stretch for the Wildcats. Tonight, they play Class D-2, top-ranked O'Neill St. Mary's, before heading to the Holdrege Invitational — "St. Paul has never won that thing," the coach said — on Saturday. After a trip to Central City on Tuesday, a much needed one week break awaits.
"We are a little banged up," the coach said. "Some sore ankles and things."
Such is life when you play volleyball in central Nebraska. Each game is a grind. Nothing is given. Not even a trip to Lincoln.
When the Wildcats missed out on a trip to state by .0387 power points last fall, it led the St. Paul coach to print t-shirts with that tiny number on the back for summer camps and workouts. But, he said his team needed little motivation from him.
"Sometimes we do the shirts for fun and sometimes we do them for motivation," the coach said. "But this team doesn't really need anything sugar coated for them. You can't fool them. They just want to go out and win."
So, that's just what they have done in running their record to 14-0 after Tuesday's three-set win over Adams Central. They have yet to lose a set this season.
Most that follow volleyball in the state know about the Wildcat leaders, Koehn-Fairbanks said. Outside hitter Lacey Fox (143 kills, 165 digs) and setter Claira Thede (370 set assists) both will attend Hastings College next year.
"Both great leaders and great athletes for our team," Koehn-Fairbanks said.
But, the coach thinks it's the chemistry and improvement of the supporting cast that has made his team hard to beat so far this season.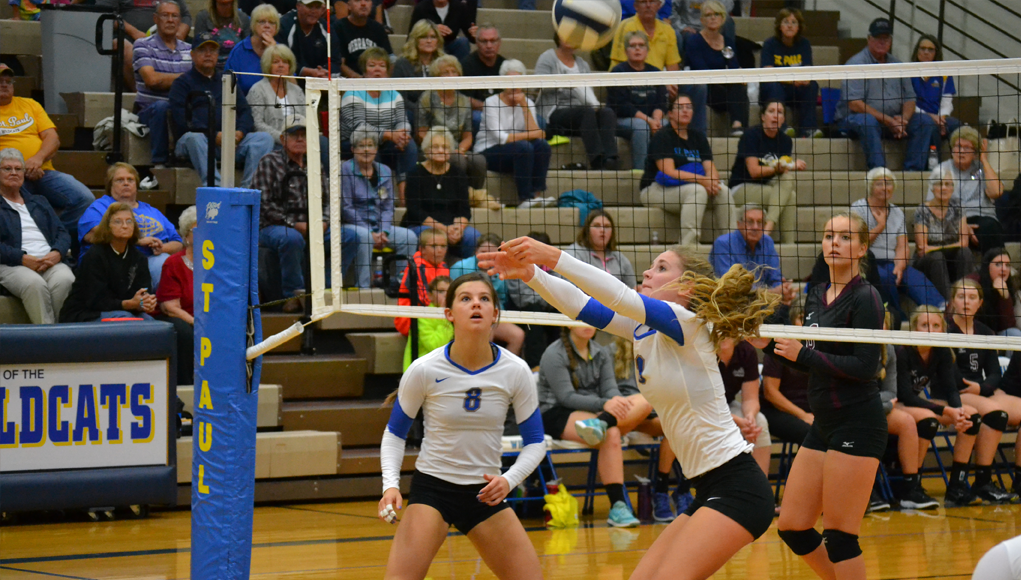 Sophomore Hayley Fox (124 kills, 40 blocks) and senior Jaden Jakubowski (59 kills, 114 digs, 11 blocks) were starters last year. Fox, Lacey's sister, has "just made a night and day improvement," her coach said.
"Jaden tore her ACL last year in our district final (against Kearney Catholic)," Koehn-Fairbanks said, "and she's just getting more comfortable each time we play."
Libero Bailey Lukasiewicz leads the team in digs with 214 and her coach said her play in the back is almost as important as anyone else on the team.
"When you have someone in the back that can serve-receive and play defense like Bailey, it makes everything else easier," Koehn-Fairbanks said. "What has made us so much better is we can have a first touch with Bailey and a second touch with Claira and you can really makes the transition from defense to offense hard on your opponent."
Senior Tahya Jerabek and freshman Brooke Poppert round out the Wildcats starting rotation. Jerabek is second on the team in blocks, while Poppert is fourth on the team at 54 kills.
The other thing that has helped? The bench.
"Our coaching staff has done a great of really keeping things on an even keel," Koehn-Fairbanks said. "And, our bench players are really invested. We have a group of watchers. When there is a timeout or someone comes out of the game, our bench can really let them know what the other team is doing."
And, while the top-ranking seems nice, Koehn-Fairbanks doesn't think his team will look at it much. In a class where just two public schools have won a state championship since 1994, there is plenty of work ahead. In that same 22 year span, only ten public schools have even made the Class C-1 final.
"We don't look that far ahead," the coach said. "Our goal every year is to get to state and win. In our area, we always feel like if we can win our district we can win state title."
---
Striv Standouts
SOFTBALL: Logan Black, Millard West. In the Wildcats second place finish at the Monarch Invitational last weekend, Black threw a no-hitter in a 1-0 win over Millard North that avenged a loss from the Metro Conference final. In reaching the final, she had 16 strikeouts and four RBI at the plate in a pair of wins over Lincoln Southeast and Omaha Central.
VOLLEYBALL: Kalli and Sam Brester, Howells-Dodge. Duo combined for 52 kills in a pair of three-game sweeps over Logan View and Wakefield. The Jags are off to a 10-1 start and ranked third in Class C-2 by the Omaha World-Herald. On Tuesday, they then combined for 35 kills in a 5-set win over Class D-1, No. 5 Lutheran High Northeast.
FOOTBALL: Jordan Flowers, Omaha Central. The senior quarterback was 12-for-16 passing for 218 yards in a 31-28 win over North Platte. He scored on runs of 5 and 1 yards including the game winner in the final minute of the contest.
FOOTBALL: Hunter Friend, Fullerton. Junior running back had 205 yards on 30 carries in a 60-16 win over Wausa for the undefeated Warriors. For the season Friend has 676 yards in four games.
FOOTBALL: Bryce Zimmerer and Ryan Neumann, Creighton. Zimmerer had 41 carries for 227 yards and two touchdowns in a 56-14 win over 2015 Class C-2, 11-man playoff qualifier West Holt in an afternoon game on Friday. Neumann added a 12-for-15 passing effort for 186 yards and four scores for the Bulldogs.
Coaches: Want your athlete recognized as a Striv Standout or featured On the Sideline? Drop us an e-mail to tony@striv.tv or eric@striv.tv. Even better? Enter your stats into maxpreps.com and we'll go looking. We can spot a good performance if it's there for us see.