KEARNEY, USA — It's new territory for The Rewind, this Kearney and Grand Island thing. But with Bearcats adding that Striv logo to their school story, we learned one thing on Friday: if there is a football game you want to win in either town, it's against the other.
And, while Kearney has mostly controlled things in this rivalry — they have won 16 of the last 22 meetings — don't tell that to guys like Noah Urbanek and the other 31 seniors that play for coach Brandon Cool.
Foster was lit tonight.

— noah urbanek (@NoahUrbanek) October 29, 2016
Because until week one of this season, the Islanders hadn't lost since 2012, making this group winless. But a 26-14 week one win erased that pain and set up a 7-2 regular season. The second one on Friday — at 17-0 meatgrinder at Foster Field — sends them to the state quarterfinals against top-ranked Omaha North.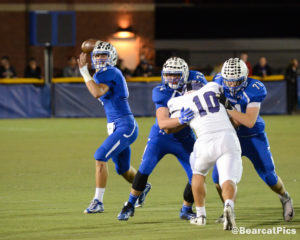 Cool spoke to the media afterward in pain. Somebody in cleats stepped on his foot in the post game huddle. He didn't seem to mind.
"Grand Island has a tremendous offense that is very difficult to defend," Cool said. "For our guys to play like they did tonight was tremendous. I tip my hat to our defensive coaches, they got our guys in the right spot and playing fantastic on that side of the ball."
Oh, that defense.
If you're old enough, it was one of those nightmare late 1980s Oklahoma games where Nebraska would lose 17-3 or 17-7 and John Kroeker would punt 13 times. The Islanders had to do it ten.
They only crossed midfield once, when Trey Grube muffed a punt that could have received a kick-catch interference call. With the ball at the 24, the Islanders got halfway home on an unsportsmanlike conduct call on the Bearcat sideline.
Then, Urbanek huddled his guys. There was 1:54 left in the first half and his Bearcats were up 10-0. On fourth-and-1 from the GI 3, Urbanek, Rudy Stofer and nine other buddies swarmed to Islander Gerard Dunning.
Grand Island coach Jeff Tomlin, a rivalry is always better when the two coaches respect each other, had high praise for the Bearcats.
"They beat us up, we couldn't get much going," Tomlin said. "They are a better football team than the one we played (week one). They were a good defense week one, they are an excellent defense now. Kearney has done a whale of a job coaching those kids up."
On Friday, Grand Island never had a chance. And, Kearney lived to fight another day.
This was pretty special tonight #khsbearcatnation. It was a total TEAM effort. pic.twitter.com/DYW7pHT0uK

— Jay Dostal, Ed.D. (@jaydostal) October 29, 2016
The Upset That Wasn't
Let's face what No. 16 Yutan and No. 1 Centennial wasn't in the Class C-2 playoffs on Friday night in Utica. It wasn't Princeton and Georgetown in the NCAA Tournament. Or, Western Carolina and Purdue.
It was Yutan, a year removed from a C-2 quarterfinal berth and survivors of a brutal schedule that saw them lose to Battle Creek (third seed), Centennial (first seed) and Wilber-Clatonia (fourth seed, No. 1 by all the newspapers) in the regular season.
In a 34-6 rematch win over the Broncos, they played defense, a big goal line stand in the first quarter setting the tone. They ran the ball — 252 yards on 41 attempts — getting three players over 70 yards. They threw efficiently, quarterback Jerrad O'Malley was 5-for-8 for 163 yards.
Yutan coach Dan Krajicek had a nasty film session after that first loss to Centennial.
"I think I broke down 55 plays and we made really bad mistakes on 49 of them," he said. "We knew if we cleaned it up we'd be alright. We tried to show the guys we weren't the same team as we were early in the year. We spent some time this week tearing them down and bringing them back up."
Next stop, St. Paul.
Tigers Still Focused
The drive for The Rewind to Palmer is two lane roads, mostly, with no shoulder. Through Worms and past grain trucks and combines finishing up harvest.
And, then the lights turn on in towns like these are harvest stops for a few hours.
And, the boys waltz through another opponent and take the trip down the sideline when it's all done and get a congratulatory handshake from the mom's and dad's, the other guys in town and the farmers who will go back to the field.
That's 8-man football.
In this little Merrick County town, they got quite a crowd for a 56-15 win over Amherst. One that drew admiring buddies from playoff qualifying football teams in St. Paul and Central City. Football is football, you see.
It gets more difficult now for the Tigers, still undefeated, yet with much to play for. They'll travel to Alma — 44-32 winner over western power Hemingford on Thursday — for a Wednesday night game.
"We had some really good practices during our bye week," Palmer coach Nathan Glause. "We knocked the rust off tonight. I like where we are at."
That spot is the round of 16. Another night to stop harvest. Or make sure it's over.
The Rewind is moving all other recaps to our playoffs pages for the rest of the season. See you Wednesday. Enjoy!
Photos Courtesy of @BearcatPics