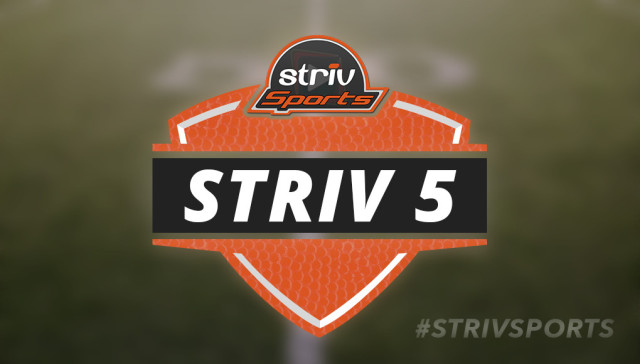 Here's five games (and there are PLENTY of great ones) to watch this Friday on their respective Striv Channels
Gothenburg (2-2) at Cozad (1-3): Two Southwest Conference rivals do battle both searching for a win in their district opener. The Swedes are coming off a 22-7 loss to Ogallala, while the Haymakers lost to Kearney Catholic 41-6. WATCH: Cozad Striv Channel
Fairbury (3-1) at Milford/Dorchester (2-2): Coach Derek Garfield's Jeffs have been a pleasant surprise to start 2015 and a fourth win would be their most since 2009. Sophomore Jacob Johnson already has 818 yards but the Eagles will counter with a defense that is giving up just 13.5 points per game. WATCH: Milford Striv Channel
Clarkson/Leigh (3-0) at Class D-1, No. 9 Howells-Dodge (2-1): One of the best 8-man districts in the state opens up Friday with this Highway 91 classic. C/L has ran for over 1,000 yards in three games led by Brad Bunner who averages 10 yards per carry. The Jaguars, coming off a 62-26 loss to No. 1 GACC, are similar being led by senior quarterback Tyler Polacek.
Due to no internet in their press box this will not be streamed.
Six-Man No. 1 Riverside (3-0) at Six-Man No. 2 St. Edward (3-0): Two teams who have set them apart from the rest of six-man do battle. Riverside brings back three all-state players from 2014's championship team and is out scoring opponents by an average of 70-10. St. Edward has done there damage on the ground, running for nearly 1,300 yards in three games and completing just one pass. WATCH: St. Edward Striv Channel
Class B, No. 6 Aurora (4-0) at Class B, No 4 McCook (4-0): One of the great rivalries in the state, is a big one again. The Huskies haven't missed a beat with new coach Kyle Pederson with an offense led by new quarterback Grant Fox and a defense giving up just 12 points per game. The Bison have been a bit more tested early, with wins over three teams currently 3-1 including a 35-13 road win at then-No. 8 Sidney last week. WATCH: McCook Striv Channel
Channel Seed Game of the Week
Class B, No. 7 Scottsbluff (3-1) at Grand Island Northwest (3-1): Homecoming for the Vikings is a big one as the Bearcats come to town off a 51-28 win over Adams Central. The Cats do it in the ground, averaging nearly 370 yards per contest with senior Brad Johnston and junior Max Mason both over 400 yards on the season. The Vikings average nearly 430 yards of offense with senior quarterback Christian Ellsworth throwing for 917 yards, his top targets being fellow seniors Colton Helgoth and Brandon Gannon. WATCH: Northwest Striv Channel
Check out the Events Page at Striv.tv for all the games on the Striv Network.