WHERE DREAMS COME TRUE — Two weeks ago, Grand Island Northwest was struggling to make a basket in their win-or-go-home district final on their home floor.

Scottsbluff was ahead 13-3, then 31-23 at the half and still by one-point going into the fourth quarter. Then, 150 miles away Grady Griess won a state wrestling championship in Omaha — as did the Northwest team – and when it was announced at the game a switch flipped for the basketball team, too.

The Vikings came back to beat Scottsbluff 58-50, and, well, you knew that already to advance to the Class B state tournament. The rest is history. State champions — in a loaded Class B field — and a weekend they will never be forget which ended with Saturday afternoon's 49-43 win over conference mate Crete.

"It's a surreal feeling," Viking senior Whitney Jensen said. "We said from the beginning of the season we wanted to get here. We worked our butts off to get here. Everyone has contributed to this. Our bench played their role, our coaches have been great.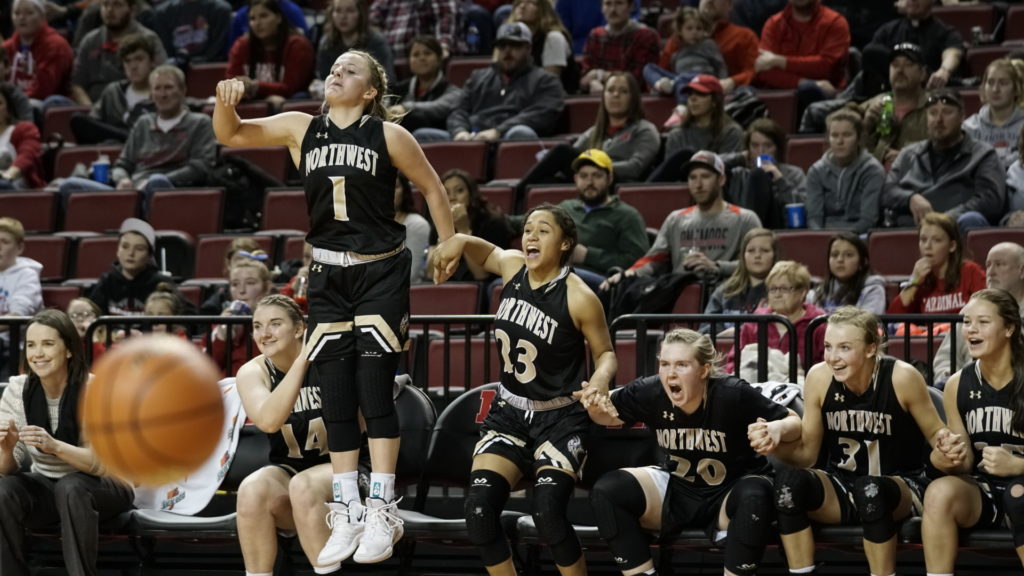 "It's really awesome."

The Viking revenge tour had its beginning in December when they played their three state tournament opponents in the first four games of the season. They were 2-2 on December 11th after a 48-31 loss to Waverly, a one-point loss to Seward and wins over Norris and their finals opponent, Crete 45-42.

They quickly knew a season like this was possible if everyone pulled on the same rope.

"We feel like every year we have one of the toughest schedules in Class B," junior Whitney Brown said. "Starting with those four teams just made us work that much harder. We knew the teams we were playing were teams that would be down here at state."

So, to work they went and ran off some wins and it seemed few noticed. They gave Class C-2 champion Hastings St. Cecilia their only loss, but were ranked ninth in Class B coming into the tournament with No. 1 Seward, No. 2 Waverly and No. 3 Elkhorn all on their half of the bracket.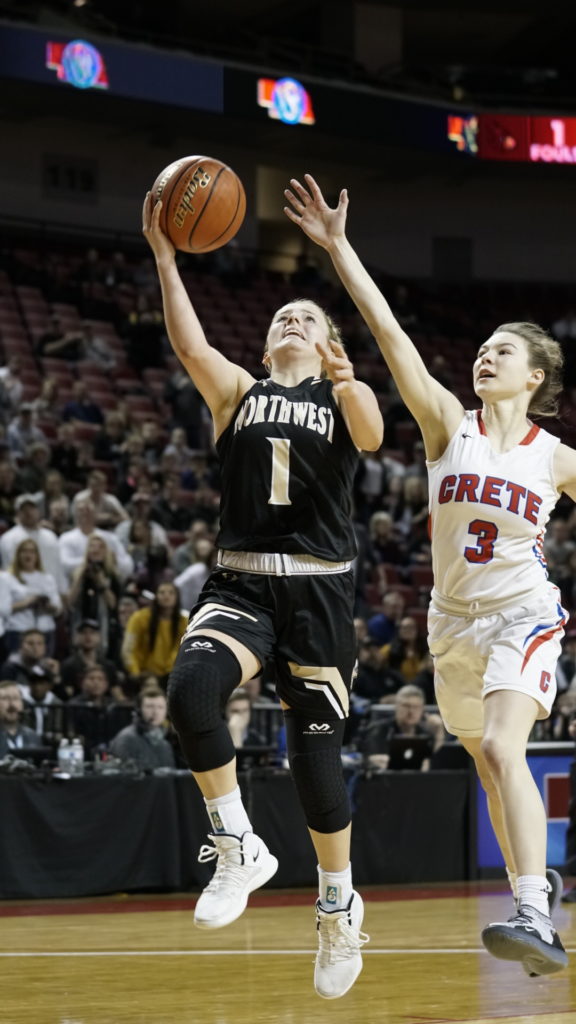 The Vikings just put their head down.

They controlled the Seward game nearly from the get go. The Jays took an early third quarter lead but Northwest responded and pulled away for a 58-51 win.

Friday was different. Waverly jumped to a 22-6 lead 10 minutes in the game. But, the Vikings scored 11 in row and cut the halftime deficit to 24-19. Then controlled the second half. Again. Brown scored 12 of her 19 points in the second half of a 49-41 win.

It was a familiar spot said guard Megan Cooper.

"We were down big to them the first time we played them," she said. "We just came together and said this isn't happening again. We just needed to play our game and that's what we did."

Saturday, then, was a classic battle. And, quite frankly, it was summed up by coach Russ Moerer's decision to play Cooper — at 5-foot-6 — on 6-foot Crete Super-Stater and Creighton commit Morgan Maly. The Vikings played it the same way in previous matchups.

The coach smiled.

"She's a pretty good defender," he said. "She guarded her all three games and each time she did a heck of a job, but none better than today."

It completely signified this state tournament run for the Vikings.

They don't look like the team who is going to win in warmups, but then you had to match their fight. Their will. Their hustle. Their bench that completely knew their role in this whole process.

And, no one else in Class B could do it.

"I think we knew in those first couple of games of the season that we could compete (for a state title)," Moerer said in the post game press conference. "It was pretty obvious that there were about seven or eight teams that could win the whole thing. We played them early and we felt like we belonged."

About 20 minutes had settled and Moerer sat in a chair down a long hallway in the emptiness of Pinnacle Bank Arena. He flatly summed up the personality of his basketball team over the last few months. A team that so many enjoyed watching.

"I don't think I'd pick anyone else to come with me if I had to get in a street fight," he said.

There was never any quit in these Vikings. And, they proved that when you don't give up, you're wildest dreams come true.