AURORA — Wade Halvorsen knows the stigma of the weight room at the high school level: that it is mostly for football players.
But, he quickly set out to change that when he arrived at Aurora for the 2015-16 school year. Like many other strength and conditioning coaches in Nebraska, Halvorsen wanted a weight room for everyone.
He wanted to weight room that was uncommon.
"When I got here, the weight room was mostly for football players," said Halvorsen, who played football at Peru State while majoring in K-12 Health. "We wanted to get involvement from all sports. And, then we wanted kids working on movement based exercises.
"The goal is to create uncommon habits resulting in uncommon results."
So, what did Halvorsen do to try to make his plan work? He emptied the weight room in an effort to keep his athletes from standing around while doing workouts.
"The first thing we did, was we sold some stuff," Halvorsen joked.
They also had plenty of assistance from partner NOVA Fitness Equipment to incorporate the use of the highly versatile Vertimax machine in the weight room. Dave King, the Nebraska high school specialist for NOVA estimates that they work with some 160 high schools throughout the state — from Omaha to the panhandle.
The implementation of the Vertimax and equipment changes put Aurora on the leading edge of technology in their weight room.
"When we go into a school, we look at servicing every athlete," King said. "Whether that is a female in junior high or a senior offensive lineman on the football team. With the Vertimax, we have just the tool to do that."
Halvorsen wishes he could make one change to his set up in Aurora. "The only problem I have is I need a couple more," he said.
The change has seemed to work, and it hasn't just benefited the football team, which played in the state finals in 2015. The boys basketball team has advanced to two straight Class B semifinals. And, last fall, the girls cross country team won the Class B state title.
Next fall, eight Husky athletes will play sports at the intercollegiate level, including three Division I athletes: Austin Allen (Nebraska football), Dalton Peters (Air Force track) and Jonna Bart (South Dakota, cross country and track).
All things that had a little bit of their start in the new Husky weight room.
"We try to get all of our head coaches on board with what we are doing," Halvorsen said. "We don't create thinks for a specific sport, really, but you have certain exercises that help in some sports more than others."
More importantly, you must have kids willing to put in the work. That has happened quite well for Aurora.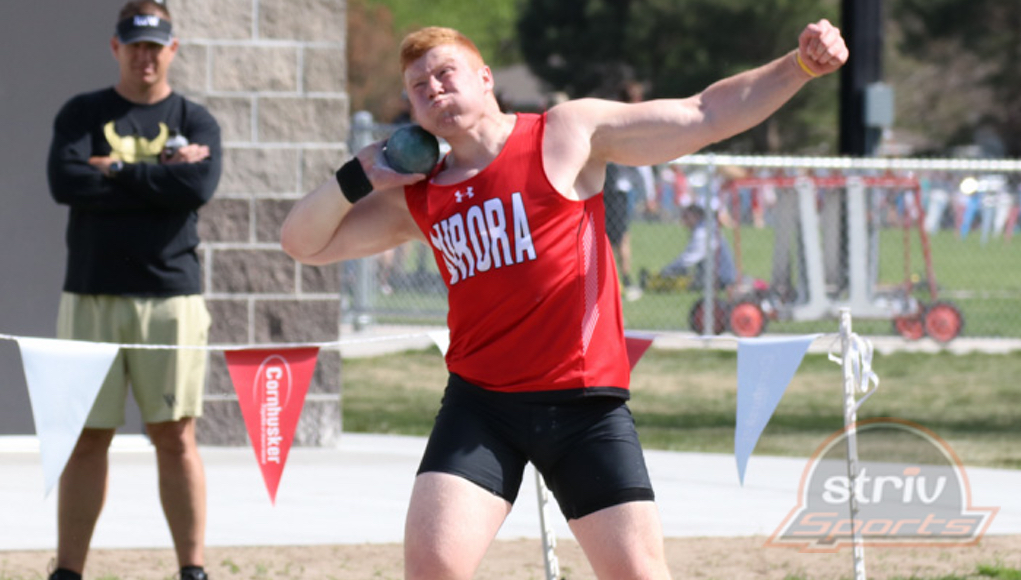 "Most of our kids, you tell them what to do and they will do it," Halvorsen said. "And it's not just the biggest and strongest kids either. You have a girl like Jonna who has five or six records here."
Bart, a member of the state cross country team, has the fastest 3,200 meter time in Class B heading into the state meet this weekend at Omaha Burke. Her district time of 11:45.26 is just more than a second faster than Whitney Riesen of Scottsbluff.
The Huskies also have the leading time in the 3,200 relay where Bart teams with Kennedy Kredjl, Emily Standage and Adyson Narber and they hope to improve on their 2016 silver medal in the event.
In all, the Huskies will take 17 athletes in 19 events to the State Track Meet this week including Peters, who is second in Class B behind Nebraska football commit Cameron Jurgens in the shot put and discus. Defending girls pole vault champion Keri Oswald also returns for a chance at a second straight title.
It has all happened with a little help from a new dedication to strength training.
"I think really the biggest change for us has, hopefully, been knowledge," Halvorsen said. "We want people more involved and we want our athletes to be more explosive.
"There has been a tremendous buy-in factor from our community and NOVA has been great as well. They are great educators for our coaches."
For his part, King said, NOVA takes a simple approach where they try to be part of the school's team.
"Our goal is to get the coaches and staff the right training tools," he said. "They are the builders of students and athletes and they need the right tools. So, if we are a team with them we can go to administrators at the school to show how we can train their students safely and efficiently."
In Aurora, it's been a formula that has added up to success for everyone not just a select few. A formula that has proved to be uncommon.