WATCHING THE GAME ON THE INTERNET — This is a full Rewind confession coming up.
We interviewed Centennial coach Evan Klanecky and wide receiver Jackson Hirschfeld last Friday night for a Class C-2 championship game preview. And, then looked the notes over.
Those Centennial guys love each other and football much we didn't even really talk about football. So, these words were going to come out whether Hirschfeld caught that conversion pass from Wyatt Ehlers or not.
He did. Watch it, if you like.
The two-point WINNER for @CHSBroncoFB (@cpsbroncos). That's @EhlersWyatt to @JackHirschfeld3 for at 29-28 OT win in the Class C-2 title game! ??? #nebpreps pic.twitter.com/mdoGvsiurB

— Striv Sports (@strivsports) November 20, 2018
So, yeah, the Centennial Broncos won the 2018 Class C-2 state championship over the monument of a football program that is Norfolk Catholic, 29-28 in overtime. Both teams were so, so good. Neither really deserved to lose.
It might have been the greatest high school game they have ever played in Memorial Stadium.
But, there was Jackson Hirschfeld, in the corner of the end zone jumping over the top of Knight star Dylan Kautz for the game winner. And, I could only think about what he said last Friday when I was sitting in my car furiously scribbling notes, because he was teaching me something.
"We've been playing together since we were so little," he said of him and the 18 senior classmates he got to ride home with on the bus. "Saturdays and Sundays out in the backyard. Recess. It's been a honor to play with these guys. I wouldn't want to play with anyone else."
So, yeah, it feels good that Jackson and his buddies got the bigger and better trophy this year after losing in the finals to Yutan last season. But, I'm not sure it will matter in a few years. Because, win or lose, the Broncos have already won at life and what high school football is supposed to teach.
Heck, Klanecky almost admits he was spoiled because he got to wear a hat and call the plays.
"It's pretty hard to put into words what I think of this group," he said, Friday. I was still scribbling. "Almost none of it has to do with football. The relationships we have, the work ethic of these kids and the trust we have in them is hard to describe.
"I'll always remember the other stuff. Going to football camps with them and hanging out. That they put in all the work to go with their talent. They are just a special group."
And, you almost could get the sense that Klanecky knew as you watched on that tiny screen. You could see the calm in his stare when the Broncos went out on the field, down 28-21 in overtime. And, so the trust showed up.
On third-and-17, Ehlers ran for his life to the 2-yard line and then threw a little hitch to Hirschfeld on fourth down like they probably did a 1,000 times on Saturday or Sunday or at recess. Then, they did it again to win.
Don't think it was just those two that Broncos needed for this one, though. Mercy, was there something for everyone.
The tough running, big catch, and an early punt save from Caleb Horne. The play of the line — both ways — that they should all see there names here: Garrett Fehlhafer, Caleb Cast, Kalten Bauers, Cody Bender and Cole Gocke. Yeah, Kautz had 140 yards, but it took him 31 carries.
The pick-six from Max Tomes that changed the complexion of the game right after halftime. And, the big sack from Sid Farley that forced NC to punt on their last possession of regulation.
It was all there.
Hirschfeld was ready for it last week. In fact, he couldn't wait.
"I can't tell you how much fun this has been," he said. "To play for Coach K has been awesome. I am so grateful to have played with these guys. It will be bittersweet to see it end."
It says here, Jackson Hirschfeld, it's a little more sweet than bitter. But, the lessons were the same no matter what.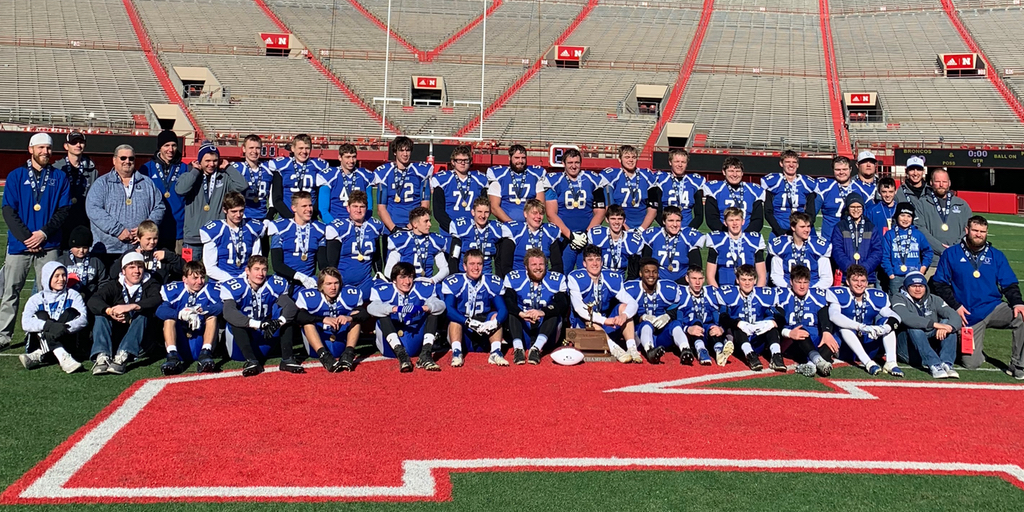 Baylor's Big Show
They tell us in the media, not take sides or be friends with the players we cover. The Rewind has always called hogwash.
So it goes with Aurora record setter Baylor Scheierman who is a better kid than he is a football player and who broke all sorts of records in the Huskies "Super Tecmo Bowl" season that ended on Tuesday at sunset with a 49-7 win over Ord for the Class C-1 title.
It was pretty obvious after about three weeks of football that the class was headlined by Aurora, Ord, Pierce and Wahoo. Fair enough. The Huskies beat Wahoo twice: 55-21 on September 7 and in the semifinals 35-10.
They didn't get a shake at Pierce, who was upset in the quarterfinals by Bishop Neumann. They finished 10-1. That Neumann team that shocked Pierce was no match for Ord in the semis when the Chants took them down 37-0.
Ord came to Lincoln having outscored their three playoff opponents 131-28. QB Jesse Uldrich was something else in these playoffs and most thought this would be a game where the Chants could give Aurora some fits.
And, then they kicked off.
The Huskies scored on their first possession and the Chants had an early answer to lead 7-6 but the Aurora defense was more than up to the rest of the challenge. Ord finished with 104 yards of offense on 42 plays as the clock started running about midway through the third quarter.
Scheierman? A pedestrian 17-for-25 for 189 yards and four touchdowns.
"He is the ultimate competitor," said Aurora coach Kyle Pederson. "He drives people to be great."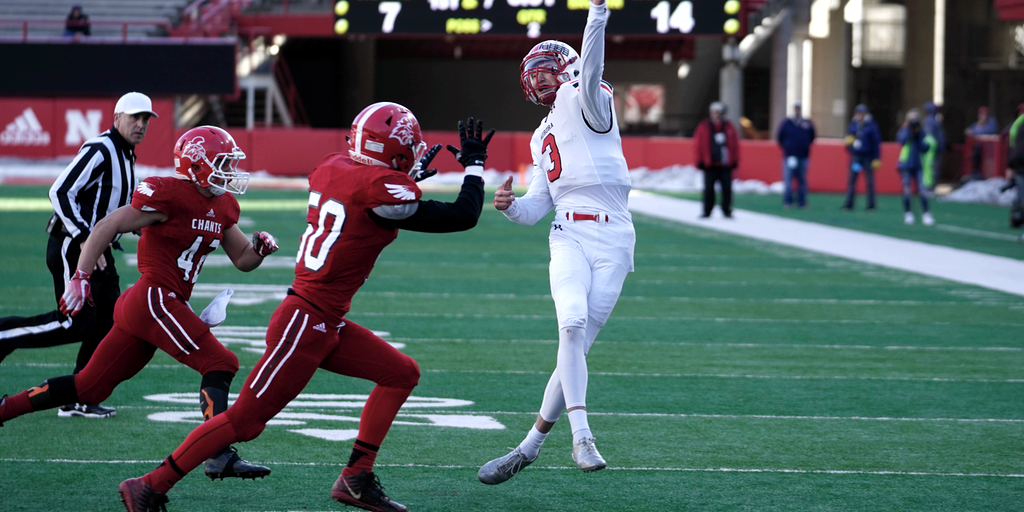 Super 8
You'd have to go back a long way to find to greater individual performances in 8-man title games than the pair that Johnson-Brock's Ty Hahn and Creighton's Bryce Zimmerer turned in on Monday.
Both with their teams facing maximum adversity.
In the morning game in Class D-2, Mullen sprinted to a 20-0 lead over J-B behind three touchdown runs from Lane Edis. Then, the Eagles moved Hahn to running back in their zone-spread scheme.
And, boy did he deliver. He finished with 12 carries for 120 yards and seven catches for 116 yards while accounting for three touchdowns and two second half interceptions as the Eagles pulled away for their first state title in school history 56-26.
Then, Zimmerer one-upped him.
Zimmerer watched as his cousin and quarterback, Brayden, was carted off the field with a concussion late in the second quarter. So, Bryce went to coach Zac Kliment and said he'd take over and to just run the same play the rest of the game.
While Kliment didn't exactly listen to the same play part, he was pretty closed. Bryce carried the ball a Class D-1 record 54 times in the championship game for 320 yards and scored the game winning touchdown with just over four minutes left. In all, Creighton ran 76 times for 501 yards in the 32-30 win.
Try to wrap your head around that one.