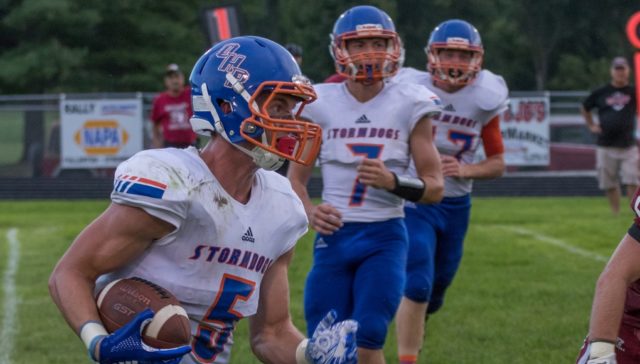 NOWHERE FAST, GRAND ISLAND — The Rewind tried to calculate the last time we missed a game on a football Friday night. Best we could figure, it was September 3, 2004 when I became a dad.
We went to the hospital early on Thursday morning for a scheduled induction, but stubborn Addison — turns 14 today — didn't come until early Friday at 4:24 AM. I remember watching a Texas A&M game with my dad. Twice.
So, this Friday, was a little different, but worth it since we took the clan to Old Dominion at the State Fair. (And, someone had the #nebpreps fully operational on Twitter) Saturday's weather turned it into an unbelievable football-free weekend. At least the stuff we cared about anyway.
But, man did the players put on a show on Friday.
It's kind of hard to find a real good place to start, but easy to make the trip up Highway 14 where our game of the week featured Class D-1, No. 9 Fullerton hosting No. 10 Osceola/High Plains. The Warriors, undermanned with only 14 players, jumped to a 20-0 lead early in the second quarter, but OHP fought back.
Junior Keaton Van Housen ran 22 times for 269 yards — his second performance of the season over the 200 yard mark — and scored six touchdowns in the Stormdogs 44-32 win.
"I just think it was the kids' determination," Osceola-High Plains co-head coach Greg Wood told the Grand Island Independent's Dale Miller. "We finally got a little success here and there, and we raised our head up and 'here we go.'"
The season as young as the Stormdog program which got its start just after the new year when Wood and Osceola coach TJ Nielsen started drafting up ideas for their new program. So far, so good.
Up next, unbeaten Ravenna.
Let's Rewind
Who knows where to start on the rest of the results from Friday. There are a bunch of places we can go, so we'll just list them off and then maybe give a little more detail: Wilber, Kearney, Central City, Anselmo and York.
Wilber — The result may have been a bit of a surprise for those who don't live in Sutton. For those that do it may have been validation. The Mustangs, ranked fifth by the Omaha World-Herald, held eighth-ranked Wilber-Clatonia to 31 yards in a 38-0 win over the Wolverines. The thing that caught the Rewind — in a class loaded with Centennial, Aquinas, Norfolk Catholic and others? A thought from Wilber coach Lynn Jurgens.
"They did everything and dominated everything," Wilber-Clatonia coach Lynn Jurgens to the Lincoln Journal-Star. "Wow. There was a lot of speed and great execution. One of our coaches said at halftime they reminded him of our (state championship) team in 2016."
High praise for the Mustangs. Very high praise.
Kearney — Aurora basketball standout Baylor Scheierman can also quarterback. The South Dakota State hoops commit set the Nebraska 11-man state record with eight touchdowns passes in the Class C-1, top-ranked Huskies 60-21 win over No. 8 Kearney Catholic.
His stat line wasn't too bad either, going 26-for-44 for 504 yards in the win. The Huskies have taken the class drop down to C-1 quite well, averaging 63 points a game on offense. If they can do that again this Friday, look out. The Huskies host No. 3 Wahoo, who have given up 19 points in two games.
Central City — It might take you a little while to find a report on the Central City, Columbus Scotus. So, we'll just give you the Bison Hudl film linked on MaxPreps. The Bison racked up 417 yards of total offense and quarterback Michael Rutherford carried over his excellent play from the Bison's week one win over St. Paul.
Rutherford may have been even better against No. 9 Scotus, throwing for 166 yards and running 25 times for 151 yards in the win.
Anselmo — Class D-2's top team was in trouble for a half on Friday. But Lane Edis and his powerful line changed that in the second half as they pulled away from the Coyotes for a 52-20 win.
@MullenBroncos Lane Edis had 276 yards tonight! #GreatJob offensive line! #epicfootballcamps #eightman pic.twitter.com/lelruMBJGx

— Epic Football (@epicteamcamps) September 1, 2018
The Yotes did a masterful job of trying to play keep away (Mullen had the ball for just under 15 minutes), but Edis rumbled for 280 yards on just 15 carries and scored four times including a 71-yard scamper. Edis' 490 yards through two games leads the state, Van Housen is second.
York — We knew the Dukes, defending champions in Class B, would be a tough out as we began this season. And, after an easy win over Alliance to open the season, most thought that sixth-ranked Blair would be the first test.
Yeah. Not so much.
The Dukes scored on their first six possessions, led 42-0 and then pulled their starters in preparation for a game this Friday against third-ranked McCook, before winning 50-28 against the Bears.
Nebraska recruit Garrett Snodgrass ran for 113 yards on nine carries and completed five passes for 126 yards in the win.
Godspeed, Class B football. The Dukes look focused, but the next two weeks should tell you even more. After McCook? No. 2 Omaha Skutt.
Future Cast
The tires might not get much workout this Friday with three games involving five Striv schools highlighting our action. McCook, 2-0 after a 35-21 win last week over Northwest, travels to York. Wahoo, ranked third in Class C-1 will try to slow down high-flying Aurora. And, what gives in Sutton when they host unbeaten Freeman? The Falcons have not given up a point and the Mustangs just seven in the first two games of the season. The Falcons are newly ranked in Class C-2.