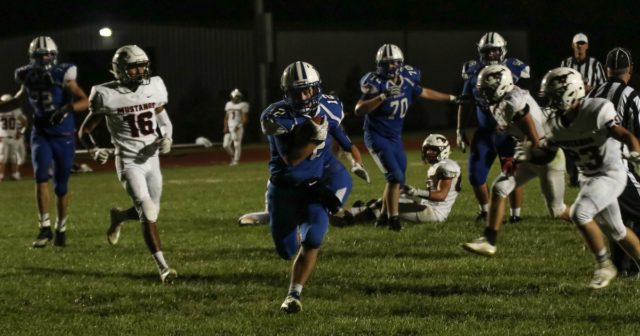 UTICA — The corn is nearing harvest ready as you see it driving down the interstate and then hitting the "spur road" into Utica, where the flashy high school doesn't look like something for a farm town.
Eh, we are all tech-y these days. The Rewind hears you can stream football games on the Internet. Who would have thought.
But, that football team at Centennial High? Now that's one that is mature and old school tough. Evan Klanecky's bunch would fit in just fine were it 10, 20 or 30 years ago.
It also helps to have 19 seniors who have not lost a regular season game since they were freshman.
"We don't have to do very much cheerleading," Klanecky said. "They stay focused, they know what to do. And, they are great with our younger players."
In a 41-22 win over then No. 3 Sutton (the Mustangs are every bit a team who will make a playoff run) on Friday night the Broncos did every little thing right, almost like they had been there before.
Consider:
They jumped to a quick 14-0 lead, mixing in a stop deep in Sutton territory, when quarterback Wyatt Ehlers scored on a 4-yard and then connected with Max Tomes for a 20-yard touchdown pass.
When Sutton drove deep into Bronco territory on their next possession, Tomes took a tipped pass 87-yards for a score.
Sometimes the difference between good and great — ask Scott Frost — is making a little play big like Tomes did in that moment; 20-0 is much different than 14-8.
When Sutton countered on their next drive on a Jackson Perrien run, Ehlers went 70 yards — the play will be analyzed heavily in Clay County, it appeared he was down by contact but there was no whistle — on the Broncos next play for a 27-6 lead.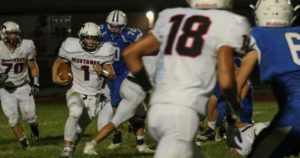 "We coached motor and effort and mentality this week," Klanecky said. "And I am super proud of these kids for how they came out and attacked this game like we coached them to this week."
And, let's make it clear here. Sutton has a very fine football team. They outgained Centennial 462-341. They held Ehlers — an 80% passer coming in — to 12-for-25 and 108 yards. But it was four turnovers they couldn't overcome on Friday.
"I dipped into Huskerland Bob's article about tonight kind of being a semifinal type of night in C-2," Klanecky said. "This was a semifinal type of game.
"Sutton has a damn good football team."
Let's Rewind
Defending champion York's foray into play the other top-two teams in Class B proved a winless endeavor as they were defeated by Omaha Skutt 42-37 on Friday night. It says here, the Dukes might still be the toughest out in November.
North Bend Central's seniors had won seven games coming to 2018. Now, after nipping GICC 41-37, the Tigers are 4-0 heading into district play and if the playoffs were Friday, they'd be the No. 1 seed in Class C-2. To finish the month, it's home games against Twin River and Centennial.
Aurora and Northwest is always everything high school football should be. The Huskies took a classic on Friday night.
Omaha Burke has two big recruits and the state's best team — it appears. They knocked off the defending champs on Friday. Oh yeah, Millard West and Millard South was pretty good, too.
View this post on Instagram
Sideline Special
For the son of a football coach with three daughters it probably won't get much more fun than last Friday in Utica. See, the girl taking most of these pictures belonged to me.
Getting prepared for @StrivTVU Academy @hcallihan at Game of the Week. What do you think? pic.twitter.com/vtJYl67MZO

— Tony Chapman (@tony_chapman76) September 15, 2018
So anyway, this little girl — who is not so little anymore — came to walk the sidelines with me last week. She's in eighth grade and loves to dance and to sing mostly. But, she also signed up to help with the yearbook this year.
Our Ben Mohorn gave us all — we were also joined by a StrivU Academy student from York — a crash course in shooting pics on Friday night. There's no better way than to do media and journalism then to just get out there and do it.
And, so when you see that shot of Ian Schlueter scoring in the third quarter or Jackson Perrien trying to run through the Centennial defense know that there was a girl behind the lens that was just hanging out with her dad on a Friday night.
But it meant a little more to him than she'd ever know.