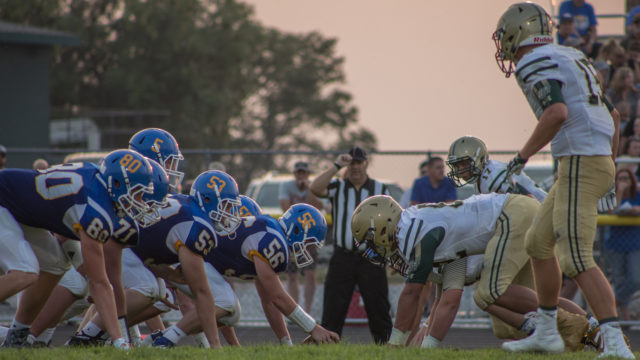 ST. PAUL — Central City and St. Paul have changed tradition under coaches Troy Huebert and Rusty Fuller, respectively. Both had struggled prior to their arrivals, and now, they are working on building a tradition such that a "down year" might be one like St. Paul had last year when they lost to Central City for the district title and finished 5-4.
In new classes now, they met this time in the season opener, where Central City eked out a 16-7 win after spotting St. Paul a touchdown drive — that looked way to easy — on their opening possession.
"After that we responded and dug in defensively," Huebert said. "This group showed some resiliency and that has really been a focus of our program.
"They did the exact same thing to us last year. But, every team is a little bit different so you don't know how they will respond. We have some seniors — some good leaders — that got us going."
What carried the Bison? A new quarterback — junior Michael Rutherford — cementing Huebert's prowess for coaching solid signal caller play. To be sure, Rutherford wasn't fancy. But, he was tough.
He ran 29 times for 46 yards. That's not a typo, but it's a tribute to what he faced on Friday night — an offensive that is growing with him, and a St. Paul defense that is really good now and could be even tougher as the season moves along. Rutherford also completed 12 passes for 122 yards and the clinching 38-yard touchdown to Dyllan Lee on fourth down with 3:18 left.
"That's one of his greatest attributes," Huebert said. "He's not very big, but he's a physical runner. He loves to run the football. He makes really good decisions and when he has time he can throw it.
"For his first varsity game, things are moving a little bit faster than last year in JV. But I am really pleased with how he played the first time out and I think he'll only get better."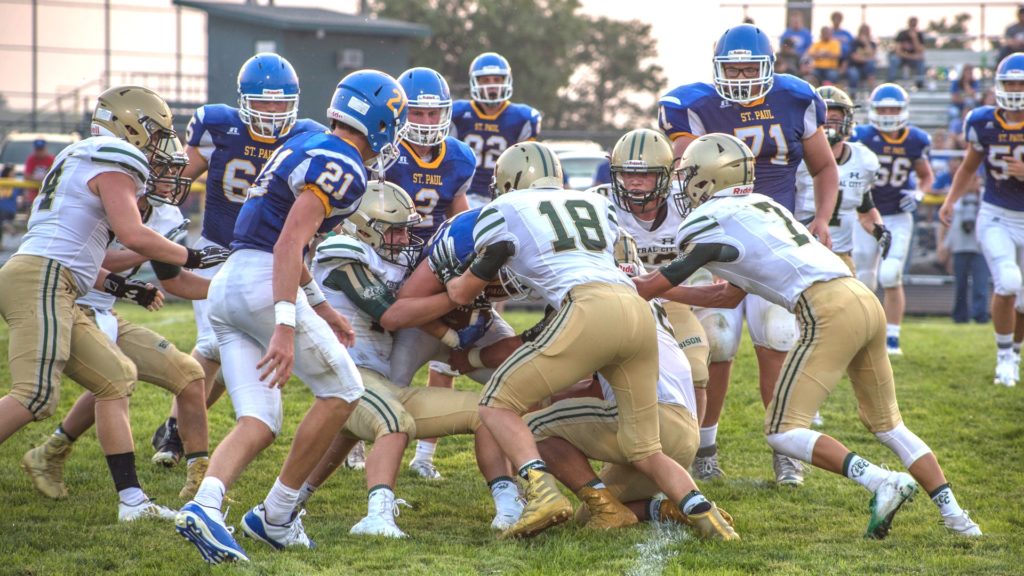 That's exactly what Fuller hopes for his team as well, that played a defensive gem (they allowed just 195 yards of offense and nine first downs). On offense, they started six sophomores and a freshman.
"Hopefully we can bounce back and get it going next week," Fuller said. "When you start six sophomores and a freshman we are going to take our licks, but it was a great learning experience for them. Now they know they can learn from their mistakes and what this fast-paced level looks like.
"I think you make your biggest gains from week one to week two, especially when you have a young team so they will continue to grow and get better."
Let's Rewind
We are going to switch it up on the readers a little bit this year instead of just providing you a link, but try to swim around each class as much as we can to see what what going on.
We already had some monster games in the Class A season, as Creighton Prep (12-7 over Omaha North) and Bellevue West (49-43 in double overtime over Lincoln High) may have set up a "big four" early in the season (along with Omaha Burke). Who comes after that could be anyone's guess.
Here are some thoughts: Lincoln High is still right there after taking BW to the wire; the Links will find out even more about who they are this week when they face Grand Island (who train wrecked Kearney 44-0); lest we not forget about Millard West, who had a domination of their own against cross town rival Millard North.
Chalky: Class B was off to the start most folks expected: York, McCook, Scottsbluff, Omaha Skutt and Grand Island Northwest all dominated opponents. The fun starts this weekend: Northwest travels to McCook, York gets Blair and it continues over the next few weeks of non-district play. Despite only 23 teams in Class B this it could be as deep as it has ever been.
Surprises: We'll just put Class C all together (wouldn't that be fun anyway?) since the cross-class matchups opened some eyes on Friday. Class C-1, No. 2 Pierce ran all over (433 yards!!) Class C-2, top-ranked Norfolk Catholic, 48-29. Then, C-1 Scotus topped Class C-2 Aquinas. Either Aquinas or Norfolk Catholic will be 0-2 and someone is gonna be spitting mad at practice on Labor Day. Aurora, however, faired just fine. The top-ranked newcomer to C-1 scored 66 in a big win over Adams Central.
New Beginnings: A pair of new programs got off to solid starts in Class D-1. Exeter-Milligan/Friend dominated Tri-County 52-6 and Osceola/High Plains defeated Palmer, 66-34.
Offer Time
Before the college season has started, Nebraska coach Scott Frost has delivered preferred walk-on offers to a pair of in-state lineman. York's Noah Stafursky and Millard West's Cole Aniello. You can watch both of those big fella's on Striv whenever you wish.
I couldn't be more excited and humbled to say that I have been offered a walk on opportunity from THE University of Nebraska! #cornfed #B1GREDREVIVAL🌽🌽 @coachwilhite @GregAustin2717 pic.twitter.com/esQx5L6ZhB

— Noah Stafursky (@noahdukes19) August 25, 2018
More than excited to have been given a walk-on offer at the University of Nebraska! #GBR 🌽🔴⚪️ pic.twitter.com/VzAmoA6uNY

— Cole Aniello (@cole_aniello) August 25, 2018
Future Cast
We'll find out a whole more about how the season might shake out in week two. Here are a few we have our eye on (in no particular order or class): Scotus at Central City, Grand Island at Lincoln High, Northwest at McCook, David City Aquinas at Norfolk Catholic, Millard West at Omaha Burke, BRLD at Ponca, Sutton at Wilber-Clatonia, Blair at York.