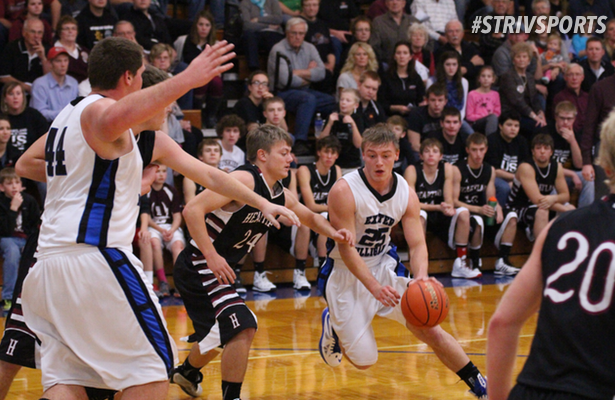 Trying to analyze the basketball season just eight days in, is kind of like making an announcement on who will be the playoff teams in football after the first game. You just can't do it.
So, as we near Christmas and the holiday tournament season, things will start to weed themselves out as the calendar flips. But, in the mean time, some Striv schools have asserted themselves quite nicely in the early going.
In Class A, preseason No. 5 Omaha Central is 3-1 with just a blemish to second-ranked Omaha South. The Eagles take their talents on Striv tomorrow night when they host seventh-ranked Papillion-LaVista (4-0). Aurora and York — both in the preseason top-ten in Class B — have early 3-1 and 2-1 records, repsectively.
Fresh off their state football title, Boone Central/Newman Grove is off to a 4-0 start and ranked seventh in Class C-1. They'll host fellow unbeaten Twin River (3-0) on Tuesday night on Striv as well. You might not find a tougher earlier schedule than Sutton's in C-2. The Mustangs (2-2) have already played unbeaten High Plains and this Saturday will take on No. 2 Hastings St. Cecilia in a game that will also be featured on the Sutton Striv channel. Southern Valley (preseason No. 5 in C-2) is off to a 3-1 start as well.
BDS (5-0), High Plains (3-0), Heartland (4-1) all are in the top-ten in Class D-1, with Exeter-Milligan (2-1) and Riverside (2-1) ranked in the top-four in D-2. Exeter-Milligan and High Plains will face each other in a key Crossroads Conference game on Friday.
On the girls side, Millard West (3rd in Class A; 3-0); Fairbury (8th in Class C-1; 3-2); Exeter-Milligan (5th in D-2; 4-0) and Meridian (10th in D-2, 3-1) are all ranked.
Some of the state's and region's top wrestlers will be in Grand Island on Friday for the big pre-Christmas Flatwater Fracas at the Heartland Events Center. Five Striv schools — Aurora, Central City, Grand Island Northwest, Madison and Syracuse — will all participate.
Rewind Shout Out's
– Thirty-four Striv athletes were named to the Omaha World-Herald Super State football team
– Aurora's Allison Penner, E-M's Amber Pribyl and Meridian's Blair Hofstetter were named to the OWH volleyball all-state list
– Former Schuyler football standout Kyle Emanuel was named the FCS defensive player-of-the-year and winner of the Buck Buchanan Award. His North Dakota State Bison face Sam Houston State in the FCS semifinals on Friday night on ESPN2.
The post-holiday Rewind will return on January 7th — hopefully with a whole bunch of hoops thoughts — ten pounds heavier.
This slideshow requires JavaScript.