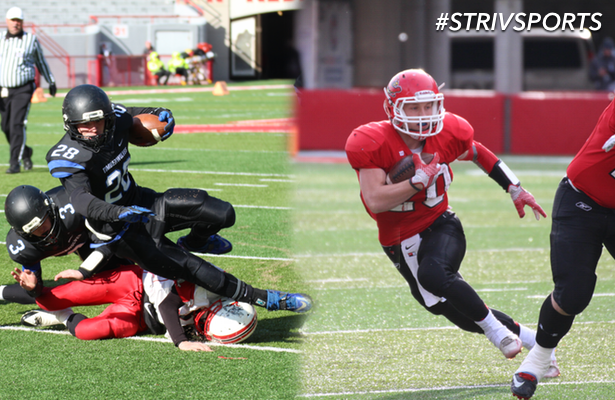 They'll talk — for long time, probably, in Boone and Fillmore Counties — about the football players from the Class of 2015 and what they meant to their schools and communities.
Rarely did they lose — four times, combined, in the last three years — at Boone Central/Newman Grove and Exeter-Milligan. All four of the losses to the eventual state champion in their class. Let that soak in for a minute.
And, in the space of The Rewind, we won't ask for a better ending to the fall sports season than Wyatt Mazour's 384-yard, five touchdown (he added a sixth on an 83-yard punt return) performance in BC/NG's 54-14 win over Ashland-Greenwood in the C-1 finals on Tuesday afternoon.
A day earlier, Exeter-Milligan won their 26th game in a row when they defeated Anselmo-Merna for the Class D-2 title, 40-26. Kyle Jensen capped a marvelous senior season with a 187-yard, three touchdown effort as the Timberwolves won their second straight title and finished the season in Lincoln for the third consecutive year.
Both were "stars-of-the-week" on our Prep Huddle LIVE show earlier this fall. Mazour going so far as to send us his Hudl clip via Twitter. We had plenty of fun this fall and hope for some more this winter — possibly with those same two guys, who do things pretty well on the hardwood as well.
Those two Striv champions capped a lackluster group of state final games where the middle four games of the six title contest featured the 35-point running clock in the second half. It could mean, too, that the teams that won are really that good. The total score of the six final games? 267-64.
Consider these facts:
In Class A, behind a 23-carry, 283-yard performance from Calvin Strong, Omaha North completed a 35-3 stretch the past three seasons. The Vikings have won the past two state titles and lost to Millard North in the 2012 title game. North's 41-0 win over Creighton Prep was the most lopsided Class A title game in history and the Viking defense pitched only the second shutout in A championship game history. Strong finished his career as the state's only 11-man player to rush for over 7,000 career yards. Sam McKeown's "Blue on Blue" piece is fantastic.
In Class B, Omaha Skutt defended their title with a 40-10 thrashing of Elkhorn and finished 11-2. A re-focused Skutt group, said quarterback Isaiah Ramsey, turned Skutt into the team many thought would steamroll the class. In the finals they ran for 328 yards against the Antlers, who they beat 24-21 in the regular season. Elkhorn coach Mark Wortman took his team to a 10th state final.
The aforementioned Cardinals, in Class C-1, finished a dominating 13-0 season where their closest two contest were the regular season finale and quarterfinal games against Norfolk Catholic in a three-week span. In the past three seasons, BC/NG has lost to only Norfolk Catholic (twice in 2012) and Cozad. Both won the state title. Coach Arnie Johnson cemented his place in Nebraska prep history at the Cardinals — known as Albion, then Boone Central and now Boone Central/Newman Grove — have not missed the playoffs since 1997. The Cardinals also won the C-1 crown in 2001. What was next after the title? A sleepover.
In Class C-2, David City Aquinas forced eight Hartington Cedar Catholic turnovers en route to a 40-6 win over the Trojans. In a late August week one matchup, the Monarchs needed overtime to get a 7-0 win. Aquinas passed just twice in collecting their third title in four seasons after losing to Doniphan-Trumbull 32-13 in the finals a season ago. Quarterback Trev Semrad finished 35-4 as a starter.
Hemingford cemented themselves as quite possibly one of the best collections of talent in 8-man history. The Bobcats, who lost a heartbreaking 20-18 game last year to Exeter-Milligan in the D-1 title game, hammered Bruning-Davenport/Shickley 52-8 in the final. The Bobcats needed just four passes, a dominating defense and the backfield combination of Ethan Skinner and Brady Turek to erase the memory of 2013. Skinner and Turek combined for 323 yards rushing and six touchdowns. In their final four playoff games, Hemingford defeated preseason No. 2 Blue Hill, then-unbeaten Fullerton, Elm Creek (10-2) and the Eagles (11-2) by a combined 146-36 winning the first panhandle football title since, we believe, Sidney St. Patrick in 1986.
The Timberwolves may have had the toughest road to a title. They trailed 12-0 to Humphery St. Francis at the half in the quarterfinals before pulling out a 28-26 win. In the semifinals against defending D-2 champion Falls City Sacred Heart, they trailed 22-6 in the second quarter before holding on for a 28-22 victory. In the final, Anselmo-Merna led 18-14 in the fourth quarter before the T-Wolves took control with three scores in the final 10 minutes.
They'll be remembered — all of the state finalist teams — in their communities for a long time. In our opening piece this fall we asked, "This is Fall: What Will It Teach You." These teams, in particular for us, reinforced just what it means to be a great together. Many had stars that deferred glory. And role players who didn't get their names in lights, but sacrificed for the good of the cause. That's what makes sports great, and it's why sports are the ultimate teacher.
This slideshow requires JavaScript.
Want a photo? Email us for a download link.