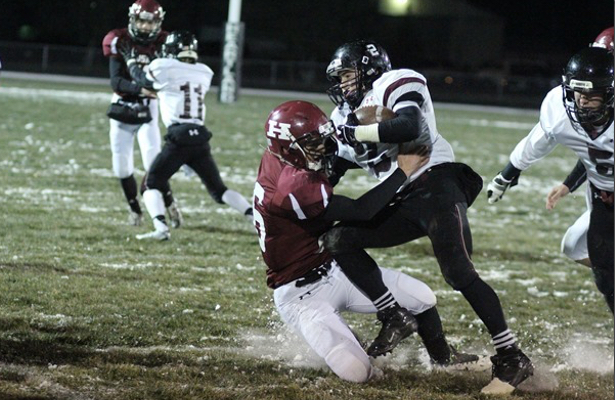 On a bitter cold day last November, the 8-man quarterfinals provided some games and performances to remember. Many of them by players in this weeks 8-Man All-Star game. Relive that day in our Rewind, originally published November 12, 2014.
Grant Norder was like a kid in a candy store on Tuesday night.
Snow on the ground. Freezing cold temperatures. Playing quarterback for Bruning-Davenport/Shickley. And, winning the Class D-1 quarterfinals in hard-fought, 1960s fashion, 24-20 over Heartland.
"We were kind of happy to see the weather forecast," Norder said after the game. "We saw the cold weather, the snow, we thought it'd be kind of fun."
So, off he went on the second play of the game. Through the Heartland defense for a 64-yard touchdown run and the fun began. And the hard work. And the defense.
Down 14-6 just before halftime, Norder threw a screen pass to Kale Kleinschmidt that he turned into a 22-yard score on the last play of the first half that cut the Heartland lead to 14-12. Then on the Eagles first play of the third quarter, he connected with TJ Krupicka for a 47-yard touchdown and BDS never trailed again.
In a battle of quarterbacks with Heartland's Jordan Heinrichs, Norder shined. He ran 20 times for 137 yards and threw for 128 yards, but two went for touchdowns and a third — a 37 yard screen pass to Riley Tegtmeier — set up his 2-yard run that gave BDS a 24-14 lead late in the third quarter.
And, then, in the fourth quarter, Grant and his BDS teammates played defense. They stopped Heinrichs at the 3 with just over five minutes left and again on a last second drive that ended in a Ben Elznick interception on the last play of the game.
Football is in the family for Norder. His dad, Ted, played tight end on the 1989 Bruning-Davenport team that lost to East Butler in the 1989 state finals. The oldest of three children, Grant, is enjoying sharing his final season with freshman brother Caden.
He said it's a sports driven house.
"We play a lot of sports," Grant said. "My dad doesn't talk much about the team he was on, but he encourages us. Mostly, he tells us to enjoy football. Enjoy being with your friends and to always play like you'll never get to play again."
Grant and his teammates will play one more time. At home. Against undefeated Guardian Angels Central Catholic for a trip to the state finals. And, you can be sure the quarterback from BDS will be enjoy it from start to finish.
Let's Rewind…
Pospisil's Journey: Fullerton, Milligan and a cell phone
Skinner, Hemingford crush Fullerton
GACC gets hot, dispatches Friend
BDS hangs on to edge Heartland
Anselmo-Merna cruises past S/T
Maxwell tops unbeaten Garden County
Timberwolves come back; edge St. Francis
Sacred Heart runs it's way past Kenesaw
Parting shot
Dreams were dashed for Striv schools Creighton, Fullerton and Heartland in the quarterfinal round. Great players won't put on pads anymore. For guys like Garrett Sonderup and Jordan Heinrichs it's a difficult way for things to end. But, it was the journey that was the teacher. Not one game on a cold night in November. So smile that it happened. You'll look back on it fondly in a few years.
A special place should be left here for Ethan Skinner. The talented back from Hemingford was impressive in person in Fullerton yesterday, running for 341 yards on 34 carries. His four, third-quarter touchdowns helped the Bobcats speed past the Warriors. He's at 2,290 for the season and 5,744 for his career. Two games left, maybe? I'd say, yes.