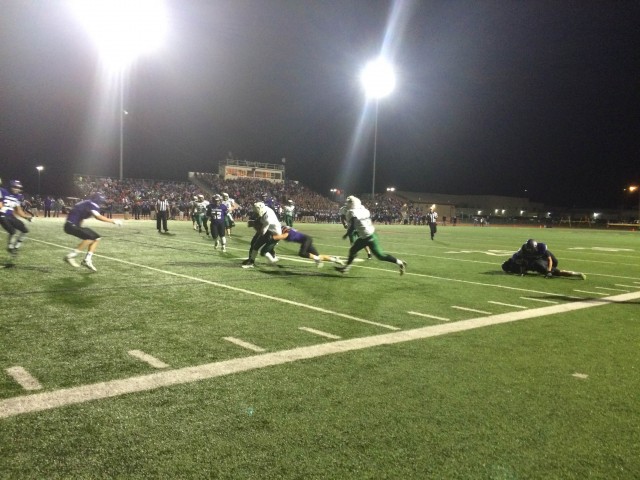 "Football is like life. It requires perseverance, self-denial, hard work, sacrifice, dedication and respect for authority." — Vince Lombardi
The semifinals are set in 11-man football. They'll be unbelievably fun. Trust me.
They feature rivalries. Rematches. All the goodies that you'd ask for. Most importantly, they'll features great kids and great coaches. What more can you ask for?
List the great coaches: Martin, Tomlin, Turman, Gross, Wortman, Johnson, Mimick. List the great players: Strong, Almond, Ramsey, Matson, Mazour, Young, Arlt.
The weather is locked in for mid-December temperatures and the matchups should be able to warm the fans up. We'll reset them below.
Class A
Grand Island Senior High (10-1) at Omaha North (11-0) — The Islanders advanced with another stellar defensive effort again against Millard West. GISH, which pitched a 40-0 shutout of Columbus in the first round, held the Wildcats scoreless for the first 47 minutes on Friday before winning 21-6. The Vikings hammered Kearney, 54-14.
The Islanders did all their damage early. On the second play, Keenan Ketteler scored on a 79-yard double pass from Kevin Cahoy. When Millard West responded with a 17-play drive, the Islander defense stopped quarterback Logan Anderjaska at the 1 and the Wildcats never really threatened. GISH had a 87-yard drive capped by a Leighton Kier run and led 21-0 at the break when Pierce Almond scored on a 13-yard run after a blocked punt.
The second half was dominated by wind and turnovers as they teams combined for nine turnovers in the game. But, the Islanders seemed just find playing defense and they'll get one more chance at Strong and the Vikings next week. The teams played a 39-34 classic in Grand Island last year in the semifinals before the North won the state title.
Papillion-LaVista South (8-3) at Omaha Creighton Prep (10-1) — The Titans got a Josh Weinend field goal on the last play of the game to upend second-ranked and previously undefeated Millard North to earn their first semifinal appearance in school history. PLS led 28-14 at the half before the Mustangs took the lead 35-28. Quarterback Gabe Smallwood tied the game at 35 in the fourth quarter on a 45-yard run.
At Omaha Central, the Junior Jays used a Michael Rensch touchdown catch with six seconds left in the first half to get some momentum. They erased a 20-10 deficit and Michael Flynn's interception with 1:31 for Creighton Prep sealed their 30-27 win.
Class B
Omaha Skutt Catholic (9-2) at Scottsbluff (10-1) — The cries will come from Omaha. Why should the top-seed have to travel seven hours for the semifinals? Such has been the home-game format with the NSAA for years and it's likely not going to change. If so, it would have been done long ago.
So, the state's top-seed in Class B will travel to Scottsbluff next Friday. No one heard the cries from Scottsbluff last week when they were rewarded with a trip to 12-seeded Beatrice — a 6-hour trip they survived with a 30-28 win. Such is the state we live in, I guess.
Skutt prevailed at home over Seward. Down 13-10 at half, the Skyhawks scored the only points of the second half on Thomas Pivovar's 11-yard run on the second play of the fourth quarter and it was enough. B is wide open. Any of the four could win it.
Elkhorn (9-2) at McCook (10-1) — Perennial powers. All-time coaches. It will be a classic in set up at McCook's Weyland Stadium. Elkhorn survived a 10-7 game with No. 2 Gretna that didn't feature an offensive touchdown. The Antlers had 142 yards and five first downs; and won.
In Blair, the Bison ended the Bears seven game win streak with a 13-7 win. McCook advanced from another turnover riddled game — each team had four turnovers — by grinding out 302 yards on the ground.
Class C-1
Cozad (10-1) at Ashland-Greenwood (11-0) — The rematch from the 2013 championship should be a dandy. Both teams have rolled through the playoffs winning four games by a total of 116 points. The Bluejays steamrolled Grand Island Central Catholic in the second round, 37-7. Cozad continues to impress — their only loss to Kearney Catholic — got a pair of defensive scores and three touchdown passes from Conor Young against Chadron to advance.
Boone Central/Newman Grove (11-0) at Kearney Catholic (10-1) — Kearney Catholic has escaped twice and it's earned them a home game with the top-ranked Cardinals. They defeated Boys Town 27-26 in overtime last week and on Friday, Grant Buschkoetter kicked a 42-yard field goal as time expired to lift the Stars past Columbus Scotus, 22-21. The Cardinals defeated third-ranked Norfolk Catholic for the second time in three weeks to advance, this time 23-17.
Class C-2
Battle Creek (11-0) at David City Aquinas (10-1) — Battle Creek has beat the other two semifinalists and Aquinas does not have a Class C-2 loss this year as their only loss came to Class C-1 quarterfinalist Columbus Scotus in the second week of the season. The Braves — who have yet to give up more than 14 points all season — shut out Fremont Bergan, while Aquinas turned a 10-7 halftime deficit to Hastings St. Cecilia into a 21-10 win. They allowed the Bluehawks just 12 second half plays.
Hartington Cedar Catholic (9-2) at Oakland-Craig (10-1) — Oakland-Craig has rode Nick Arlt all season. On Friday, the 2,000-yard rusher had 296 yards in a 41-21 in over North Platte St. Pat's who was undefeated. Now, they'll face a stout Hartington CC defense that ended Sutton rushing champion Noah Johnson's season in the first round. The Trojans routed Freeman 41-7 last night. Both teams have a loss to Battle Creek — OC (41-6) and HCC (36-14).
The 8-man quarterfinals will be on Tuesday and we'll be in Fullerton and Henderson to help chronicle the final five remaining Striv schools in the small school playoffs. Our 8-man playoff page with webcast links and scoring will be available on Sunday.