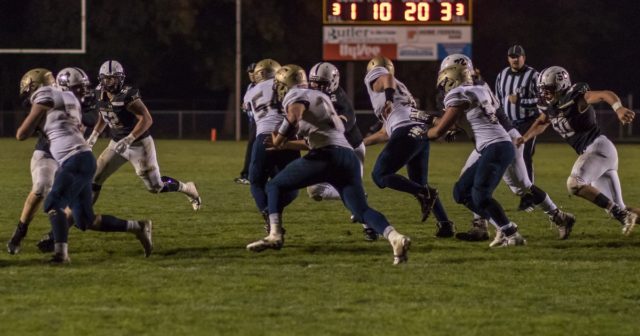 THE ISLAND — Things didn't look good before the game on Friday for Class B, No. 3 York against No. 6 Grand Island Northwest.
Already short a starting lineman in Doug Lazo, the Dukes saw Gabe Miller slip and hurt his knee in pregame warmups which made him a doubtful decision at kickoff.
"Gabe is a kid who is one of our very best players on the whole team," York coach Glen Snodgrass said. "He plays every snap — offense, defense, special teams.
"When he went down in warmups, our whole team was looking over at him and I could tell it kind of deflated us a little bit. He tried to gut it out and play but it didn't work for him. That was a really big deal for us, more so on defense."
The Dukes didn't respond to well.
They spent the whole second quarter on their half of the field and when Carter Terry rifled a 51-yard pass to Andrew Korte in the final minute of the first half, Northwest had a 16-7 lead.
But they changed things quickly after half and that was most because of three things: Jacob Diaz, defense and an old-school formation to eat the clock. It resulted in a big 35-19 win for the defending champions.
First Diaz, who had 150 yards on 18 carries. His 26-yard run capped the Dukes second drive of the second half and cut the lead to 16-14. A big run late set up Garrett Snodgrass' 7-yard run that gave York a 28-19 lead. Coach said it was his fault.
"Jacob Diaz is getting better every week," his coach said. "I don't think he got a carry in the second quarter and that's on me. He really came through for us big time."
Second, the defense. Coach Matt Kern's crew bent but didn't break ever against the fast-paced Vikings in the second half. Northwest ran 71 plays (to the Dukes 59), and only punted once. After Diaz scored, the defense came up with the only turnover of the game and a play later Garrett Snodgrass hit Reid Hoffman for a 37-yard score.
For his part, the head coach stays out of it.
"That's all on Coach Kern and our defensive staff," he said. "Our goal was really to stop their run game. To hold that talented offense to 19 points is a great accomplishment."
Oh, and don't forget Hoosier.
It's a heavy offensive set. Two tight ends and three backs with the QB Snodgrass who is in the shotgun. All lined up in a straight line: Sam Kohmetscher, Ben Kowalski and Tom Erwin.
There is rarely a handoff and everyone in the stadium knows what's coming. Leading 21-19, the Dukes went to it for most of the fourth quarter, and had two scoring drives that ate up over eight minutes of the final frame.
Knowing his love of the Bears, I joked with Snodgrass if he got it from George Halas. He countered even better.
"It's pretty old school," Snodgrass said. "I think maybe Coach (John) Heisman maybe ran it a little bit in the early 1900s. We didn't know if it would work as much this year but we made some adjustments.
"It works. It always works."
Let's Rewind
Lincoln Southwest just keeps winning. A late field goal pushed them over Kearney and to 6-1.
Who is the class of B? Skutt keeps making their case, topping Waverly.
Some big ones in Class C-1: Wahoo wins the town, and Lincoln Lutheran upsets Auburn.
Future Cast
Time for a playoff push. From the river to the panhandle, we'll know a whole bunch next Saturday morning.