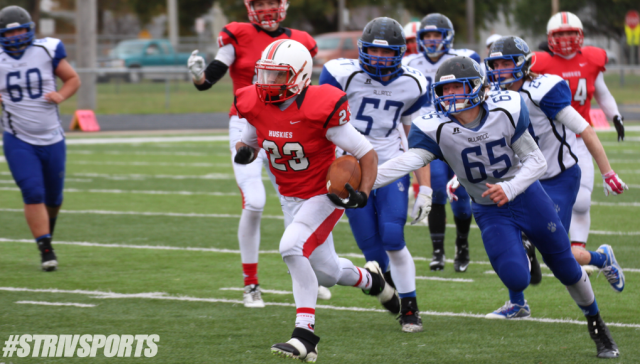 FOOTBALL FIELDS ALL OVER — The rains came on Friday. Which for some teams was perfect and other teams it was not.
They'll tell you it mattered in Grand Island, where both Northwest and Grand Island Senior High hosted playoff games, but if you watched either game you'll see the team that won the line of scrimmage won the game.
Funny, how it seems as much as folks want to try to change the game of football, that's still where the game ends up being won and lost.
On North Road, seventh-ranked Northwest lost to a team playing like it was 1987 — the last time the Vikings won a playoff game. Pius controlled the line of scrimmage, didn't pass after the first quarter and only had scoring drives 38 and 28 yards for a 14-0 win.
"Their offensive line, really won the line of scrimmage," Northwest coach Kevin Stein said. "And, their defensive line just did a heck of a job and when you just miss a tackle against them it turns a 5 or 6-yard gain into a 20-yard gain."
The Bolts even did it with a backup, but senior Jakob Andreason was up to the challenge after start Brock Wordekemper sat out the game with a migraine headache. He had 178 yards on 27 attempts.
Across town, the Class A defending champs Omaha North weren't letting go of their trophies easily.
"We ran the ball well tonight which you don't have to do just in these conditions but at this time of the year," Omaha North Larry Martin told the Grand Island Independent after watching Jordan Strong dismantle the Grand Island defense for 336 yards on 41 carries in a 35-17 win for the two-time defending champions.
The Islanders ran the ball just 14 times in the game and had only 34 plays.
Huskies Roll
Down the road in the afternoon, third-ranked Aurora relished the opportunity to run the ball at overmatched Alliance. Preston Dibbern ran for 188 yards on 26 carries as the Huskies rolled to a 54-13 win setting up a quarterfinal with Gretna next Friday.
"You've got to be able to run the football in November, and I think that we're a football team that's built for that," Aurora coach Kyle Peterson told the Grand Island Independent after the contest. "We've got a great offensive line and obviously we have a lot of skill players that we think we can get involved in the run game."
The Huskies finished with 257 yards on 42 attempts as they scored 54 straight points after Alliance opened the scoring on a pick-six interception touchdown. But, quarterback Grant Fox settled in and completed 14-of-19 passes for 183 yards.
Taylor. 1989.
Taylor Swift's current world tour for her latest album 1989 is named for the year she was born. In Central City last night that combo added up to Taylor Beck's two touchdown and two interception night for the Bison's first playoff win since, well, 1989.
"I came out to play just like everyone else does everyday," Beck told the Grand Island Independent's Marc Zavala. "In these conditions, you got to try and make the big play when it counts. It was fun playing in this weather.
"(The playoff win) is just unbelievable right now. The city has been behind us all season long and it's been special."
The win for Central City sets up a quarterfinal showdown with another great defense. They'll face Wilber-Clatonia next Friday, who beat defending champion Boone Central/Newman Grove 9-6.
History for the Chieftains
Cody Feist and his Yutan teammates won't soon forget the history they made on Friday night in a 20-7 win over Crofton. Fiest ran for 111 yards on 17 carries and added four catches for 42 yards while scoring two touchdowns.
It was the first playoff win for Yutan since the 1988 Class C-2 semifinals.
Jitters for a Champ
High Plains was up 20-6 early on perennial power Howells-Dodge on Thursday night in Clarks and quarterback Thomas Young — one the Storm heroes in their state championship run last year — admitted to still being nervous.
Young handled a pair of zone read handoffs with Josh Demers after that early lead. The first was ran in for a touchdown, the second set one up and High Plains was down 22-20 at the end of the first quarter before cruising to an 84-40 win.
"I think, yeah, you could say there were nerves," Young admitted with a sheepish smile. "But, with Josh back here and our line, we just started giving it to him. They played great."
Demers scored seven touchdowns and had two conversion runs to finish one touchdown and four points short of Class D-1 playoff, single-game records. He ran 16 times for 316 yards and caught two passes for 68 yards and a touchdown.
Young says the Storm are focused for a big stretch run.
"As soon as basketball was over, we flipped," Young said. "We spent time together in the weight room all summer. We've got to shore up our defense if we want to keep going. We missed some tackles tonight that we can't miss if we want to keep playing."
The win set up a big one on Wednesday in Dwight as the Storm they'll face East Butler — 50-43 survivors of Heartland — who own the longest winning streak in 8-man at 15 games. Quarterback Skyler Ratkovec is nearing 3,000 yards of total offense on the season.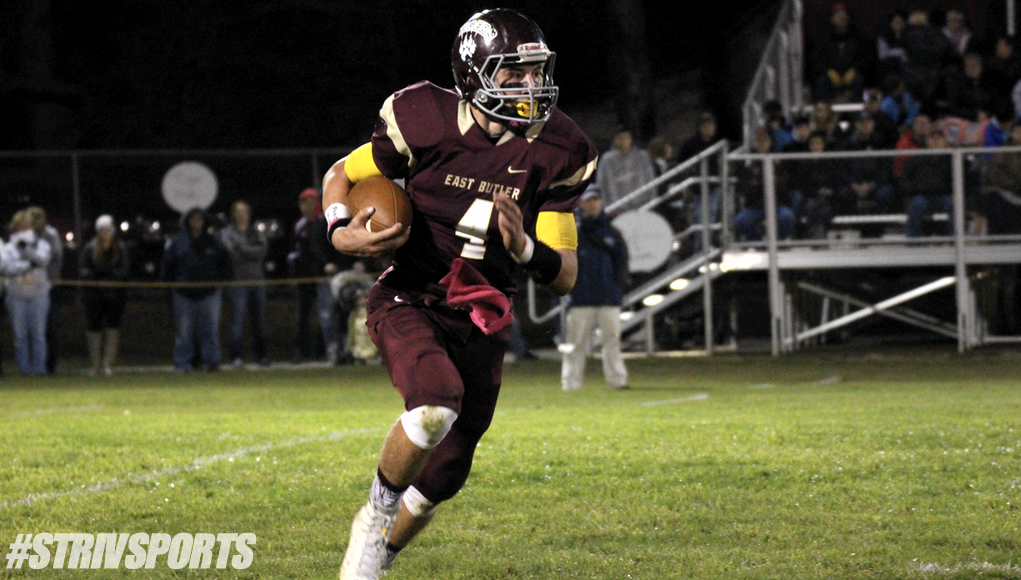 Playoff Game Links
All game link recaps will be found on the class pages during the playoffs. If you have a recap that's not been posted or a radio link for future round games, please send us a tweet @strivsports, a message on Facebook or old-fashioned e-mail to either [email protected] or [email protected].