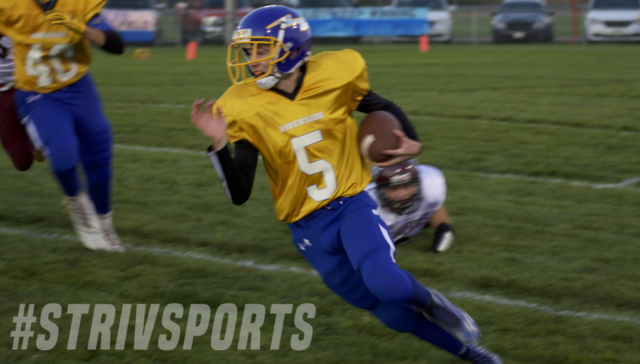 GREELEY COUNTY FAIRGROUNDS — Let's get this out of the way really quick.
In a few years when we run down the Arnie Johnson, Joe Imus coaching tree it will be pretty easy to add, Imus' do-everything Riverside senior Noah Valasek. Schools might want to start courting him now. The Rewind found out why after Valasek scored seven touchdowns in a 70-33 win over St. Edward.
Last night, Valasek finally got to play a whole football game. Through five games this season, he had played seven quarters. Seven. The top-ranked Chargers, now winners of 21 straight and 27 of their last 28 games, were outscoring opponents 353-38. Mr. Valasek had 28 touchdowns in the 54 offensive plays he had a stat.
But, when St. Edward stressed the Chargers for most of the first 25 minutes of the game in a battle of six-man's top-two teams, Valasek still liked what he saw. Because when St. Edward's Brayden Olsen scored on a 29-yard run that opened the second half the scoreboard looked a little weird at Ed Colleran Field.
Riverside 41, St. Edward 33. A one possession game.
"The championship level team that we want to be responds to adversity," Valasek said.
Spoken like a true coach. So, what did he and his Riverside teammates do in response? They scored the last 29 points of the game and you almost couldn't keep up in watching the do it.
Consider:
They answered Olsen's run with a 65-yard, 3-play masterpiece that was a Ty Martinson (he's a sophomore) 8-yard run, a Trey Prososki (freshman) 42-yard pass to Joseph Bloom (sophomore), and then capped it with Valasek's flip to Martinson for a 16-yard score. It took 58 seconds.
After a stop, Valasek blocked a punt that Jonah Micek had to fall on in the end zone for a safety. 49-33, Chargers.
Off the free kick, they covered 40 yards in 1:22 with a 23-yard pass from Valasek to Ryan Langan, a pair of quick runs from Martinson and Valasek and then another pass from Valasek to Martinson that covered seven yards. In less than four minutes of game time, they moved the lead from eight to 23 points and St. Edward had nothing left.
"They are a team that constantly stresses you," St. Edward coach Darren Luebbe said. "Especially on the defensive side of the ball, you have to be aware of where so many different guys are. I was proud of the way we hung in there. We made a few mistakes and they capitalized on them."
Understatement of the year. And, make no mistake, Luebbe has a fine team. Probably one that will play Riverside again in the state championship come a Friday in mid-November. He felt really good at 41-33.
"We had a few times we could have stopped them," he said. "Good teams find a way to make those plays when they need them. We came up short a few times and they made those plays."
But, Valasek was pretty straightforward when assessing his team's play on Friday.
"We played young," he said, like he was Imus' assistant. "We played like our young guys are young. The first half we had guys making errors that were mental. It wasn't tackling or anything like that. It was being in the wrong spot.
"And, that sucks. But, to see the second half go the way that it did is reassuring. It showed that our guys can learn from their mistakes."
So, seven touchdowns, 132 yards rushing, 172 yards passing and a homecoming king crown that capped the night, Imus is glad that No. 28 is on his team.
"He's a pretty good guy to have on our team," Imus said with a chuckle. "He puts so much pressure on himself. We all have such high expectations for Noah, but I think he has higher expectations for himself."
Valasek, unprompted later while hanging out with his buddies after the game, returned the favor.
"It's fun to be in a mentoring role (with the younger players)," he said. "My freshman year, I had some great guys playing with me. But, especially Mr. Imus. I love being around him. He teaches you so much stuff, all day, every day. You learn so much from his professional side, I love that.
"To learn from him and then teach these guys. It's a ton of fun."
It says here, Noah, that some kid might say the same thing about you someday. That's why we love sports.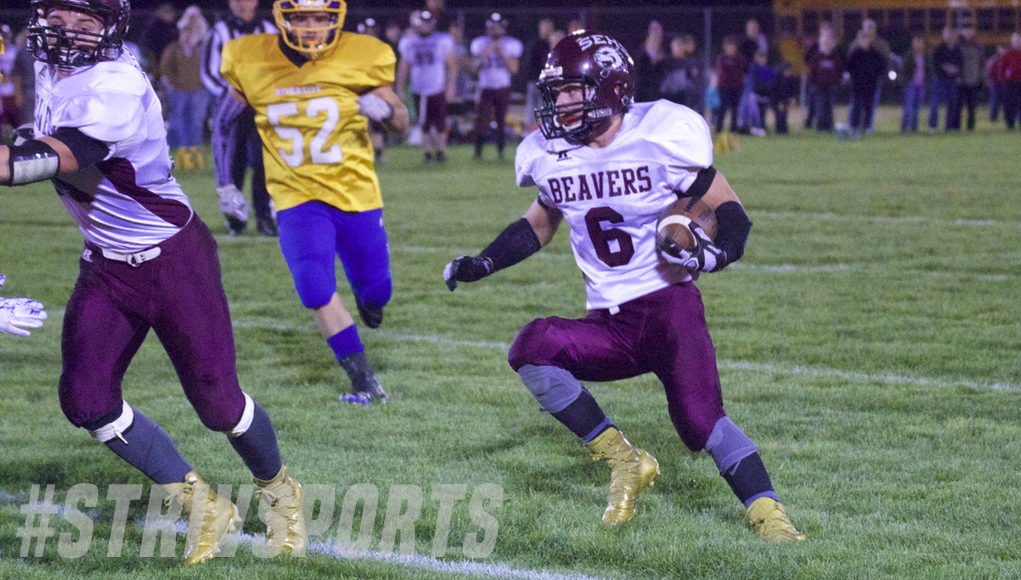 Bulldogs pull off upset
While the No. 2 team went down in Class C-2 for the second straight week, the No. 1 team went down in Class D-2 when Osceola defeated defending champion Humphrey St. Francis 26-24 in Humphrey.
Down 16-14 at the half, Osceola took a 20-14 lead on a pass from Caden Theis to Austin Wieseman. After HSF answered, the Bulldogs got the game winner on a 2-yard Theis run with 53 seconds left. 
"It was just a back-and-forth grinder," Osceola coach TJ Nielsen said. "Peyton Watts and Austin Wieseman were just great on defense. All our kids were just great. It was a total team effort."
Theis carried 33 times for for 132 yards and was 7-for-8 passing for 120 yards, including a pair of fourth down conversions to Garrett Fischer on the game-clinching drive.
Now 14-3 in their last 17 games, the Bulldogs three losses are to HSF (twice last year) and to defending Class D-1 champion BDS in the first game of the regular season this year. The Eagles, with their 36-12 win over No. 3 FCSH last night are the likely new No. 1 this week.
Let's Rewind
Class A | Thursday: North storms past Burke
Class A | Late score lifts Kearney
Class A | GISH uses big play to sprint past Pius
Class B | Pospisil | No. 1 Storm dismantles No. 2 Antlers
Class B | "Ice Bucket" lifts Aurora past York
Class C-1 | Karr, Arlington top Ft. Calhoun, 34-7
Class C-2 | Braves runs past LHNE
Class C-2 | More C-2 chaos, Crofton tops No. 2 HCC
Class D-2 | Kleinschmidt helps No. 2 BDS past No. 3 FCSH
Parting Shot
A pair of record-setting plays kick started Grand Island Northwest's comeback over Seward.
Trailing 17-7 early in the third quarter, quarterback Carter Terry completed a 99-yard touchdown to Riley Schliep. After a stop on the next possession, Tanner Lierman scooped up a punt at the Viking 5 and went 95 yards for a score, that set a Class B record.
The Vikings, who improved to 5-2, went on to win 38-17.