GOD'S COUNTRY — The six pictures in the Perkins County hallway that recognize the state football titles transition from black and white to color.
But, they stop 26 falls ago in 1990. Back when this town full of pride — Grant, America — had a school all on their own. When their football was of the 11-man variety. The good story here, though, is that the population has shifted, but the pride hasn't.
Carlie Wells and his football boys have made sure of that. Wells has won plenty of 8-man football games in Nebraska, mostly at Elgin Public/Pope John. When he came here last year, the Plainsmen were still kind of in 8-man transition mode.
Not anymore. This 2016 team is a legitimate threat for the Class D-1 state championship. Listen and watch at your own risk.
The Plainsmen have yet to lose a regular season game in Wells' two seasons at the school, running their in-season streak to 18 with last night's 66-26 win over a very good Dundy County-Stratton team.
Still, you can tell this team is driven by a 38-36 loss to Clearwater/Orchard in the second round of the 2015 playoffs that ended their season at 9-1. They come at you with a reckless abandon.
On Friday, with DCS' quick tempo offense in town, they took to the ground game. Like most successful teams that can run the ball efficiently, it's effect wasn't immediate but over time.
The numbers probably could use a few emojis: 64 carries, 519 yards, 31 first downs.
"It's what we love to do," Wells said. "Get first down after first down and wear them down."
Derek Sis the beneficiary of the excellent line play that PCS gets up front. Last night, he scored four times (runs of 3, 5, 7 and 12 yards) while carrying 32 times for 267 yards.
It wasn't fancy: isolation, toss, counter. Executed with precision and determination of a good western Nebraska harvest.
"We talked about it all week," Wells said. "We thought for us to be successful offensively, we had to have long drives and sustain them because they are so explosive."
Quarterback Charles Johnson added 152 yards on 14 attempts, executing old-school triple option and scoring on runs of 36, 14 and 11 yards.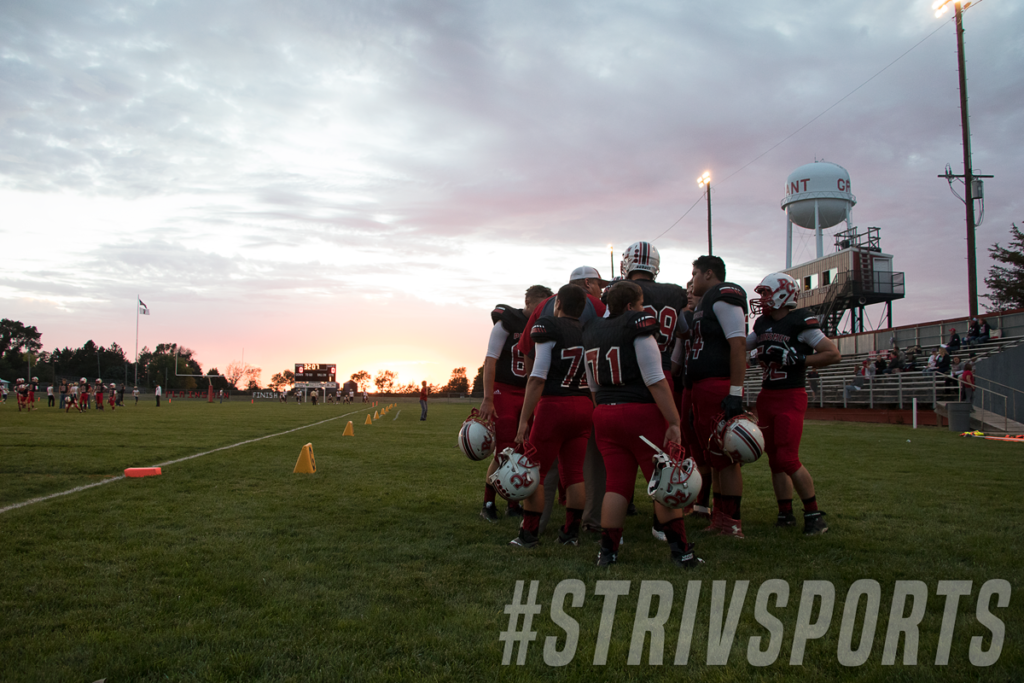 But it was their defense that turned the tide before the ground game kicked in. After do-everything man Phalen Sanford scored on an 18-yard run to cut the lead to 22-20 with 4:14 left before half, the Plainsmen ended four straight DCS possessions in interceptions and built the lead to 50-20 when Johnson scored early in the fourth quarter.
"I thought our defense did a good job," the coach added. "We gave up a few runs, but I thought we made a few adjustments and the kids learned from it."
Sanford has a stat line that shouldn't go unnoticed. He had 21 carries for 115 yards and 13 catches for 95 yards.
Yeah, these Plainsmen are good. You can ask DCS, or you can watch for yourself. The Rewind thinks you'll get plenty of chances in November.
Yeah, ummm, Class C-2
What a night it was in Class C-2 on Friday. The Rewind suggests the following to our friends at Huskerland Preps, the Lincoln Journal-Star and the Omaha World-Herald: a top-four that includes Wilber-Clatonia, Hartington Cedar Catholic, Battle Creek and Oakland-Craig.
After that, we aren't so sure. So, we'll sit back and watch. But, here goes:
Centennial: The Broncos moved to 6-0 with a hard fought 26-21 win over St. Paul. We'd likely have the Broncos fifth if it were our job.
St. Paul: Speaking of the Wildcats, they dropped to 4-2 with the loss to Centennial. But, the Broncos had to score in the last 50 seconds to do it. The other loss is to Valentine.
Valentine: The Badgers moved to 5-1 last night (undefeated in Nebraska) with a 10-7 win over previously unbeaten Hershey, who has a win over Doniphan-Trumbull (who was 10th last week).
Cross County: Shocked undefeated, second-ranked Sutton last night 26-14. The Cougars are 4-2 and have losses to Stanton and St. Paul.
Yutan: Moved to 4-2 last night with a win over Omaha Brownell-Talbot. Losses the first two weeks to Oakland-Craig and Centennial.
Sutton: No need to panic in Sutton, we don't think. Early wins over Doniphan-Trumbull and Hastings St. Cecilia nice feathers.
So many others, that can probably lay a claim: Crofton and Stanton, LHNE (who played HCC to 13-10 last night), Doniphan-Trumbull (who could go from ranked to unranked for beating the preseason No. 1 team in the class). What a Friday; likely 16 teams that make the playoffs who will be confident.
Let's Rewind
Pospisil | Mustangs impressive, dominate Kearney
Class A | Burke scores late, nips Westside
Class A | Southeast gets by unbeaten Pius (OWH)
Class B | Aurora dominates second half, tops Crete
Class C-1 | Neuman stays perfect, clips Boys Town (OWH)
Class C-1 | O'Neill states their case, tops NC
Class C-1 | Just Enough: Jeffs get by A-G
Class D-2 | Osceola blanks Fullerton, No. 1 awaits