WHEN THE FIRST DAY OF FALL IS HOT, BUT FEELS LIKE NOVEMBER — Scottsbluff's Pablo Cervantes hasn't played much high school football, his coach, Joe Benson said Friday night.
He's played enough to put a few memories together now, though. Especially one from a long and winding road trip to Grand Island.
His tipped ball, pick six (it was only a 6-yard return) was the game-winning touchdown for his sixth-ranked Bearcats in a 34-27 win over Northwest last night in a battle of ranked Class B teams.
"The play before, we tipped it and we almost intercepted it," Scottsbluff coach Joe Benson said. "Then on the next play (Pablo) gets his hand on it and makes a play. He has never played varsity football before this season.
"He's a great kid, a grinder. A kid who helps our program win."
Pick six for @scbpubschools. Bearcats leading @GINWVikings, 34-27, with 7:04 remaining in game. #nebpreps pic.twitter.com/DTFQT3J3EB

— Striv Sports (@strivsports) September 23, 2017
And, Scottsbluff has been winning. With a tough enough defense. And a grinding run game, that's built for a Nebraska November. It's a little variant of the single wing, but not much different.
Nebraska commit Garrett Nelson is an upback, Noah Bruner the quarterback and the carries are mostly split between speedy junior Chris Busby and bruising sophomore Jasiya DeOllos, who made his mark as a freshman on the Bearcats state finalist basketball team.
They did just enough on Friday, scoring three times in a row in the first half — off two Northwest interceptions — and then getting a time-consuming 4 ½ minute, 80-yard drive to open the second half.
And then, Northwest didn't quit.
They went three-and-out after that, but Devin Buderus muffed Carter Terry's punt and Northwest turned it into Terry's 1-yard run for and the lead was 27-20. Then a stop. And on the last play of the third quarter, Terry hit Riley Schliep on a short pattern that he turned into a 68-yard score.
TIE BALL GAME! Riley Schliep with a 68-yd score to end the third quarter, 27-27. #nebpreps pic.twitter.com/lLlt4YL8EI

— Striv Sports (@strivsports) September 23, 2017
A 27-27 classic was brewing. So, Northwest coach Kevin Stein does what he usually does. He rolled the dice on the kickoff, going onside, and the Vikings recovered.
But, the rest of this one belonged to Pablo and his buddies. They stopped four Vikings drives in the last quarter on downs twice and on two interceptions, making the big plays right when they needed.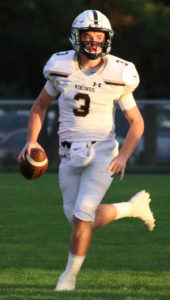 "We had the momentum there and didn't capitalize offensively," Stein said. "We needed the points right there."
Sometimes those little plays mean all the difference.
Another fun trip home
Scottsbluff wasn't the only team that had a jubilant bus ride home. Glen Snodgrass' York Dukes got their signature win heading into the B-6 District with a 20-7 pounding of McCook.
The Dukes looked built for a Nebraska November as well. Controlled the clock. Played defense. Won the turnover battle. And, got a spark from a new look "Hoosier" full house backfield.
In the formation, Snodgrass put son Garrett at quarterback (217 pounds) and in front of him in the backfield, Hunter Smith (235), Dylan Rahder (230) and Nebraska pledge Masry Mapieu (295). Omaha World-Herald prep writer Stu Pospisil estimated the Dukes had 2,700 pounds on the field in the formation.
"It worked really well," Snodgrass told Pospisil after the game. "I wanted to use it a lot in the first half and not give them time to adjust, because I know (defensive) Coach (Joe) Schlager and Coach (Jeff) Gross are the best around, so I knew they'd adjust at halftime."
The Dukes were also bolstered by the return of all-state linebacker Simon Otte who recovered a fumble in the second half as York controlled the clock against a struggling McCook offense that was without quarterback, and Colorado State pledge Zach Schlager, who is hampered by a leg injury and played just at linebacker in the second half before scoring McCook's opening touchdown.
Let's Rewind
CLASS A | Vikings escape Grand Island
CLASS A | Prep downs Papio
CLASS A | Kearney rolls past Fremont, 61-16
CLASS B | Mason, Gretna knock off Skutt
CLASS B | Orangemen survive past Roncalli
CLASS B | Elkhorn comes back to beat Crete
CLASS C-1 | Pick turns table for No. 1 Aquinas (Prep Extra coverage)
CLASS C-1 | Jeffs keep rolling, blank Christian
CLASS C-2 | ALC keeps rolling, tops St. Paul