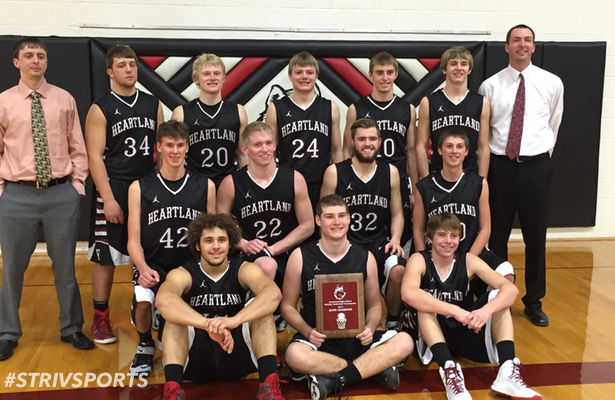 Whether you love or hate the wild card availability into the State High School Basketball Tournament, you can make certain of one thing. Games like tonight's clash in Henderson between D-1, No. 2 High Plains (12-0) and No. 5 Heartland (11-1) take on bigger importance than if they were played in the 1990s.
Although the teams are in opposite districts, they are in loaded sub-districts – consider half of the D-1 top-ten is in both of their subs. High Plains will have No. 4 Humphery St. Francis in their sub-district and Heartland will travel to Geneva where No. 3 BDS and No. 8 Deshler await.
Winning a game like tonight's may be able to make up for a stumble later. High Plains can see the value of the wild card first hand. The team they beat in the district final a season ago – Bancroft-Rosalie – was the team that beat them in the state finals.
It's a fact not lost on Heartland coach Clark Ribble.
"They are all nice to win," Ribble said. "And, this is certainly a big game. But, they are all big. We try not to get caught up in the point standings too much. It's our job just to be playing our best basketball at the end of the season. That's what we'll try to do."
While the focus is on the end, the beginning hasn't been terrible for Heartland. The Huskies have played well since shaking off the football dust. They have rattled off eight straight wins since a 49-41 loss to Exeter-Milligan in December.
"I think you always learn a little bit more about who you are after a loss than a win," Ribble said. "So, we took some things from that game in Exeter and have done a pretty good job since then."
Cole Nickels, Keshawn Camancho and Jordan Heinrichs are the three leading scorers for the Huskies. Nickels is "a slasher", Ribble said, who averages 12.3 points per game. Camancho is "a matchup nightmare for most teams" with his 10.3 point average and, Heinrichs, "does a good job of getting into the lane for us."
But, Ribble said the Huskies have more than just their three scorers.
"Colton Siebert and Tyler Brown, our other two starters, are two really harding working kids," Ribble said. "Colton is always getting up extra shots after practice and Tyler, I think, is the best on-ball defender in our league."
Speaking of the Southern Nebraska Conference, Ribble says his team has enjoyed being the only Class D school in a Class C-1 and C-2 league. They are 5-0 in league play. They will travel to Sutton and host Tri-County before the conference tournament starts on February 2nd.
But, their biggest challenge to date comes tonight in the form of the second-ranked Storm who have won 39 of their last 41 games and been to the State Tournament three years in a row. Heartland has been to state just twice since 1986; the last time in 2008.
"Coach (Cameron) Hudson has built that program from the ground up," Ribble said. "Cole Klingsporn will be a great challenge for us. We'll have to be sure we can deal with their pressure and get great shots."
Let's Rewind
– Norfolk continues to impress in Class A
– Northeast looking forward to "meat" of schedule
– New coach, same goals at South Sioux City
– Beatrice boys have paid dues
– FCSH girls riding high after MUDECAS crown