CRETE — The Crete softball team, coach Shawn Carr says, has overwhelming support from its community.
So much so, that they are adding on to the concession stand and bringing in more bleachers next season.
All this before they went out and clinched the program's trip to the NSAA state tournament which begins Wednesday in Hastings when they play the host Tigers (34-2) at 2:00 at the Smith Softball Complex. You can watch Wednesday games for the Cards on the Crete Striv Channel.
Now, his Cardinals have hit hero status in Crete.
"There are tons of kids in this town who look up to these girls," Carr said Tuesday morning, the smile still in his voice from a long Saturday. "These kids have put a ton of work in, they really deserve to be at state."
It wasn't easy.
District play was to begin last Thursday in York, but Mother Nature had other plans. Rain first moved up their opening game with Beatrice before it was called off after the Cards had made the trip to York.
So they practiced Thursday.
Friday was easier. Carr got the phone call that play would be called off again before the bus got to Friend. So they practiced Friday.
Then the tournament was thrown into a tailspin to get things ready for state. It was changed to a single-elimination format and moved to Hastings beginning at 3:00 on Saturday afternoon.
"It was a little unfortunate (that is was moved to single elimination)," Carr said. "But our whole mindset this year has been kind of one game at a time. We had to win the biggest district in the state."
And, then. Crete 8, Beatrice 0. Crete 3, Seward 1 in the semifinals. Crete 2, York 1 in the finals. How good was the district? York and Seward are the Class B wild cards.
"Camry (Moore) was just unbelievable," Carr said of his senior pitcher who will play next year at Sioux Falls. "She has just been a workhorse for us all season."
That might be an understatement. She has every decision for the Cardinals who enter the state tournament with a 24-8 record. Her ERA is 1.05. She's batting .500 with 35 RBI and seven home runs.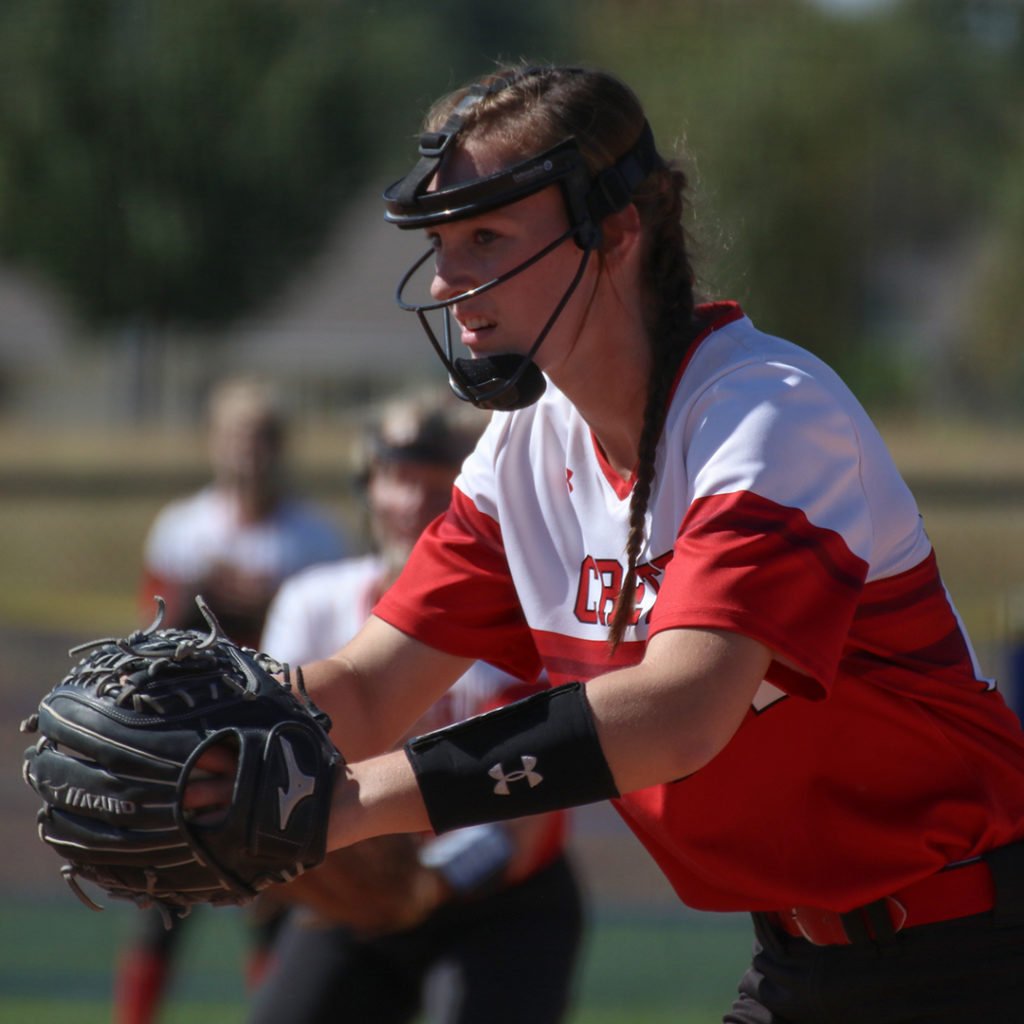 Carr doesn't have enough adjectives, so he keeps it simple.
"It starts and ends with her," he said. "I have never been more honored to coach someone like Camry."
The fun thing for the Cardinals, though, is Moore has help, plenty of young help and three classmates who help shoulder the leadership role on the team. That and they like to have fun.
"They had a dance off with Beatrice while we're waiting on Thursday," Carr said, "and then we went to breakfast and they took a picture with (York player) Lauren Riley's dad in front of all the York posters."
Moore's biggest help is family. Her cousin, Morgan Maly, is the sophomore catcher who leads the team with a .520 batting average and has 10 home runs and 45 RBI. The 6-footer is getting basketball interest from Denver, Colorado State and all three Nebraska schools.
"She is as good of an offensive player as I think there is on our side of the bracket," Carr said.
Behind Moore is a mix of youth and experience. Senior Bridgette Nichols and junior Emily Dunaway man the corners of the infield while sophomore Jayda Weyand and Cassidy Skillett play up the middle.
Sophomore Izzy Eltze anchors the outfield in center while batting .459 with eight RBI and she is second on the team in runs scored with 44. Freshman Leah Jurgens plays left field and senior McKenzie Crumbliss and freshman Lexi Mach share the right field and flex position.
"Izzy is a real nice left-handed hitter for us," Carr said. "She is the fastest kid I have ever coached. And Lexi has done a good job for us hitting and pitching if we need to get Camry some rest."
Carr pauses, having run through his lineup, because he knows he hasn't mentioned the player that holds them all together: senior Kate Schroeder.
Her numbers won't scare an opposing coach: 13 plate appearances, two RBI, nine runs scored, a .308 batting average. But Carr knows something all great teams have is a person who sacrificed to make the team better.
"She is the glue," he said. "She makes everything for us stick together. She is a very situational player who comes in for defense, runs the bases when we need it. She is our team leader in the dugout.
"Ask any girl on our team and who the best teammate we have is and they will tell you it's Kate."
You can kind of see how this all a dream for these girls and their coach. Their town.
woke up this morning and realized that this actually happened pic.twitter.com/QgspohvBXQ

— jayda weyand (@jaydaweyand) October 8, 2017
When they got back from Hastings at 1:45 a.m on Sunday morning friends were waiting from them. Carr had to kick them out of the parking lot an hour later.
"These girls just love being around each other," he said. "I know we throw that word 'love' around a lot, but they do, they love each other. They just really wanted to go to state."
Carr fell asleep on his couch two hours later, 5:00 a.m. Stats to update. Stories to write. Media to contact. By 7:00, he had a wake-up call from Kinsley and Kora, his daughters, who get to watch their heroes when daddy goes to coach.
"Daddy, I can't believe we made State," they said.
You can believe it now, in Crete. The Cardinals are going to Hastings. A whole town in tow. And some little girls who get a few more chances to watch their heroes.
They'll make sure to do only one thing: have fun.