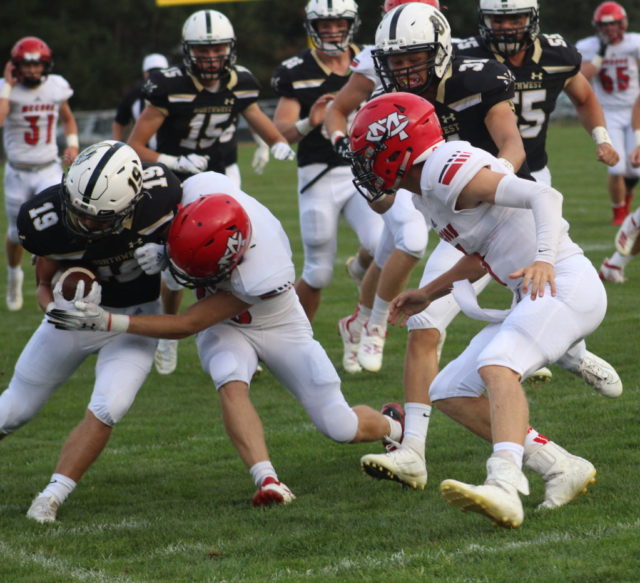 You can generally start sorting out some elite teams in each class after week three games, so this week will be a big measuring stick for many teams. Again over 20 games to watch and some Friday afternoon action is always fun. Don't worry, your boss won't care if you watch. You can find all the games right here. Here are five more that will pit some of the best in the state.
Stuart (2-0) at Class D-2, No. 3 Bloomfield (2-0). The third-ranked Bees are off to a 2-0 start and have outscored opponents 112-26 in the process. Looking to make a jump past the quarterfinals in Class D-2, Bloomfield continues to rely on a power running game. Senior Logan Johnson 387 yards and seven touchdowns on 47 attempts so far. That'll do. Stuart has outscored two Class D-1 opponents 70-27.  Bloomfield Striv.
Class C-2, No. 9 Shelby-Rising City (2-0) at Johnson County Central (1-1). Like last year, the Huskies opened the season with a somewhat surprising win over traditional power Battle Creek. Maybe it just shouldn't be a surprise anymore. SRC has given up just nine points in two games. Offensively, the Belt brothers have carried the load. Senior quarterback Bailey is 31-47 through the air and 318 yards, while sophomore back Grady has 165 yards on just 18 carries. Johnson County Central Striv.
Class B, No. 2 Scottsbluff (2-0) at No. 7 Northwest (2-0). A week after upending McCook for the first time in 14 tries, the Vikings have a chance at another statement win in Class B. Scottsbluff has other ideas on their second long trip east in as many weeks. Defense could rule this one. The Vikings have given up just three points in two games and Scottsbluff was impressive in a 47-12 win at state-ranked Hastings last week. Northwest Striv.
Boone Central/Newman Grove (0-2) at Class C-1, No. 9 Columbus Lakeview (2-0). The Cardinals could be the most tested 0-2 team in the class with losses to state-ranked Ord last week and to O'Neill in week one. Lakeview seems to be playing with something to prove after just missing the state playoffs a season ago, having outscored two opponents 97-6. But, BC/NG could be the biggest test so far. Columbus Lakeview Striv.
Palmer (0-2) at Class D-1, No. 9 Bruning-Davenport/Shickley (1-0). A murderous early schedule continues for the Tigers as they have played three ranked teams in as many games. BDS enters 1-0 after beating No. 10 Elmwood-Murdock 52-20 in their opener. BDS Striv.