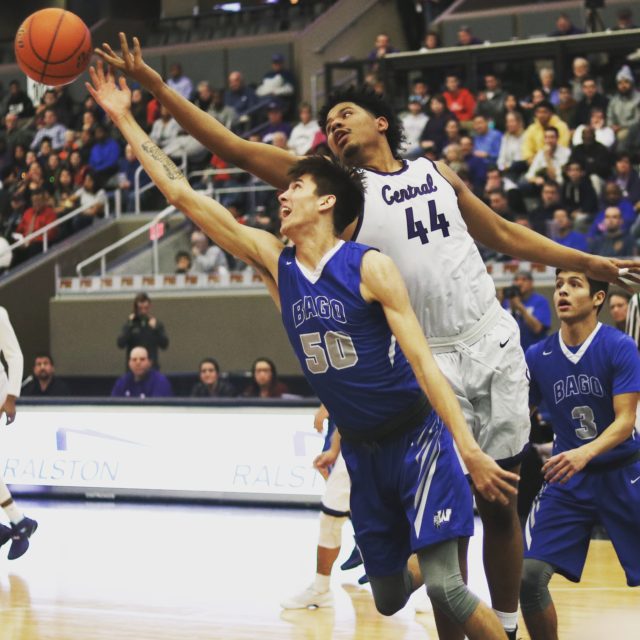 This post, this story, wherever it goes shouldn't be written by me. It should be done by a coach or an athletic director or principal. That's the end of this.
Me? I just love sports and what they teach. Powerful life lessons about being part of a team. To work hard. To think about your teammates before yourself. That playing with your buddies in meaningful games are some of the best experiences you'll ever have.
Let's leave a few things on the table before we get started with this. The job of coach and school administrator is one of the most thankless jobs you can pick. You do it because you love kids, because you are driven to develop good people for life. Because you care.
So this piece is not to tell you that you are doing things wrong with our Nebraska state championships. Just a few suggestions to make things better. To develop even more great atmospheres and experiences for our kids who are learning about life though the sports we offer.
Let's discuss where we land with our championships. The "four class" sports are really doing things well: track, cross country, wrestling, even golf, tennis and soccer have quality postseason events. (Please take this as a hint on the classification thing)
They have championships with great tradition. I am not sure of another sport — wrestling — that has a group of coaches who are constantly working to make their sport better. They should be lauded. As I type, they begin year one of serpentine districts, just another genius move to make the championship event great.
Before we get to our "tournament" sports, it should be noted that football (in 11-man and 6-man) gets it right. If you are reading this, and an 8-man coach or administrator, let's make one tweak. The current round of 32 is exactly the same as now. After that round the 16 winners are placed on a bracket 1-16 like all other classes. That's it. It gets us away from loaded brackets (D-1 West and D-2 East) like last fall.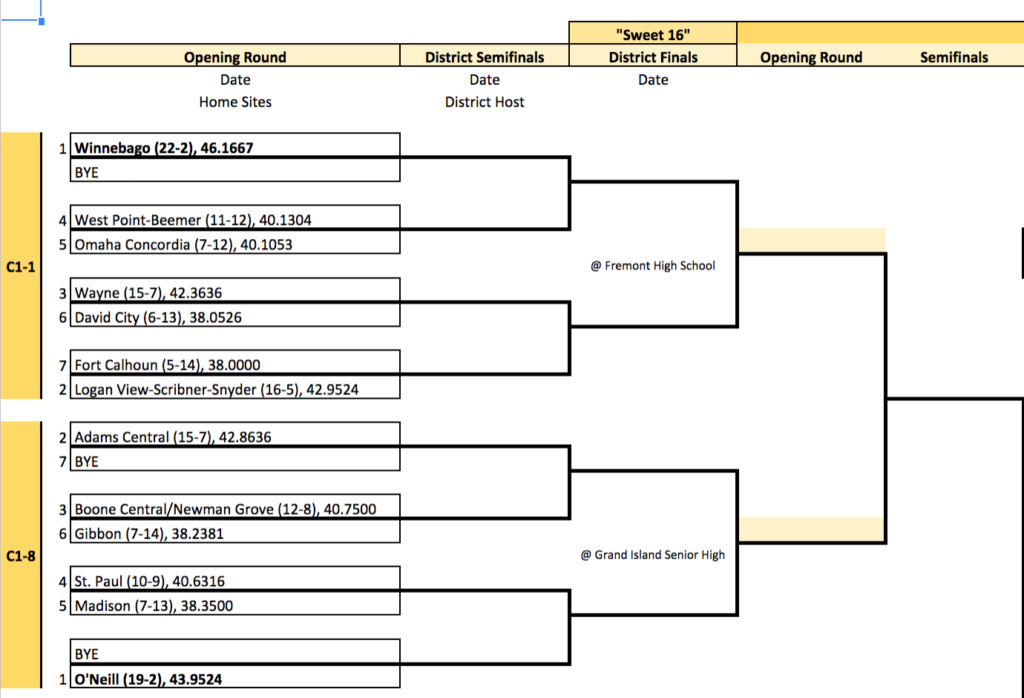 Ok. So what we really wanted to discuss here. The other tournament sports. Coaches and administrators should take a long look at how they could improve these tournaments. Games should be important PRIOR to the state tournament. And when you beat someone in the postseason, you shouldn't have to do it again.
So, in the small classes let's do the following.
1) We'll create regions (or I'd really love to call them sectionals) before the season. With 54-56 teams in each class we'll make a rule that they won't be smaller than 13 or bigger than 15.
2) We will group the westernmost schools first and then pair the remaining schools based on east/west and north/south orientation.
3) When the postseason comes we will seed them together as if they were on a 16-team bracket with BYES for some top seeds. Teams are seeded by NSAA playoff points.
4) The one and two seeds in each region (or sectional) will be declared district hosts. This leaves you with eight hosts or regions.
5) Next, those eight hosts will be seeded 1-8 based on the current NSAA playoff point system. Their district will be numbered as to their seed. So one region (or sectional) could have the 1 and 8-seed or it could have the 2 and 6-seed. It also could have the 1 and 2-seeds which would mean those teams wouldn't meet until the state finals (as opposed to a random sub-district final that doesn't matter since they'll both go to state anyway).
6) District play will be as follows: the opening round at home site of the highest seed, district semifinal doubleheader at the highest seed in the district. Then, each sectional will have two district champions that advance to the state tournament. The championship games for the two districts in the sectional will be played as a doubleheader at a neutral site. In the the four smaller classes it will be the "Sweet 16."
7) The eight winners of the districts are headed to the state event and there is no reseeding. The district one winner plays district eight (4v5, 3v6, 2v7 and so on).Based on February 14 points, we have compiled what this might look like this year. Also included is a calendar that give a new format of days to the postseason and how it compares to the current format. Here's how it looks, class by class.
To help make this format work, we have also proposed a few minor changes to Class A and B as well. Class A would change to a no wild card format that gives the top-four seeds a bye in a 28-team tournament. All games played at the high seed.
Class B is divided between 16 east and west teams. The teams are seeded 1-16 and much like the C and D brackets, the top four seeds in each "side" are district hosts and then seeded "overall" 1-8 and placed in the giant bracket.
All classes are one tournament. You must win all the games. There are no second chances. You can't say you didn't make the state tournament, because you started in it from the beginning.
We mostly hope this opens discussion for people that care about the respective sports, their participants, coaches, administrators and, as important, parents, fans and communities.
Those are the things that make high school sports, especially in Nebraska, so great.