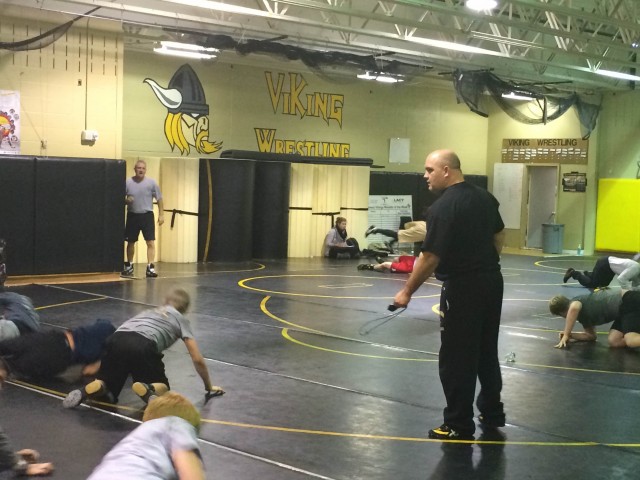 The wrestling room at any school is a special place. It's filled with kids tougher than anyone else. The disciplined ones who wear six layers of clothes to drop football weight; who run between classes; who carry a cup to spit in so they don't weigh an ounce over their weight class.
Most people probably don't understand. The discipline. The sacrifice. The other people who think you are a little sideways for going through it all.
Brian Sybrandts has a fire in his eye for it all. You can see it just by sitting with him for 20 minutes. The head coach is pretty excited about his 2014-15 group of Grand Island Northwest wrestlers that is ranked eighth in the Class B dual rankings by the Nebraska Scholastic Wrestling Coaches Association.
"We've got a great group of kids this year," Sybrandts said after practice on Tuesday. "We have won our three duals, won the York Invite and just lost to Lincoln Southwest at the Holdrege Invite. But, we won five weights there." The Silverhawks are ranked sixth (team) and eighth (dual) in Class A.
So, things have shaped up quite nicely early for the Vikings as they prepare for a bigger test this weekend at the Flatwater Fracas in Grand Island's Heartland Events Center. The 30-team dual meet, hosted by Grand Island Senior High, features some of the top programs regionally. Northwest will face Hastings High (5th in A), Ashland-Greenwood (10th in B), Battle Creek (5th in C) and Papillion-Lavista (6th in A) in their dual group on Friday. Additional Striv schools Aurora, Syracuse, Central City and Madison will also participate.
"This is a big event for our kids," Sybrandts said. "It's a great gauge for where you are at; I have had it turn out really good and really bad. Sometimes you can walk out of there and feel like you have a long way to go."
But, Sybrandts and his group is ready. If you knew where the last year had taken them, you'd understand why.
*****
"It was the day before the Fracas, actually," Brian said, his voice trailing off. Brian and his wife, Stacy, a math teacher at Barr Junior High School in Grand Island found out that their second child – Katelyn – had a tumor on her tailbone.
He doesn't remember the days; just the events. Off they went to Children's Hopsital in Omaha for scans and surgeries, hoping for the best and preparing for the worst. The next month or so was a whirlwind of visits to see if the tumor was cancerous.
A few weeks later, "it was the day before the conference tournament," Brian chuckles, and then, "that was a devastating day. To get that phone call from your wife that your daughter has cancer." It was a hard sentence to finish.
The next day, behind three champions, the Vikings finished second at the Central Conference meet in York. But, "so much was up in the air. I wasn't sure if I was going to coach anymore."
At the urging of the doctors at Children's Hospital, Sybrandts kept on. Katelyn had her first surgery on January 27th.
"They told me I needed to stay as busy as I could," he said. "Our coaches were great. A lot of people were really in shock. We had people step up and help with practice, with help for our junior program."
A disappointing fourth place finish followed at districts. At the state meet in Omaha, the Vikings scored just 11 points with five qualifiers. Sybrandts shakes his head.
"It was the worst state tournament we've ever had," he said. "It was awful. When we were done, I sat in the Century Link Center and it just hit me — everything that was going on — like a ton of bricks.
"We had a lot on our plate. I felt like I'd let the kids down and let myself down a little bit. But, you realized that life was bigger than wrestling."
Two days later, February 22nd, Katelyn had another surgery. She turned five on March 2nd. A community wrapped a family with a giant hug and on March 19th, she started chemotherapy. "You never know how someone that young will react," Brian said. "All we asked of her was that she take the medicine. And, she did."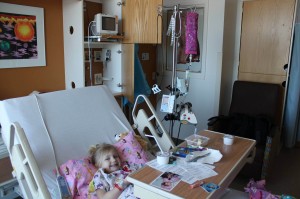 Fellow Northwest teacher Darbie Mazour started a t-shirt fundraising drive and sold 1,369 TEAM KATELYN shirts. She's still selling them. Other Northwest teachers organized a spinning class to raise funds. At Engelman Elementary, where older sister Kyla was in second grade, they had a lemonade stand. Many other events were held, too numerous to list in a single space. Stacy chronicled it all on a Facebook page: Katelyn's Journey – One Sparkle at a Time.
Just 12 days in, Katelyn lost her hair. "Today was one of the toughest days being a daddy!," Brian wrote on his Facebook wall on April 1st. "I watched my daughter lose all of her hair. It made me shed quite a few tears. Thanks to all who are supporting Team Katelyn!!"
The brave five-year old took to chemo like a trooper. She made silly faces on an iPad and shared them on Facebook. In return, she enjoyed friends — big and small — take the "plunge" for her into local lakes and swimming pools. The videos passed the time in the hospital.
The school year finished. Summer was busy and crucially important. With every Facebook post, people understood what a good and bad ANC count was. Silly things like a small fever were a big deal. She completed 30 radiation treatments by mid-July. Grandmas, grandpas and neighbors cared for Kyla and younger twin sisters, Kamry and Keely. Katelyn, mom and dad pressed on, the direction was always forward, though, never back.
Katelyn missed the things five year olds shouldn't miss in 2014: dance recitals, tee ball games, afternoons at the swimming pool, kindergarten. But, she did it with a smile. With bravery. And, she probably taught the whole community of Grand Island a thing or two along with the way.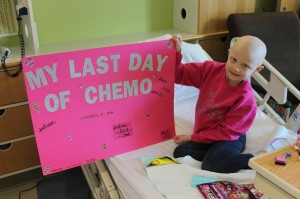 On November 14th, she finished chemotherapy.
*****
Three days later, the wrestling room at Grand Island Northwest was buzzing. Kids in hoodies ready to sweat, make weight, wrestle. And, learn life lessons. Sports always do that.
The theme, you see, for the upcoming Viking season was simple: The Taking Down Cancer Tour.
"Obviously, we wanted to bring a little bit of awareness to cancer, especially in kids," Sybrandts said. "And, for our team, we wanted that theme of aggression to be there. We've got a pretty good bunch of kids that like wrestling that style. We like to get a lot of take downs."
Taking down cancer tour started last night with a win against Aurora!! It was a close one but we will take it. Northwest 42 Aurora 41.

— Northwest Wrestling (@nwwrestling14) December 5, 2014
The team is getting better, Sybrandts said, each week. Returning state qualifiers Devin Schmidt (120), Carson Sok (145), Austin Cooper (152), Ty Johnson (182) and Bailey Dishman (195) have a combined two losses in the early season. In addition to the good start on the wrestling mat, the Taking Down Cancer Tour had other good news last week.
Katelyn went in for follow up scans last Wednesday. There was no sign of cancer.
"We won't use the term cancer-free for awhile," Brian said. "We are in remission at this point. We'll do scans every three months. It will be about 3-6 months for Katelyn to get her 'counts' back to normal. Its always going to be a part of our life. But, we are very thankful."
Words, for the Northwest wrestling coach, are hard to come by.
"Our community has been so amazing this past year," he said. "All the fundraisers they have had for us with people helping out that you don't even know. The people at Northwest and Grand Island Public Schools have been fantastic. Nothing we could do would show our thanks, but we want to give back as much as we can in the future."
*****
Practice ran long at Northwest on Tuesday night. What's an extra 15 minutes anyway? There was only a small break to stop for the National Anthem prior to the Viking girls basketball game. Then, back to work.
Running. Monkey rolls. More monkey rolls. Extra running. That little edge to get over the top.
And, some words about the Fracas that looms on the weekend.
"You have to believe in yourself or you don't stand a chance," the coach says. "I believe in you. These coaches believe in you. That's all it is. We have to take the mentality that we are going to win every match."
It's easy to see – after a year like 2014 – who taught that message to the coach. A little girl who fought cancer. One sparkle at a time.