LINCOLN — The heartbreak of the 2016 state final game was staring coach Nick Orduna and his Lincoln Christian girls square in the face on Saturday.
After the Crusaders squandered a late lead to Kearney Catholic last year before losing in the final 39-37, things looked eerily similar early Saturday morning at Pinnacle Bank Arena.
"Last year we felt like it fell through our hands at the end and kind of had that same feeling toward the end of this game," Orduna said.
But, this time when the Stars cut the LC 38-31 third quarter lead to 38-37 halfway through the final period Christian had an answer. And, defense, as they held on for a 45-41 title game win in the first of six championship games.
"Kearney Catholic is a great champion, we'd knew they would battle us to the end," Orduna said. "We preserved. I think a lot of that is due to the adversity all season, it really developed the character of this team. We were able to finish strong together."
The Crusader answer was a play called Lateral. An, old staple UCLA play in Orduna's book that post Emie Hollenbeck improvised — instead of screening, she cut to the basket — for a layup with 4:17 left that gave Christian a 40-37 lead.
"Emie is supposed to go out and screen, but she's really good at slipping (the screen) because so many teams are looking for Chloe coming around the corner," Orduna said. "That was a big bucket."
After an Anna Squiers free throw got Kearney Catholic back to within two, neither team scored until the final minute. Ashtyn Power — who led the Crusaders with 11 points — gave Christian a 42-38 lead with 58 seconds left on a pair of free throws and KC answered with a long 3-point shot from Kylie Thiele with 41 seconds left.
"Free throws are very mental, especially at the end of the game," said Power, a Weber State volleyball recruit. "When you know you have shot so many of them and you know you can make them, I just had to focus on the front of the rim and got a couple to crawl in."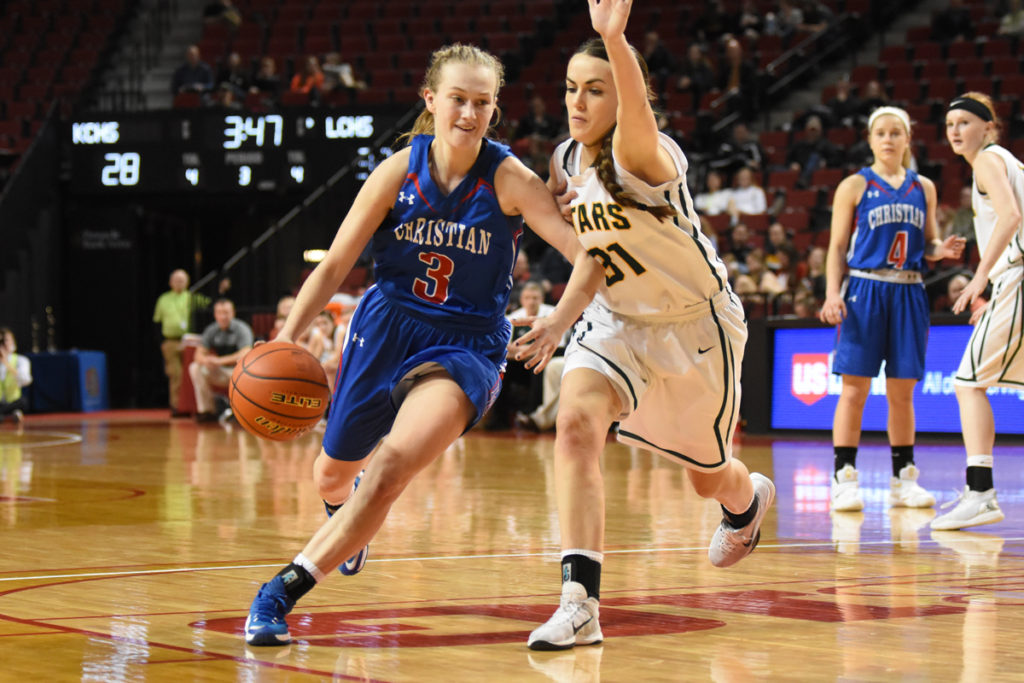 Trailing by one, the Stars got a good look when Thiele got a look in the paint, but it fell off the rim and Power rebounded and made two more free throws with 12 seconds left. Christian fouled Morgan Thiele with 1.3 seconds left and she missed the front end of a bonus and when Olivia Hollenbeck rebounded the miss she was fouled and made one free throw for the final margin.
"It was fun to see her make the last shot," big sister Emie said. "It's been really fun to play with her, just a big blessing."
After all the Crusaders had been through — losing point guard Mollie Shepherd to an ACL in December, and Emie Hollenbeck breaking her foot in the fourth game — they had pulled through it all champions.
"We hope some of these things are a blessing in disguise," Orduna said. "They can use them to build character."
For Power, there is nothing better than leaving Christian a champion.
"It's special," she said. "I am just very thankful for my four years here, my four years with Coach O and with these girls…"
She trailed off, to a hug from teammates Chloe Dworak and Taytem Coleman. Finally, a champion.