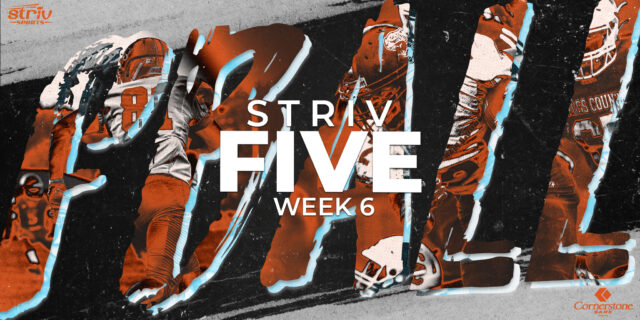 Back for week six and a load of the top games in the state are on the Striv Network. Some really important games as the calendar turns to October that will have playoff seeding implications. Remember, you can watch on Roku now, give us a download. All rankings from our partners at nebpreps.com. 

Class C-2, Yutan (4-1) at. No. 5 Wilber-Clatonia (3-0): W-C has had an unfortunate two week Covid break. They get a big test when they return tonight against 4-1 Yutan who has rattled off four straight wins since a season opening loss to Fremont Bergan. Sophomore quarterback Coy Rosentreader is passing at a 62.3% clip for the Wolverines.
Class D-1, No. 10 Arcadia-Loup City (3-2) at No. 1 Burwell (5-0): A double chin strap night in Burwell as the 'Horns host ALC, who has won three straight after losing their first two games by a combined six points. Junior Cody Markus has stepped in for the injured Jaydn Scott at quarterback and thrown for 689 yards in five games. The 'Horns are loaded with talent including 1,000-yard rusher (already) Caleb Busch.
Class C-2, No. 2 Ord (5-0) at No. 10 Grand Island Central Catholic (3-2): After losing their first two games to ranked opponents, GICC has rattled off three straight behind a strong defense and the quarterback play of Russ Martinez. They'll meet a stingy bunch tonight  when the Chants come to town. Ord looks state finals good.
Class C-1, Gothenburg (2-3) at No. 10 Mitchell (5-0): Don't let Gothenburg's record deceive you as they get their fourth ranked opponent in six games. This one could have big rankings implications as the Swedes knocked off previously unbeaten Ogallala last week. Can they do it twice in a row?
Class D-2 No. 1 Bruning-Davenport/Shickley (5-0) at No. 5 Kenesaw (4-0): We should make you pay to watch this one, but we won't. Two teams with great playoff pedigree get a rare regular season matchup. The Eagles have already been on the road for a win over No. 4 Falls City Sacred Heart. Who wins the line of scrimmage? Kenesaw has run for over 1,100 yards in four games with quarterback Tyson Denkert leading the way.
BONUS "PLAYOFF IMPLICATION" GAMES TO WATCH
Class A: Lincoln East at No. 8 MILLARD WEST
Class B: No. 1 Hastings at YORK
Class C-1: Falls City at LINCOLN CHRISTIAN
Class D-1: Hi-Line at No. 3 DUNDY COUNTY-STRATTON