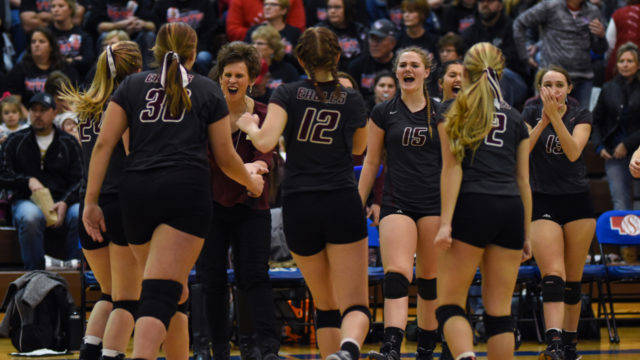 Southern Fillmore and northern Thayer counties are places you can go and kind of reset yourself if you believe in the simple things in life: coffee with your neighbors at the local shop, work hard, be good stewards of the land, leave the keys in your car and, most importantly, do things the right and honest way.
So it goes in towns like Bruning and Davenport and Shickley, that used a to be a killer month of football games in the old South Central Nebraska Conference. Now, they join forces for a super coop that produces state titles left and right. But, most of those have been in boys sports.
Now, the girls are catching up and ready to tag along.
BDS volleyball coach Kari Jo Alfs has her Eagles off to a swift 6-0 start and their sweep of preseason No. 1 Exeter-Milligan (built with those same Fillmore County values) last Thursday bumped BDS to the top of the Omaha World-Herald Class D-2 rankings, after they finished third in Class D-1 in 2017.
There are no real secrets in how the Eagles got there.
"I think a lot of success just has to do with playing hard and working hard in the offseason," said Alfs. "We went to Kearney this summer and won the B Division championship at UNK and then won the D1-D2 Top-10 Camp at Kearney Catholic.
"It's really fun to watch the girls play. They try to get to every single ball and don't really want anything to hit the floor."
Alfs has a hard time telling you who is the leader of this team. Four seniors and two juniors had a role on last season's team, but she can't give you season stats, such is the "team first" attitude of the Eagles.
The seniors — Jadyn Kleinschmidt, Sera Johnson, Caitlin Mosier, and Emily Schardt — have provided a solid base of leadership. Kleinschmidt has moved to back row specialist after setting last year. Now, sophomore Jordan Bolte shares those duties with junior Regan Alfs.
Also playing major roles are juniors Jen Holtzen and Kaylee Noel, sophomore Macy Kamler and freshmen Mariah and Taylor Sliva. It's not uncommon, Alfs said, for the Eagles to play 11 players in a match. That's not real common in Class D gyms.
"We always want to have our six best players on the court in each rotation," Alfs said. "We've just had multiples step up already this year and be leaders for us, it kind of just depends on the situation we are in during each match."
The Eagles get a shot tonight at Class C-2 defending champion Superior, who they beat a season ago. Win or lose, Alfs said BDS will take what they learn and use it later.
"We know we probably won't go undefeated against our schedule," she said. "But we just hope to compete and get better. These girls have seen the football team win championships, then they got to the basketball finals last year and I think that proved to them they can be the best in the state.
"Each little step they take gives them more determination to get back and win a championship."
Six Rotations
This is the first in our new weekly feature called Six Rotations, which we hope will bring six different volleyball stories each week. If you have a good one hit us up in our Twitter DMs at either @strivsports or @tony_chapman76. Volleyball in this state is awesome and we need to promote it the best we can.
Rotation Two: Malcolm in the Middle | Your first assignment today is to read about two former Striv athletes from Malcolm. Hayley Densberger (now at Nebraska) and Jaela Zimmerman (now at Creighton) meet on opposite sides of the next tonight at CHI Health Center. Great piece from Hail Varsity's Jacob Padilla is here.
Rotation Three: Storming | New Striv school Elkhorn South is off to a hot start in Class B earning the top ranking and the overall No. 3 spot in the All-Class Top-10. Starving Husker football fans may recognize a few last names who are contributing for ES coach Briana Janda — Logan Conneally and freshman Estella Zatechka.
Rotation Four: Right Where They Left Off | Class C-1 champion Wahoo has taken their first state title in stride. The Warriors are off to a 6-0 start and top-ranked in the class with fellow Striv schools Lincoln Lutheran and St. Paul (does anyone get more out of his teams than Matt Koehn-Fairbanks) are right on their heels.
Rotation Five: Killing It | Speaking of Class C-1, three of the state's top kill leaders reside in the class: Marriah Buss (Lincoln Lutheran, 105), Jensen Rowse (Minden, 95) and Megan Woods (GICC, 92). Is it the most talented class in the state. Maybe?
Rotation Six: Tune In | Catch that big BDS, Superior game tonight on the Superior Striv Channel and you can also catch state-ranked GICC in a triangular with Sutton and Doniphan-Trumbull.