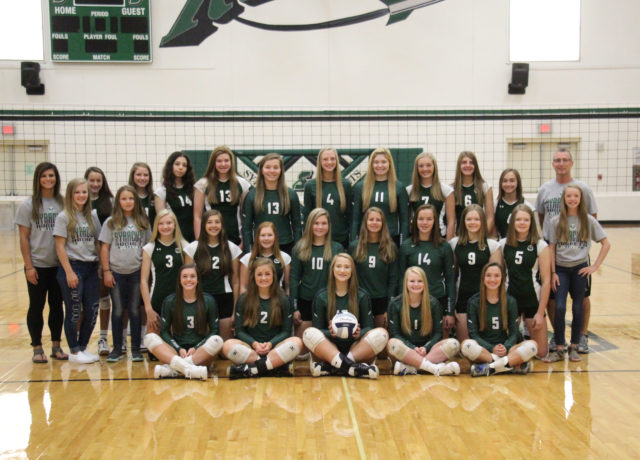 SYRACUSE, ROCKET TOWN — Courtney Van Groningen modeled herself as one of the greatest all-around, small school volleyball players in Nebraska state history.
You don't need much proof other than to know she is the Class D-2 record holder for kills in a career (1,901) and digs in a career (1,907). She's also the only player in Nebraska prep history to have a 50 kill match.
After she led Sterling to the Class D-2 championship match her senior season, she moved her volleyball talent to Wayne State College, where, as a senior, she led the Wildcats out of the brutal North Central region to the NCAA Divsion II Final Four.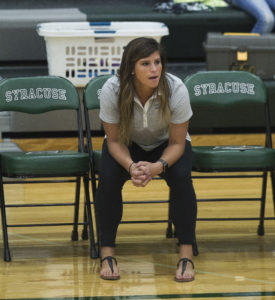 So, yeah, Courtney Van Groningen knows a little bit about competing. It's just that now she does it on the sideline at Syracuse High School.
"For me, competing against the best teams are the absolute best games," the second-year Rocket coach said.
The Rockets have had plenty of success in program history. A 1999 State title appearance, a four-year run from 2007-2010 where they finished third in 2008 and fourth in 2009.
But, competing in Class C-1 comes with challenges. Since 1994, only 12 public schools have even advanced to a final, just three have won including current No.1 Wahoo, who beat Grand Island Central Catholic last season.
As it should be, none of it bothers Van Groningen and her team which is new to the Omaha World-Herald rankings this week at No. 10.
"We have really just tried to teach our players that the best teams are the ones that make us better," the coach said. "And, that you have to come to practice every day and be ready to work."
So far, so good for the Rockets, off to a 7-0 start heading into tonight's game with Platteview.
Van Groningen said the team has adjusted well to a few new positions that took place over the offseason to help improve on last year's 24-5 record.
Seniors Brooke Snyder and Brooklyn Nordhues switched roles, with Nordhues moving to libero and Snyder taking over at setter, where she averages 11.3 assists per set.
Senior Meredith Clark (71 kills), junior Lauren Meyer (55) and sophomore Jessie Moss (70) lead the Rocket attack. Clark's 13 blocks also lead the team.
"I think all the way around, we have played pretty well," Van Groningen said. "We have kind of tried to tell the girls to be fired up and ready to go from the beginning.
"We have played well, but we know every team will be giving us their best shot each time we play. We don't have time to have a bad game."
Spoken like a true competitor who has been there before.
Six Rotations
This is the second in our new weekly feature called Six Rotations, which we hope will bring six different volleyball stories each week. If you have a good one hit us up in our Twitter DMs at either @strivsports or @tony_chapman76. Volleyball in this state is awesome and we need to promote it the best we can.
Rotation Two: High Flyers | Three Striv schools lead the point standings in their respective classes. Elkhorn South (8-0 in Class B), St. Paul (8-0 in Class C-1) and BDS (8-1 in Class D-2).
Rotation Three: Playing for Mom | Millard West senior Jaiden Centero is one of the best defenders in the state. She'll play volleyball next year at Iowa State. This year, she's playing for her mom who is undergoing treatment for breast cancer. Awesome read from Mike Patterson.
Rotation Four: National Powers | Millard North, at 14-0, is keeping Nebraska volleyball in the national conversation.
Rotation Five: Special Return | Ohio volleyball player Carley Remmers was a special talent at Freeman. Her return to Nebraska was even better. Excellent storytelling from Brent Wagner.
Rotation Six: Tune In | There will always be a special spot down here for some big games. Hopefully, you got this before 8:15 on Thursday and you got to watch the MUDECAS final between D-1, No. 2 Johnson-Brock and D-2, No. 1 BDS. It's right here!!