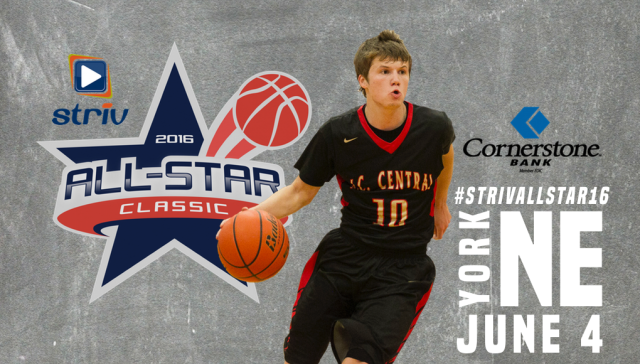 Striv founder and CEO Taylor Siebert is excited to announce that York High School will again be the host for the 2nd Annual Striv All-Star Basketball Classic presented by Cornerstone Bank on June 4. The girls game will begin at 6:00 with boys to follow at 8:00 and there will be a 3-point shooting contest between games.
"We were floored by the success of last year's event and the response we got from players, coaches and fans. This is a great way for us to showcase our student athletes," Siebert said. "Our growth and commitment to help sharing a school's story is highlighted by this event. With over 70 schools, we have plenty of great athletes to choose from and we hope to put on a fun, family-friendly event with high quality basketball being played."
Siebert also excited to announce four coaches for the game who all won over 20 games in 2015-16.
The boys teams will be coached by Elmwood-Murdock's Matt Shelsta and Fillmore Central's Jim Rose.
Shelsta led the Knights to an appearance in the Class C-2 finals after E-M pulled one of the biggest upsets in state history in the semifinals over Winnebago. They finished 24-5. Rose led the Panthers to their best record in over a decade as they were ousted from the postseason by state champ Hastings St. Cecilia in the district final while finishing 21-4.
On the girls side, Friend's Scott Kraus and Hampton's Margo Labrie will lead the two teams.
Kraus led the Bulldogs to a second straight state tournament appearance in his tenure as they finished 23-4. Labrie led Hampton to their second straight 20-win season for the first time in school history. She led the Hawks to the state tournament in 2015.
"We are honored to be able to get four great coaches and leaders to participate in the game again this year," Siebert added. "It should be another fun night."
Players were nominated by coaches and then selected via a draft creating a game format where three sets of high school teammates will be on opposite sides for the girls game.
Girls Orange Team – HC Margo LaBrie – Hampton
[table]
Name,School
Macy Stewart,Shelby-Rising City
Jordyn Stearns, York
Maddy Wolfe, Schuyler
Alexis Holland, Freeman
Tayma Sebek, Hampton
Whitney Heuermann, Nebraska Christian
Alyssa Prettyman, Nebraska Christian
Cassidy Ostrand, Nebraska Christian
Karen Schmeits, Riverside
Maddy Haschke, Riverside
Kelsey Spongberg, Sutton
Taylor Weddle, West Point-Beemer
[/table]
Girls Blue Team – HC Scott Kraus – Friend
[table]
Name, School
Emma Grenfell,York
Nicole Kent,Dundy Co Stratton
Kelly Cech,Howells-Dodge
McKenna Schardt,Bruning-Davenport-Shickley
Emmie Noyd,Shelby-Rising City
McKenzie Bruce,West Point-Beemer
FayeLee Sanford,Dundy Co Stratton
Rachael Nordhues,Syracuse
Emily Lenners,Freeman
Sidney Greiss,Sutton
Lexi Ryan,Friend
Jesse Grotelueschen,David City
[/table]
Boys Orange Team – HC Matt Shelsta – Elmwood-Murdock
[table]
Name, School
Mitch Faris,Johnson Co Central
Tanner Hudson,Riverside
Sam Johnson,High Plains
Tyler Polacek,Howells-Dodge
Lane Hegemann,Madison
Brayden Obermeier,Centennial
Ty Hegemann,Madison
Colby Becker,Clarkson-Leigh
Kobe Paprocki,Clarkson-Leigh
Bennett Nelson,Osceola
Sam Sterup,Johnson Co Central
[/table]
Boys Blue Team – HC Jim Rose – Fillmore Central
[table]
Name, School
Brady Langmeier,Cross County
Cam Carritt,Milford
Chance Hall,Omaha Central
Matt Euse,Twin River
Scott Ketteler,Boone Central
Jalen Graham,Wilber-Clatonia
Leyton Hopken,Fillmore Central
Brandon Borgmann,Creighton
Austin Diederichsen,Creighton
Tanner Harsin,Syracuse
Nate Bahe,Wood River
Dillon Rose,Nebraska Christian
[/table]
FOR MORE INFORMATION: Taylor Siebert (402.513.8520 or [email protected]) or Eric Allgood (402.513.8743 or [email protected])