FAIRBURY — Last night, there was plenty of celebrating — and really good football — here under the corn dust and a harvest moon.
Simply put, Adam Wasserman and his buddies had enough of losing to Falls City. So, they took matters into their own hands.
Wasserman ran for five touchdowns and threw for two more as the Class C-1, eighth-ranked Fairbury Jeffs toppled Falls City 68-14. It was the first time that the Fairbury seniors have defeated the Tigers in football.
"Overall it was a pretty good night," Wasserman said. "They were keying on Jacob (Johnson) really hard. Their linebackers were flowing to him our line did a great job of sealing them off and it opened up holes for me. "
In avenging last year's 14–13 loss to the Tigers, Fairbury played a near perfect first half of football. They scored on six of seven offensive possessions and added a 62-yard punt return for a touchdown by sophomore Chance Amundson to jump to a 48–0 halftime lead resulting in a running clock second half.
The Jeffs outgained Falls City 303-43 and held the Tigers to just one first down and forced two turnovers.
"Falls City is a game we want to play every day," said Jeff head coach Kam Lenhart. "Our seniors remember getting beat their freshman year and we have gotten a little closer each year. But it was our turn to beat them tonight. "
After a three-and-out by the Fairbury defense started the game, Wasserman scored on the first offense of play on a 41-yard zone read run. He added touchdown runs of 42, 28 and 10 yards and threw a pair touchdown passes in the first half. He finished the game with 194 yards rushing on 12 carries and was 8-for-12 passing for 83 yards.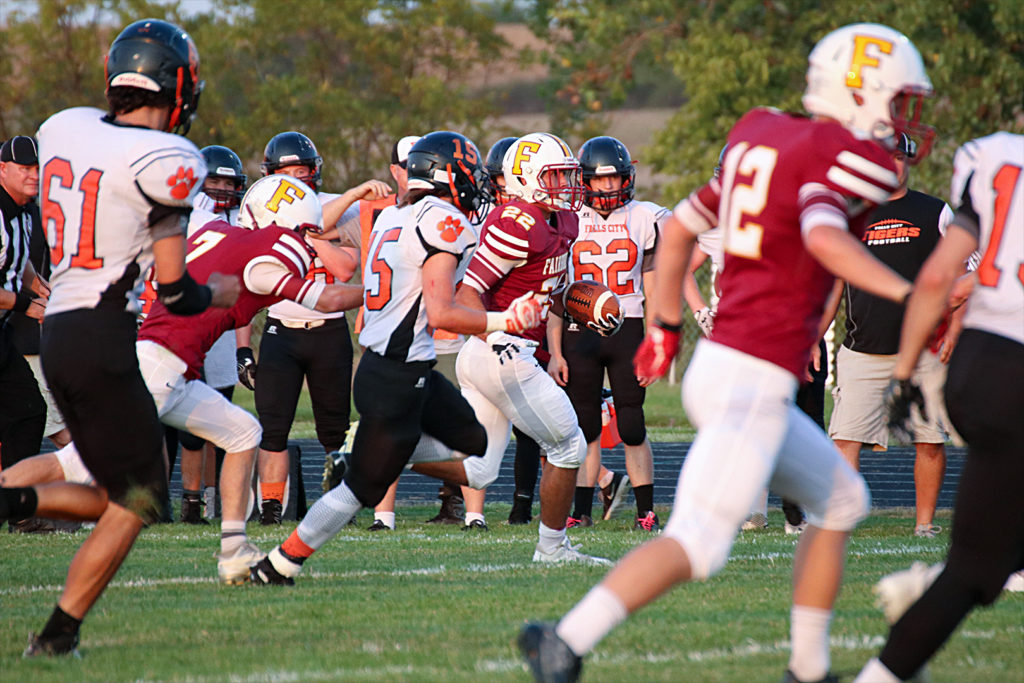 By the time the Fairbury starters left the game after one series in the third quarter, the offense had ran 45 plays for 383 total yards. You can do that math at home. That should win a bunch of games.
Lenhart said the fun part is being around kids who don't care who gets the credit.
"Adam had a great game tonight and that is what was there," he said. "Some nights it another guy, but we don't have anyone on our team that sits and the bench and wishes it was them if someone else is scoring."
The Jeffs also have a physical line on both sides of the ball — the Tigers managed just 28 yards rushing on 14 attempts in the first half — that compliments the skill positions perfect. The offensive starters are Zach Holes, Devin Trimm, Joseph Melcher, Trent Grizzle and Trent Reikofski.
"This whole group is a special bunch," Lenhart said. "It's one of the closest groups — together — I have ever been around."
That's a formula to win a bunch of football games. And it looks like the Jeffs are on the right track.
Let's Rewind
Class A
Belt carries 'Cats to win over LSW
Slow start for Prep, but they beat Fremont
Class B
Touchdown duo lifts Columbus past GINW
Freshman leads Elkhorn past Beatrice
Class C-1
Stunner: BCNG blanks defending champions O'Neill