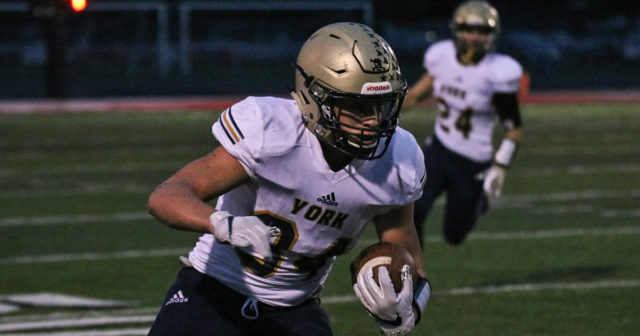 CATCHING UP AFTER DIVERTED FLIGHTS — The Rewind had big plans for flying in from Dallas, after a trip to Fort Worth, on Friday night.
A flight that could have shown us the lights of the opening night of the B-6 where Northwest bruised their way to a 35-21 win over Seward and York pulled away from Aurora, 51-20.
But, alas, at about 8:20 PM our pilot came on the speaker and said, "Well, folks we are beginning our final descent but it looks like we'll be landing in Kansas City."
That's what happens when the radar looks like this.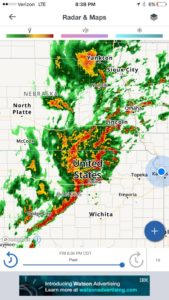 So, we took our time and had a little fun trying to review a crazy weekend (games stretched from Thursday to Saturday) that might bring the playoffs in a little more focus and will particularly do so before the end of this week's games.
So, let's try to take a high-level look at where we stand in all of the 11-man classes heading into the final two weeks of the season. With more teams, 8-man will wait until the next Rewind.
Class A
Most teams here are clamoring for seeding in Class A. There is a big one in Kearney this Friday as the Cats (7-0) host Creighton Prep (6-1). A win could give Kearney the inside track to the top seed in Class A. Four unbeatens remain, with Omaha North, Lincoln High and defending champ Bellevue West joining the Bearcats.
Class B
It's mostly a seeing game in Class B as well and where this week's games could decide a few things, but most of the seeding will take place after a big slate of final week games that includes Gretna and Elkhorn South, Beatrice and Norris, and Blair and Columbus. Omaha Skutt's game with Ralston will decide a district title on Friday.
The other big one for this Friday is Aurora's trip to Northwest. Both teams maybe just on the edge of being able to catch Beatrice for the final home playoff team, but a win for either team solidifies their spot in the playoff field. Waverly and Norris will play a similar game this week, with the loser in a real tough spot.
Of note in B, one team in the top-16 will not be in the playoffs as the winner of District 1, should come from outside the top-20 in points.
One play later @YorkDukeFB regains lead over @AuroraHuskies, 14-7. Weskamp to Danielson for 47 yards. 2:26 1st. #nebpreps pic.twitter.com/CJZAVOsXj9

— Striv Sports (@strivsports) October 7, 2017
Class C-1
The field is really deep in Class C-1. Five teams remain unbeaten but only four could get that way to the playoffs as the top-two in points — Norfolk Catholic and West Point-Beemer — will have a week nine showdown.
Aquinas only has an 8-game schedule and will travel to Wahoo (6-1) on Friday to keep their unbeaten season alive. Based on schedule strength, Fairbury and Boys Town look ready to make the postseason with 9-0 records.
Currently, no district leaders are outside the top-16 on points making the bottom of the field uniquely strong. Were the playoffs today, Wayne, Pierce and Bishop Neumann would hold down three of the four final spots. Pierce, winners of four of their last five, could really shake things up this week with a win over WP-B.
Class C-2
The bottom was flipped on Friday in C-2 with Yutan ending Wilber-Clatonia's 19-game winning streak 28-7 and Central City clamping down on Sutton 13-6.
But the Bison have a brutal finishing stretch that includes undefeated Arcadia-Loup City and St. Paul so it's like three straight games that could be do-or-die for the Bison. Likely just how Troy Huebert wants it.
Yutan (tied for 16th in points) and W-C (14th) still control their own destiny to the playoffs. Each appear to be headed to week nine showdowns with Lincoln Lutheran (6-1) and Freeman (6-1) for district titles.
Another class with four unbeatens, but only three could get that way to the playoffs as Ponca will host Harrington Cedar Catholic in week nine.
Odds and Ends
The crew will be out doing our best to cover state softball this week in Hastings after a crazy weekend of districts. As of Monday, Class A had barely started with only three districts compete and one (A-1) got finished in Council Bluffs.
While everyone was watching Nebraska, Wisconsin the B-3 was moved to Hastings and play Saturday afternoon and evening with Crete (24-8) upsetting their way to the title with a with wins over York and Seward, who could both be wild card entries in Class B.
Striv schools Millard West (A-6 champion) and Fillmore Central/Exeter-Milligan (C-5 champion) also advance to Hastings.