FRIDAY THE 13TH, NORTH ROAD, GRAND ISLAND — Northwest football coach Kevin Stein didn't really mince words after his team escaped tenth-ranked Aurora 35-34 on Friday night. He thought Freddy Krueger might show up in the Viking locker room at halftime.
Aurora scored three times and recovered two onside kicks — one on purpose, the other not so much — in the final 5:54 of the first half to turn a 7-7 tie into a 28-7 halftime lead. His staff walked slowly to the locker room and waited for a few minutes.
"I had a freshman coach come out and tell me it looked like World War III in there," Stein said after the game. And, then, like a silly curse on a silly night it all went away.
The the Row the Boat mantra that Stein preaches and the Vikings wear on their jerseys took over. It had to, his team had no choice.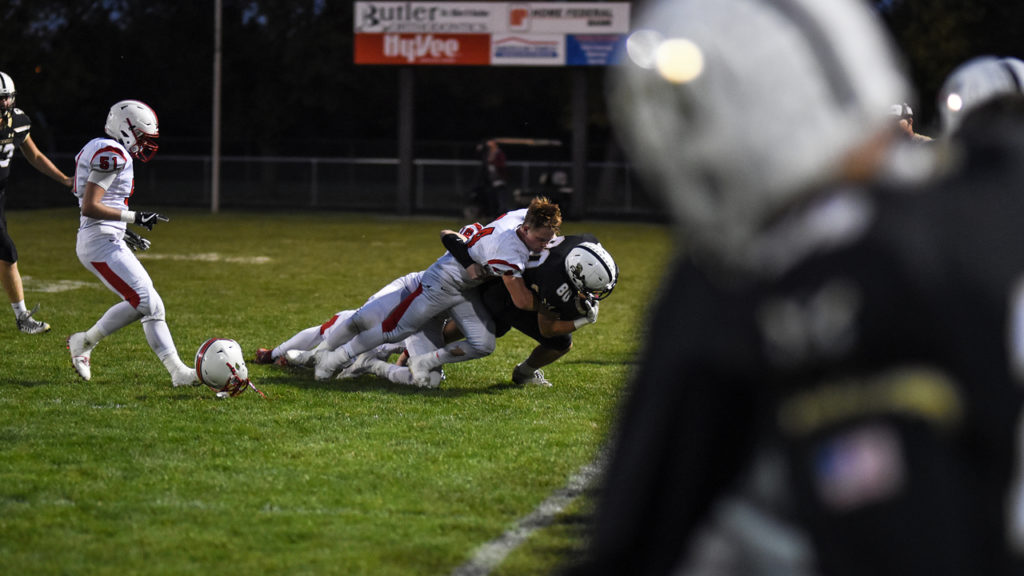 "I told them if we want to keep rowing in different directions — and I just pointed at random guys — if you want to row backwards and you want to row forwards and you want to not row and you want to put your oar in the water we'll get beat by 50.
"I promise you, they will boat race us."
Pun intended. I think.
"It was a simple question. Now, let's relate this to life. We are going to get kicked around. We just had to put our oar in the water and row and row and row. Hey, we may get beat but we would have our dignity. Fortunately, our kids settled down and the confidence took off."
The Vikings need everybody to get back into the game. The Huskies first five possessions of the first half were punt, interception, punt, missed field goal, punt. That allowed Northwest to get back in it.
PICK SIX provided by Brady Glause for @GINWFootball! Vikings trailing @AuroraHuskiesFB, 28-14, 7:01 3rd. #nebpreps pic.twitter.com/aqu9s41wyz

— Striv Sports (@strivsports) October 14, 2017
The first score was a quick one, when Danny Fischer got past Kaleb Moural for a 60-yard touchdown. 28-21, Aurora with 4:08 left in the third quarter.
4:08 3rd – @_CarterTerry3_ connects with Danny Fisher for 60-yds. @AuroraHuskiesFB 28, @GINWFootball 20. #nebpreps pic.twitter.com/JaDjpzLrKm

— Striv Sports (@strivsports) October 14, 2017
Then, the Huskies set out to ice the game and nearly did it. They used 16 plays and almost seven minutes of game clock before they bogged down in the red zone.
On 1st-and-goal from the 4, Aurora bobbled a snap that lost six yards then they regained it on a pass from Baylor Scheierman to Jordan Stevenson, but Scheierman was forced out of bounds on third down before a field goal came up short.
On the next drive, Terry found Riley Schliep for 34 yards on the second play and five plays later they connected in the end zone for a 17-yard touchdown. Tie game. 7:26 left.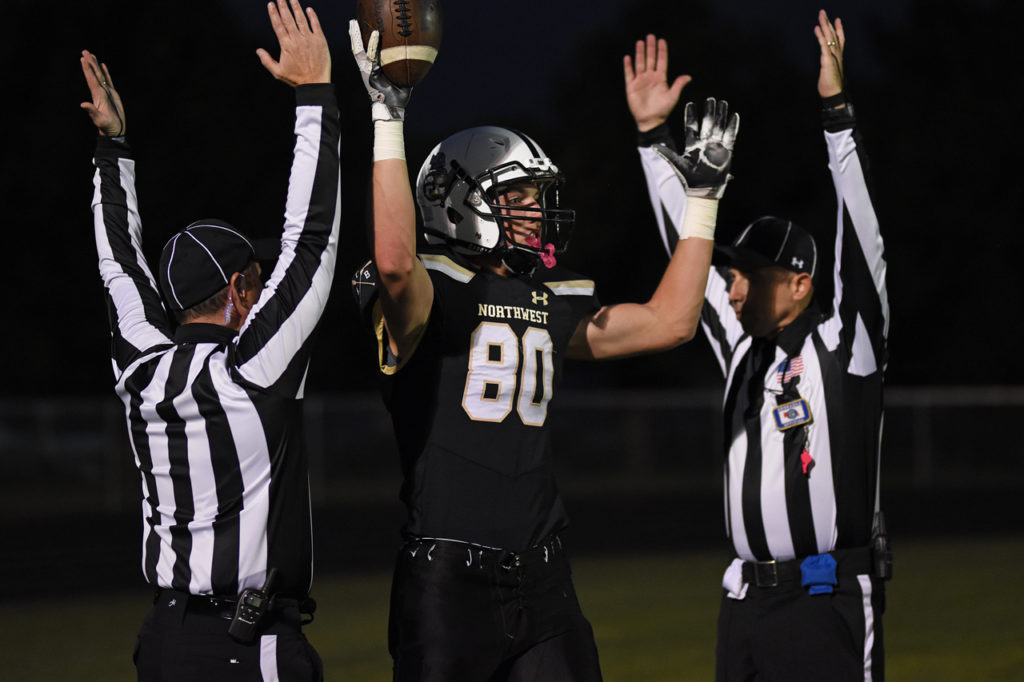 "Football is a game of momentum," said Terry, who finished the game 21-for-27 for 269 yards and four touchdowns. "At halftime, we kind of saw that their safeties were coming down and we thought could get some of the deep balls and we tried to take advantage over the top."
But, remember, the Vikings had to be perfect.
So, on the next Aurora possession, Ryan Melvin sacked Scheierman for an 11-yard loss and then Terry and the offense did their thing one last time. Eleven plays, 67 yards and the winner on a busted play. A 28-yard pass to Preston Ellsworth.
"I bobbled the snap," Terry said. "Broken play, roll out. I saw him waving for glory in the end zone. I just had to throw it."
.@GINWFootball takes 35-28 lead over @AuroraHuskiesFB. 28-yd TD toss from @_CarterTerry3_ to Preston Ellsworth. 1:35 4th. #nebpreps pic.twitter.com/vn8K9SwkYY

— Striv Sports (@strivsports) October 14, 2017
"I had an open seam and I was just ready for (Carter) to throw it up," Ellsworth said.
And, then pray. Because the Huskies, refused to give up.
Scheierman led a drive that took — gulp — 54 seconds and ended when Aurora did the okie-doke. A hand off to Narber, on third-and-1, then a throwback to Scheierman who threw for a streaking Rylan Willis for a 34-yard score.
And, you knew coach Kyle Peterson was going to try to win it. Stein knew it, too.
"Coach Peterson is one of the best coaches in the state at those kinds of plays," he said. "We were fortunate they kind of bobbled the snap a little bit and we were able to stop they play."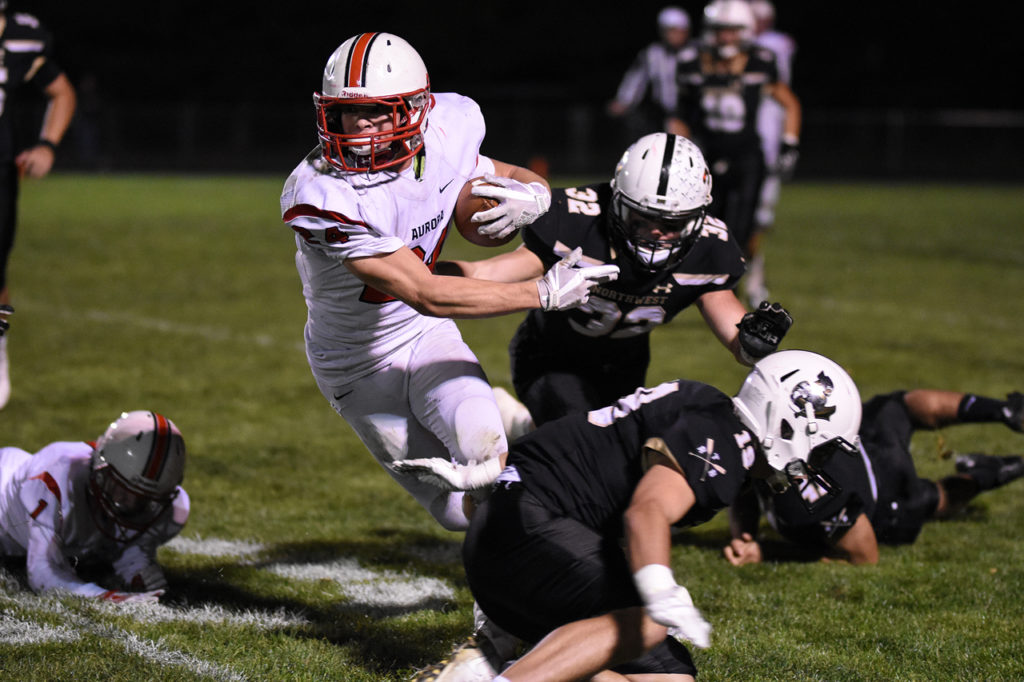 Scheierman bobbled the snap just enough that it threw everything off and Aurora had to fall on the ball under heavy pressure from the Northwest line.
"We had an out set up and we thought it had a chance," Peterson said. "We just didn't execute the play. Its just little things and it always starts with the quarterback, center exchange. Sometimes it's just the real little details that get you in big situations."
Minutes later, Northwest survived, finally recovering an onside kick that sets up a district final with third-ranked York next week. The Rewind is still trying to catch their breath.
District Title for Bearcats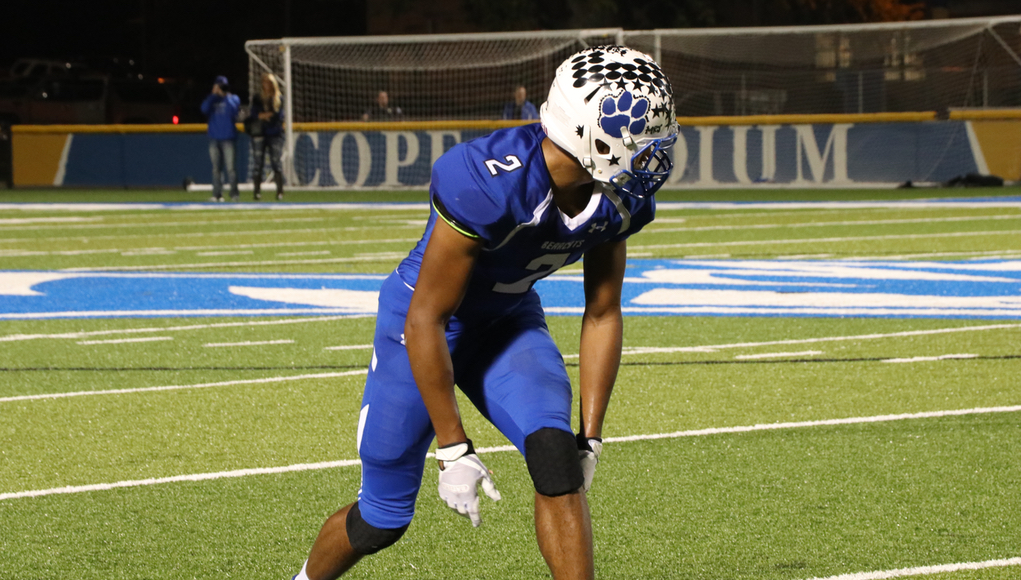 If defense wins championships, Kearney High is onto something, while being disrespected by the state newspapers. Ranked seventh in Class A, the Bearcats haven't given up 20 points all season.
On Friday night, they stuck it to another metro team — sixth-ranked Omaha Creighton Prep — in a 24-7 win at Foster Field on Senior Night. Quarterback Kanon Koster, who suffered a knee injury on the Bearcats third series had to sum it up with a tweet.
I have the best teammates, hands down. #8and0

— Kanon Koster (@KanonKoster) October 14, 2017
"What a fantastic defensive effort tonight," Kearney coach Brandon Cool, told our student broadcaster Geoff Exstrom. "The goal line stand we had right before halftime was huge. Our defense keeps getting better and better. It was a physical, hard-nosed football game."
Goal line stand! @LeeHerrington3 gets the fumble recovery. #nebpreps pic.twitter.com/eUIOeMfifq

— Striv Sports (@strivsports) October 14, 2017
Cool may have under stated his team's performance on the defensive side. The Bearcats forced five Junior Jay turnovers, including an interception by Isaiah Stahlbird that lead to a field goal just before half. Points have been at a premium this season against the Cats; Prep came in averaging 36 per game.
A playoff game, if you will. One it looks like the Bearcats could be ready for in a few weeks.
Let's Rewind
Class A | TOUCHDOWNS: Westside outlasts defending champs
Class A | In Rhythm: Case, Links cruise past LSW (Prep Extra)
Class C-1 | Record setter: NC's Bellar sets win mark (NDN Sports)
Class C-1 | WAHOO!! Warriors shock Aquinas (Prep Extra)
Class C-1 | Magic continues for WP-B
Class C-2 | Ponca pulls away from LHNE
Class C-2 | D-T stops Gibbon, claims district
Class C-2 | A-LC keeps going, tops Central City