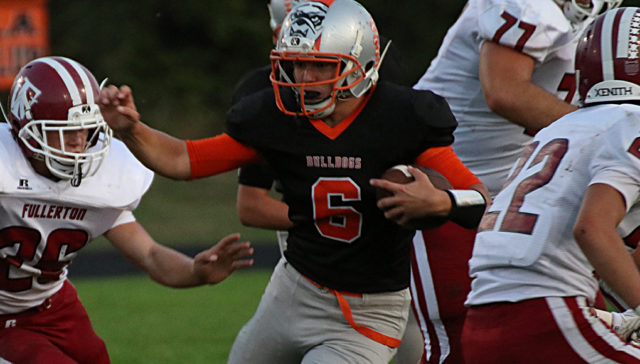 AROUND THE SQUARE, COUNTY SEAT, POLK COUNTY, NEBRASKA — An hour or so after Osceola had worn our Fullerton here on Friday night, the sports writers left for home. Casey's pizza in tow.
Everyone else and their Chevy truck from Tonniges Chevrolet was parked around the square and headed to the Legion. Where they likely talked about how they like their football in Osceola.
Tough and physical.
Where, instead of playing a numbers game or spreading a defense thin, you just line up and try to beat the man in front you.
They liked much of it on this Friday where the hometown Bulldogs put on a single wing clinic — they ran 58 times for 378 yards — in a 38-12 "upset" win over Class D-2, tenth-ranked Fullerton.
It was, for lack of any better words, a playoff football game.
Both teams should and could win a few games in the postseason. Both are led by two of The Rewind's favorite coaches: TJ Nielsen in Osceola and Ryan Haughton in Fullerton. Great leaders for their communities and the boys they teach to grow up and compete and be men.
They both coach their tails off, coaching harder on the Monday through Thursday than what you see on Friday night. When character is taught and lessons are learned. They know what football is about and how it's generally won.
"(Osceola) owned the line of scrimmage for all four quarters," Haughton said afterwards. He's coached enough to know that's a bad recipe. "A little too physical for us up front. I thought we would hold up better, but we did not. They made plays. When we had opportunities we did not."
The Bulldogs only threw it five times, but Caden Theis completed three of them for touchdowns to Garrett Fisher. The first two in the first quarter — both from 52 yards away — allowed Osceola to take their "ground and pound" hashtag to a new level.
They ran 63 plays to Fullerton's 49, but the Warriors had to throw it 31 times just to stay in the game and only were able to muster 58 yards on the ground on 18 attempts. Osceola had a 16-play drive in the first half and another 13-play drive in the second.
The kind that will beat the other team up both mentally and physically.
"That was really the game plan," Nielsen said. "We wanted to kind of lean on them a little bit. We rotate a few more lineman than they do. That's a style of play our kids like and they executed pretty well tonight.
"I knew if we could get the ball rolling in the second and third quarter we could jump on them a little bit."
In their 58 runs on the Friday night, only one lost yardage. Theis had 36 (!!) runs for 193 yards. Brennan Bryan had 11 for 67 yards and Fisher — the touchdown man — had eight for 91, his 57-yard gave the Bulldogs a 22-6 halftime lead.
The running game does something else for Osceola, too. It helps them play defense.
"Time of possession is a big thing," Nielsen added. "I think that get's forgotten in today's game. We try to control the clock and have the ball in our hands. That helps your defense quite a bit."
And, then, the respect from one coach to the other.
"Because their offense is really, really dangerous," Nielsen said. "They have some gadget plays and they can score at any time. We didn't want to give them any opportunities."
Haughton respected who had beaten them, too.
"Definitely the most physical team we have seen, there is no doubt about that," said Haughton. "It taught us a lesson that we need to get a little tougher and go back to the drawing board on some of the physicality parts of things."
Let's Rewind
CLASS A | THURSDAY: Burke fends off Westside
CLASS A | Millard South fends off Islanders
CLASS B | Skutt finds offense, tops Columbus
CLASS C-1 | Boys Town still perfect, beats Neumann
CLASS C-1 | "Blue collar" Pierce tops undefeated Wayne
CLASS C-2 | Big plays lift Ponca past BC
CLASS C-2 | Warriors end Freeman's unbeaten streak