UTICA — When top-ranked Centennial needed him the most, Gavin Avery was there on Friday night helping the Broncos secure a 28-25 win over fourth-ranked Yutan in our Striv Game-of-the-Week.
His 15-yard catch, where he slipped out of the backfield uncovered, from Wyatt Ehlers with 41 seconds left won it for the Broncos. Then, he sealed with an interception in the final 10 seconds as Centennial advanced to 2-0 on the season.
"We knew we weren't out of the game," Avery said, after watching come back to lead 25-21 early in the fourth quarter. "We were just trying to drive the field. Coach called it earlier and it didn't work, but he just said, 'Run the same thing' and it worked this time."
His coach, Evan Klanecky, confirmed.
"We had some time and we kind of just drew that up in the dirt," Klanecky said. "We were hanging on to it a little bit. We called it three plays earlier and it busted. We knew we could score if we executed it. Sometimes better lucky than good, too."
It looked like Yutan had completely turned the tables on Centennial's early 21-6 lead.
They cut the lead to 21-12 at the half when Chieftain coach Dan Krajicek rolled the dice on fourth-and-1 from his own 34 and Blake Hutton scored on a 66-yard run. Then the Chieftains, 14-12 losers to second-ranked Battle Creek last week, controlled the game.
Bryland Mennicucci, who had 26 carries for 143 yards, scored to open the third quarter and then sophomore quarterback Griffin Hendricks gave Yutan the lead with 7:40 left on a 1-yard sneak that capped a short 20-yard drive.
"(Yutan) has some big, physical kids with a really good run game," Klanecky said. "I thought most of the night our kids did a really good job, our kids were in position, and then I looked up and it was a 3-8 yards gain when we were right there. That just naturally stalls you out.
"But, our kids just don't give up."
And, they didn't. With a chance to ice the game on fourth-and-2 from the Centennial 35, Krajicek went to Hutton. But, this time he was stuffed by Quinn Butzke setting up the game-winning drive.
Ehlers, sharp early in throwing a pair of touchdowns to Jackson Hirschfeld and one to Reece Foreman, finished 13-for-27 for 203 yards and four scores. Senior Jake Prochaska ran for 88 yards on 15 attempts.
Klanecky, for as much credit as his loaded junior class receives, knows that much of the glue to his roster is seniors like Avery and Prochaska.
"Jake is playing on a torn ACL right now. Gavin is a 155-pound linebacker and tailback who never comes off the field, except for kickoff," Klanecky said. "That speaks for itself. Those two don't have to say anything. They lead by example."
An example on Friday, that Avery and his buddies weren't going to quit.
"They ended our season last year and we didn't forget that," Avery said. "We just tried to come out fast and finish in the fourth quarter. That's what we did tonight."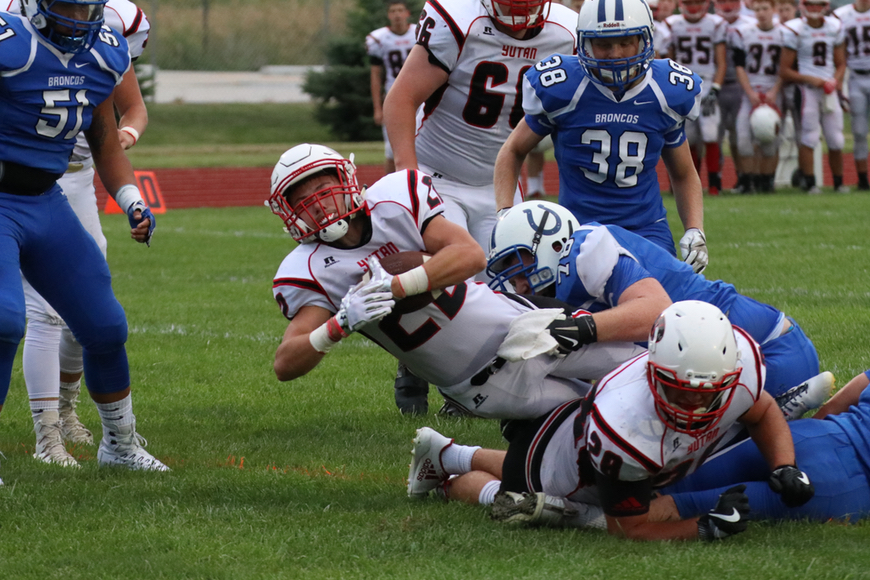 Let's Rewind
Class A
No. 4 Millard West runs past Millard North
Burke adjusts, tops Creighton Prep
Southwest, Links shine in Capital City | Links | Silverhawks
THURSDAY: Bearcat defense too much for Spartans
Class B
Moses runs wild; Storms hammers Skutt
Northwest shuts out Alliance, moves to 2-0
Class C-1
Wayne slips past BC/NG
Norfolk Catholic knocks out Lakeview
Class C-2
Oakland-Craig hangs on, beats Battle Creek
Class D-1
Big plays boost Kenesaw past Palmer