LINCOLN — The accolades have continued to roll in for the Lincoln Christian girls basketball team this season.
The Crusaders began the season at the top of the all-class rankings by the Omaha World-Herald. At 25-2, they still sit there heading into this week's state tournament.
But it's never been about the top ranking or the state title for the Crusaders this year. It's about the process of getting better and improving every time they step on the floor for practice or a game.
"This group has embraced the process," Crusader coach Nick Orduna said. "We have kind of faced a mini-state tournament already, but we won't take anyone lightly (at state).
"We will go play our best and leave the results in God's hands."
It's a field that includes worthy opponents. Second-ranked Bishop Neumann is a possible semifinal opponent. On the other side defending champion Kearney Catholic (27-0) and Mitchell (23-1) have not lost to a Nebraska opponent this season.
But, even the process has been a test for the Crusaders. They have had to learn on the fly as new pieces have shuffled in and out as they battled serious injuries.
Returning starters Mollie Shepherd and Emie Hollenbeck were lost early in the season.
Shepherd went down just before Christmas while the Crusaders were at the Nike Tournament of Champions in Arizona with a torn ACL. Hollenbeck broke her foot in the third game of the season but has returned late in the season and is fully ready for state, Orduna said.
"We kind of had to replace Mollie as a team," Orduna said. "She was such a good defender, but we really learned how to buckle down as a team and play team defense."
Without Shepherd and Hollenbeck, the Crusaders lost their first game back in Nebraska to Bishop Neumann on the Wahoo Holiday Tournament 69-67. They have won 17 straight since, including three wins over Neumann.
The Crusaders numbers pop off the stat sheet. They have attempted 1,504 field goals on 27 games (just over 55 shots/contest), have three 1,000 point career scorers in their lineup and are fifth in the nation in 3-point goals made this year. Their 275 3-point goals made is a state record.
"We like to shoot it," Orduna said. "I think a lot of times our defense has led to having good offense in transition. Everybody we out on the floor can shoot it and these girls have played a ton of basketball."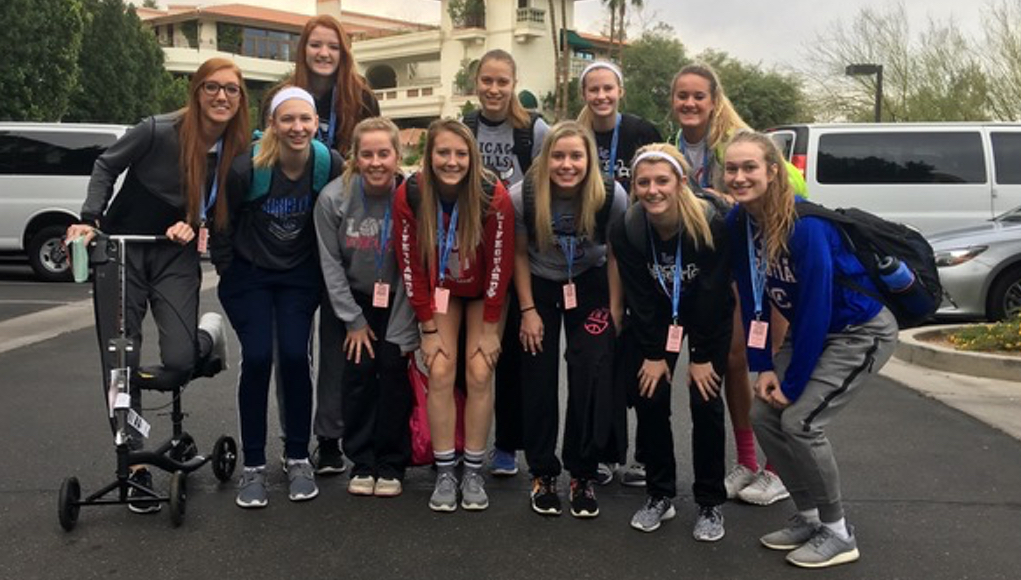 But their "glue", the coach said, is a volleyball setter. Ashlyn Power, with 11 points, three rebounds, three assist and three steal averages, does all the little things for LCS. She will play volleyball at Weber State next year.
"She is a tremendous leader on and off the court," her coach said. "Sometimes in a timeout, I just let her talk. She's very focused and driven."
A 1,000-point scorer, Power plays with two others. Juniors Chloe Dworak averages 18 points/game and Taytem Coleman scores 13.3 and leads the team with 5.9 rebounds per contest.
The duo has combined for 161 made 3-point shots on the season — not a typo — a mark that would be the 23rd best team mark in Nebraska history with games still to play.
What did coach Orduna talk about first when asked of his leading scorers? Their defense.
"They are both really good defenders," he said. "Chloe can shoot if from anywhere, but she also does a great job of creating for her teammates. Taytem does a lot of little things, she is our leader in rebounds and real long defender who is quick enough we can put her on the perimeter."
Czechoslovakia native Michelle Gaislerova has fit in well, Orduna said, with averages of 14.6 points and 5.6 rebounds in her first year in the states. She'll play basketball at North Dakota State next season.
"We had five starters back," Orduna said, "so she has been very selfless in her commitment to the team. Turned out with our injuries we needed her. She helped us through."
Gaudy numbers aside, the Crusaders are intent on seeing that process lead to a championship after finishing third in 2015 and losing to Kearney Catholic 39-37 in last year's final.
"We slipped up last year," Orduna said. "It's a really strong field this year. We know anything can happen."