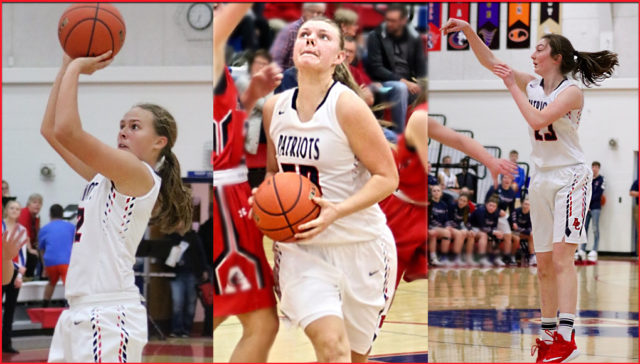 Adams Central girls basketball coach Evan Smith says the past few weeks of girls district basketball play have made his parents and grandparents older — and maybe wiser — just a little faster than they planned.

"I have had a few parents come up say these close games, have been tough on the nerves," Smith joked as his team prepared for the 2019 Girls State Tournament this week. "We have had a bunch of close games here down the stretch. But, our girls have made plays on both ends and made some free throws for us."

The 18-7 Patriots — battled tested from the difficult Central 10 Conference — have lost five of their seven contests by six points or less, but those lessons came in handy down the stretch.

In the C1-9 subdistrict, their season nearly ended in the opening round at Kearney High School when they came back in the final minute to force overtime and won 58-57. The next night, they avenged a 45-26 regular loss to Grand Island Central Catholic by holding them to three first half points in a 35-28 win.

Yes, the Patriots have hung their hat on the defensive end of the floor.

"We kind of took some of our early losses and learned from them."

Coach Evan Smith
Smith's squad is 11-4 since January 1st. Included in that stretch are four Class B wins, with one coming over state qualifier Grand Island Northwest.

"We have a great group of seniors that have led us both in games and in practice. Our practices get pretty competitive and I think that has helped us late in the season."

That group is led by forward Morgan Samuelson. The 5-foot-9 senior is averaging 14.5 points and 6.5 rebounds per contest, both lead the team. Behind Samuelson is plenty of balance, the Patriots have five other players who have scored over 100 points and play seven in the rotation.

The other senior starters are guards Hannah Lonowski and Hannah Krabel. Junior forward Kylie Dierks averages 5.7 points and 4.5 rebounds as an undersized post and the fifth starter since Christmas has been freshman Elizabeth Babcock who is the Pats second leading scorer at 8.2 points per game.