Jay Cottam had seen this before.
A playoff for a state golf championship and this time he was ready.
The Thayer Central senior watched as Lincoln Christian's Dana Van Ostrand made bogey on the final hole of regulation at Holmes Park Golf Course in Lincoln that sent Cottam, Van Ostrand and Plainview's Colin Wright into a playoff for the individual championship in Class C.
"I just wanted to stay calm," Cottam said of the playoff. "I have been there before. I just wanted to play well and whatever happened, happened."
But, it was Cottam who ended the extra golf with a birdie on the 406-yard 11th hole, the second hole of the playoff. He needed just a gap wedge from 116 yards to set up his 3-foot putt for the win.
It was a nice reversal for the Nebraska-Kearney golf recruit who lost in a playoff for the Class D championship last season and also finished second as a sophomore.
"I was a little nervous last year and this year I was just kind of used to it," Cottam said of the playoff. "I just went out there confident and knocked one close."
It took a steady-as-she-goes approach for Cottam on Thursday after his Wednesday 73 put him three shots behind Van Ostrand and tied for fifth individually. But the conditions served to his advantage on the final day.
Cottam was one of just four players better than 73 on Thursday. Wright shot 69 to join the playoff after an opening 76, Ord's Colton Zulkoski had a 1-under par 70 and Nebraska women's golf recruit Haley Thiele had 73 to finish two shots out of the playoff. Thiele and her sister, Hannah, both play on the Neumann boys team because they do not offer golf as a fall sport.
"I knew I would have to play well today and the scores would be higher," Cottam said. "I just wanted to put a bunch of pars together. I just ended up lower than a lot of kids. I'll take it today."
His thought process was right as he made 15 pars on Thursday to go with two bogeys and a birdie at the par-4 second. He made just three birdies in two days.
But it was the one that wasn't on the scorecard and in the playoff that was most important. It got him the championship he'd been working for all these years.
The McCook Master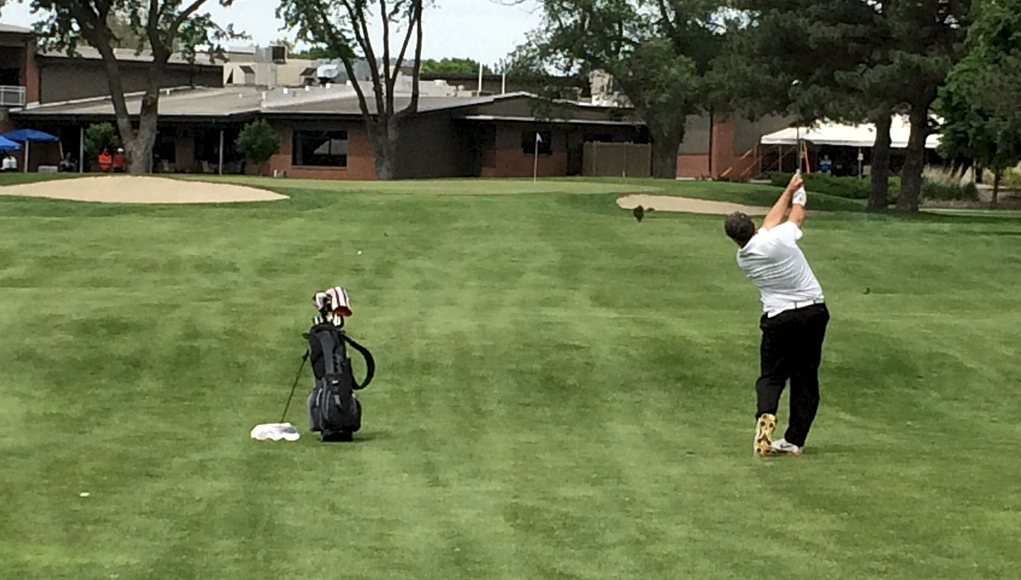 Down the road in Grand Island, McCook junior Noah Hofmann didn't have to work overtime for the Class B championship.
Hofmann was the only player at par after his opening round 72. On Thursday he moved away from the field with a second round 70 and a 2-under par total of 142 good for a three shot win over Blair's Vance Janssen.
After a birdie at the first and Janssen's bogey at the second Hofmann was three clear and had extended the lead to five shots with two holes to play after birdies at 8, 11 and 14.
"I made a lot of par putts on the front nine," Hofmann said. "I had a huge 20-foot birdie putt on 11 and that set the pace for the rest of the round."
The win capped a dominant spring for the Bison junior. He won eight of 11 meets and finished under par in six of his wins.
His formula? Listen close, kids: hard work.
"I have been putting in a lot of hours on my short game and my ball striking," Hofmann said. "You just have to put in the time, work extremely hard on your game and when you are having trouble ask somebody that can help you."
And, it leads to the best feeling in the world. At a school with rich golf tradition – the Bison have won ten state titles – Hofmann becomes just the fourth individual winner and first since 2003.
"It hasn't all quite sunk it yet," Hofmann said. "I imagine it's going to feel pretty good. It has been my whole goal since my freshman year."
Other Striv school medalists:
Class B: Caleb Badura, Aurora (T3, 149)
Class C: Hunter Quinn, Southern Valley (T9, 150); Ben Baden, Thayer Central (T11, 151)
Class D: TJ Ostransky, Fullerton (8, 164); Chase Largen, Creighton (T10, 167); Cole Wetzler, Creighton (T15, 169)