MIDTOWN, NEBRASKA'S BIGGEST CITY — Ben Holling sat in a room with orange walls and a big rug that had a cow print on it. He was ready for the biggest game of his coaching life.
Here, under the seats at Ralston Arena in the Omaha Beef locker room, the Omaha Central basketball coach wishes the story he was about to tell was just a little bit better.
He brought it on of his own free will, this Omaha Central and Winnebago pre-Christmas dream game. For that, someone should stand up and clap. Many did, there was an arena estimated crowd of 2,000.
"I wish it was a better story," he said. "I flat out cold called them in April. (Winnebago) has been so successful and we wanted to play somebody different. I asked, they said yes."
The Eagles have been a force in Class A, Nebraska's biggest class, for most of the time in this century. They won seven titles in eight seasons from 2006 to 2013, Holling an assistant on the bench for a few of those before he slid over to Omaha Burke and came back.
As for the Indians, playing in Class C, and coming from the reservation near Sioux City this was more than a dream if you are from a town of under 1,000. For the 2015 Class C-1 champions, who had a 50-game winning streak end in last year's Class C-2 semifinals, it was a chance to see where you stood.
They came in 7-0 and Jeff Berridge couldn't wipe his the smile off his face before the game. When they phone rang in April, he didn't hesitate.
"Exactly as it went," he said, when told Holling's version of events. "I know we are a small school, but when I first got the job I wanted games like this. It makes our team better, our players better, win or lose."
The story, however, was just beginning.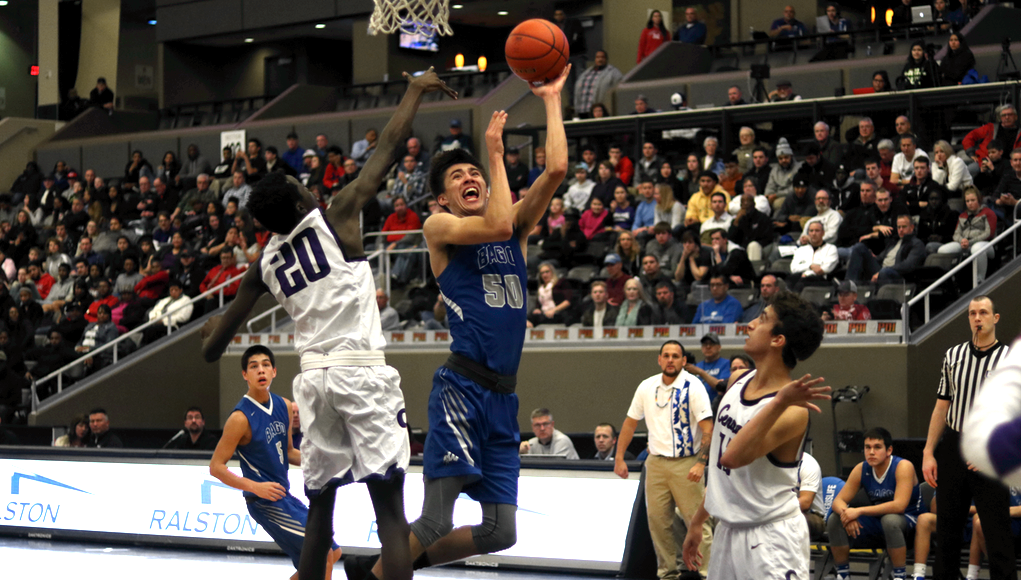 *****
They make movies about this kind of stuff. Hoosiers. Rocky. Rudy.
So, out both teams came, a combination of all them. The little guy punching with the big guy, giving him everything he had and then some. Up and down they went.
After the first quarter you knew that something special might be brewing. Central led 27-22 and the team's had already made eight of what would be 22 3-point shots. For the Eagles, it was senior sixth-man Dre Spivey who started out 5-for-5 and had 18 points before the horn sounded.
"I couldn't miss," he would say later after his career-high 31 points. "I love playing in gyms like this. The rim seems so big."
In that locker room before the game, Holling did his best Nostradamus.
"He's the best shooter I have ever coached," Holling said in that pre-game chat.
Countering for Winnebago was Cedric Blackdeer, his three 3s in the first four minutes keeping the Indians close. It stayed that way until halfway through the second quarter, when Indian point guard D'Von LaPointe was whistled for his third foul.
Bago trailed by three, 38-35, and there was just over three minutes left when he went to the bench. Central responded with a 15-0 spurt — a pair of 3s from Spivey and another from Jokrol Pal doing most of the damage — that gave the Eagles a 55-37 halftime advantage.
"They made their move when he went out," Berridge said. "He's so important to our defense and offense. It hurt us, but it's a learning experience."
Holling's unit had been getting hurt at the end of the halves. The key run on Thursday, gave him a sigh of relief.
"We've been closing out halves terribly," Holling said. "Finishing out the first half like we did allowed us the room to make some mistakes like we did the last two minutes of the third quarter."
You thought this game was over when you read that halftime score? You haven't met the Indians.
After the Eagles advanced the lead to 68-47, LaPointe, Drake Gorrin and do-everything all-stater David Wingett, who scored the most silent 40 points you'll ever see, went to work. Little by little they chipped away. They scored their next 19 points off 3-point plays: five behind the stripe (plus a free throw when Gorrin was fouled) and an old-fashioned effort from Wingett.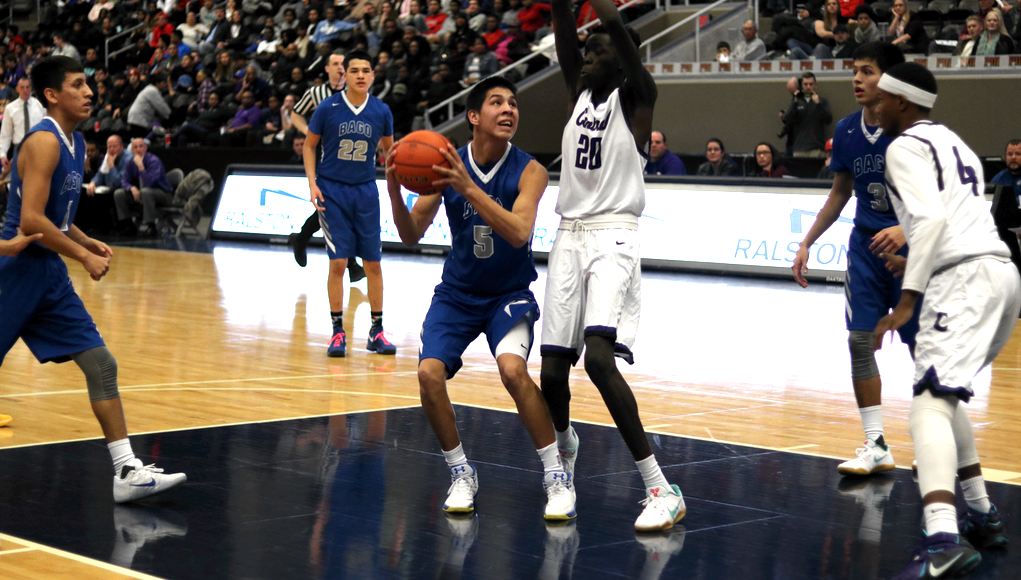 By the time the fourth quarter rolled around, Central clung to a 74-67 advantage. Winnebago fans were on their feet. This, likely, was what Holling and Berridge dreamed about. There two teams showing a state that basketball is a just a game that anyone can play on any given night.
Yeah, the movie wouldn't end like Hoosiers or Rocky where the little guy was champ. Holling had an X factor — point guard Roman Behrens, who also had 30 points — that controlled the tempo in the fourth quarter and kept the Indians just far enough away.
Omaha Central 97, Winnebago 86.
*****
Back under those seats and in the hallway as it ticked past 9:30 on Thursday evening reporters chatted to coaches and players. Had they ever been involved in a game like this before?
"It was the most fun game I have ever been a part of," Holling said. "I"m not going to say the best game, but certainly the most fun. Hands down. Whoever was at that game, I was jealous because they got to sit back and watch. It was made basket after made basket."
And, if you lost, even though you really won the in the grand scheme of things?
"That was a great game to watch," Berridge said. "Like I said before, these are the games we want. We want to play faster schools, we want to play bigger schools. It's just going to make our program better."
Wingett, a tinge of disappointment on his face took it in stride. His team was impressed with it's opponent, but also proved something to a state that wondered if "Rez Ball" could hold up under pressure.
"They played great," he said of Central. "I couldn't believe how good they shot it. I think we came and proved we have a (Class A) offense. We shouldn't have had to do, but we did. On defense, we learned some things. They hit so many transition jump shots it was crazy."
Just then, two workers came by with a cart of four water jugs used on the benches. Wingett asked the obvious.
"Is that water," he said. "Can I have some?" The drink was well deserved.
*****
Ben Holling made that phone call in April because of No. 44 in the white jersey with Central script: Isaiah Poor Bear Chandler. The 6'8 center owned the paint in this one. He was perfect from the floor (7-for-7) and scored 18 points, while grabbing a game-high 12 rebounds.
"He was the reason I made the call," Holling said of the senior, who himself has Indian heritage and will play basketball at New Mexico next year. "He's given more to Central basketball than has been asked.
"I'm not trying to be sappy, but he is the greatest human being I have ever coached. He's a gem of a kid. He wants to please you. My kids love him, he's a special kid, he really is."
Holling's dream came true. He's a fan of basketball. A promoter of the game. He found a team and a fellow coach and a town that matched that passion. Ask Ben Holling about Winnebago basketball.
"They play really hard and they play really fast," he said. "If you are at any of their games, you get your money's worth. They pack their place. It's probably how basketball is supposed to be played."
So, they put it all together on Thursday night. A big school from the city and the team that has captured the eyes of many in this state from their small town in the northeast corner. That basketball is a just a game that we all can enjoy no matter the class.
That heroes, if you look really close, can come from anywhere.
"Kids in Winnebago don't want to be LeBron James or Stephen Curry anymore," Berridge said. "They want to be David Wingett and D'Von LaPointe. They want to be our guys."
That's what made this game special. It was filled with kids living a dream. It was what sports should always be about. Better yet, we got to watch.