LAUREL — No one would have blamed Laurel-Concord-Coleridge basketball coach Todd Erwin for worrying just a little bit about the prospects of his team for the 2016-17 season.
His Bears lost one of the state's leading scorers in Dillan Wolfgram (23.5 points per game last season) and three other starters from a 17-7 team. The only returning starter was senior Jayden Reifenrath.
But, Erwin saw something in this group that has quieted some doubters.
"They have high expectations for themselves," the coach said, "and I think they have really good composure. Nothing really seems to rattle them."
So far so good for the Bears who started 9-0 with the new lineup before losing in the finals of the Wayne Holiday Tournament on December 30th. That loss to Harrington Cedar Catholic was quickly avenged in their next regular season game and now at 13-4, the Bears sit ninth in the Omaha World-Herald Class C-2 rankings.
January has, indeed, been a grind for the Bears. Losses to C-1, No. 7 Winnebago and Wayne (14-4) came early and Erwin said poor free throw shooting did them in as they lost to Battle Creek.
"But, I think the kids have responded well," he said. "We kind of want to play an up tempo game and sometimes we let teams slow us a down a little."
He makes no bones, with a little chuckle, about his next request for Nebraska prep basketball.
"We need a shot clock like South Dakota," he said.
The Bears stats back up his claim. They average nearly 70 points per contest, but haven't got out of the 50s in three of their four losses. In a region of the state where preferred tempo can be vastly different it's important for LCC.
"We want to try to get our style established early in the game," Erwin said. "We like to get the pace going a little bit. In some of the games we have lost, it's been to teams who handle the ball well with tall guards."
But there haven't been many of these for this team that features three double figure scorers led by Reifenrath at 19.2 points and nine rebounds per game. Senior Mason Forsberg adds 12.8 points and 8.2 rebounds while sophomore Izac Reifenrath (Jayden's cousin) averages 11.5 points and leads the team in steals.
"Jayden is a excellent jumper," the coach said. "He can jump out of the gym, is dunking it all the time. He and Mason make us a little taller than we have been and we can play inside, outside."
With the frontline average 31 points and nearly 20 rebounds, Erwin has a backcourt that can do a little bit of everything. Izac Reifenrath is "probably our best shooter" the coach said.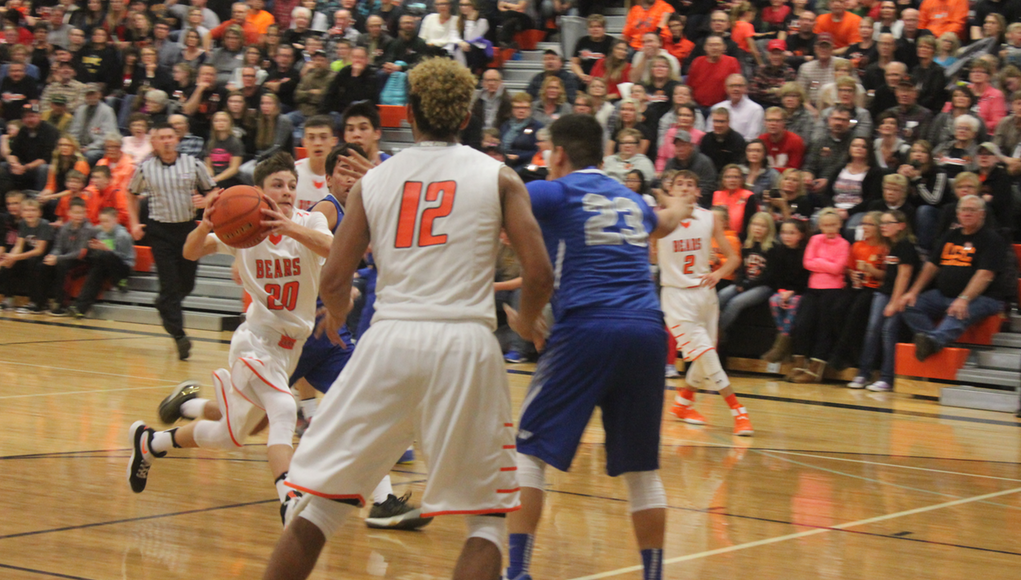 Point guard Trey Erwin, the coach's son, averages seven points and 2.5 assists per contest while DJ Spahr adds 4.5 points and 2.5 rebounds.
"Trey is our best ball handler," dad said, "and DJ is kind of that guy you need to do a little bit of everything. A good defender and rebounder and he can slash and drive to the basket."
Despite the up-tempo style they Bears top five get few breaks. Freshmen Noah Schutte (6.6 points) and Ty Erwin (2.7 points) play off the bench.
Tonight, the meat of the Lewis and Clark Tournament begins for LCC with an 8:00 matchup against Class D-1, No. 2 Walthill. A win would mean a likely semifinal with Winnebago – the top seed. Class D-2, No. 7 Wynot and C-2, No. 3 Ponca, who the Bears beat in the 9-0 start, await on the other side. You can catch LCC vs Walthill and Winnebago vs Wakefield on the Winnebago Striv Channel.
"It's a heck of a tournament and a heck of a challenge," Erwin said. "But, it's a challenge that is welcomed. Walthill shoots the ball really well. We like to think that we can play with anyone up here if we play our game."
---
Catch up on the Crossroads Conference and Central Conference tournaments last week. The Southern Nebraska Conference continues Thursday and Saturday.