Expectations are high at schools like Millard West, Aurora and other dots across the Nebraska cross country map this week. They have been gathering in Kearney the third Friday in October for as long as anyone can remember for the state cross country meet.
And, most coaches will tell you, it's experience that counts the most this time of year at Kearney Country Club.
Ask Colin Johnston, head coach at Millard West, Class A boys champions in 2015 and girls runner-up as well.
"Experience is just so big at this meet," Johnston said. "Because it's the biggest meet of the year, it can be a little bit nerve wracking."
In Aurora, where co-coach Tony Sigler has a pair of district championship teams that he'll bring to Kearney, the feeling is similar. Some of his Huskies will be running the sixth race of their career over the state championship course.
"When you are dealing with teenagers, confidence is such a big thing," Sigler said. "In other sports they talk about home-field advantage for a reason. It's the comfort and experience you have, the better you do.
"For most of our runners, we feel like we have an advantage because some of them have ran the course six or seven times."
Both teams come into Friday's meet off dominant performances in the district. At Pioneers Park on Lincoln, Millard West won 13 of the 30 medals that were handed out to the top-15 finishers in each race.
On the boys side, defending state champion Seth Hirsch cruised to a 31 second win over Omaha Westside's Milo Greeder. His time of 15:02.78 was 27 seconds faster than his state meet time in 2015.
"Everybody knows about Seth by now," Johnston said. "He has been great all season and his times just keep getting faster and faster. He has been a great leader for us."
Last year Hirsch's 15:29.3 time was the fifth fastest in meet history and this year the all time mark of 15:15 by Lincoln Southeast's Nate Nielsen is in sight. The mark was set way back in 1987.
But, Hirsch as plenty of help, too.
The Wildcats got two more top-five finishes at district with junior John Quigley finishing fourth and Andrew Dubas finishing fifth. Johnston said Dubas has worked hard to get back after spring surgery had him on the junior varsity team to start the season.
"He missed some work in the summer and had a slow start," Johnston said. "But he worked his tail off to get himself back into shape and that's been big for us."
Despite being the defending champs and having a strong district meet, Johnston said Fremont is the team to be in Class A. The Tigers put all seven runners in the top-seven at the A-3 district. Johnston said they competed against the Tigers at an Ames, IA meet and "it wasn't close."
"They got us pretty good in Iowa," he said.
Johnston think his girls, second to Papillion-LaVista South last year, have a good chance to battle the Titans for the championship this season. After near perfect team score of 19 at the district meet, the Wildcats are peaking at the right time.
"We have three girls right at the top who are really focused on our team," Johnston said. "They have gone back and forth all year leading and winning meets. They don't care who wins as long as the team does well."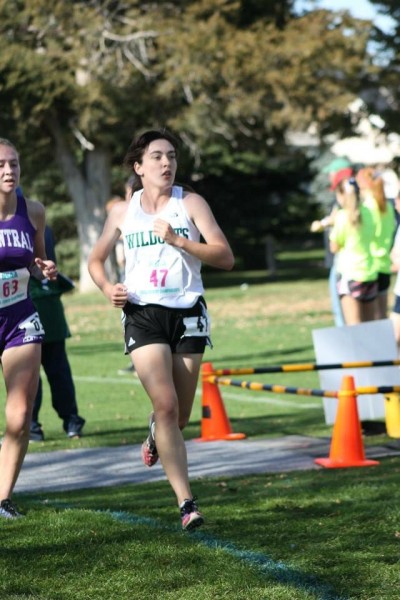 Senior Kaitlynn Johnson leads the group in experienced. She won the Metro Conference meet two weeks ago and finished seventh at state last year, but was third at the district contest.
Junior Gabi McGinn won the district meet with a time of 19:11.15 time (third fastest district time) and sophomore Abby Heffner was second. McGinn was 10th at state last year, while Heffner's story is a bit different.
"She was on the golf team last fall," Johnston said. "She was out for track and did a good job in the distance races. We were glad to get her out this fall."
In Aurora, the Huskies used their home course to their advantage in winning both the boys and girls meets.
It was a near perfect score of 11 for the Huskies on the girls side. Jonna Bart won in 19:35.10, while Kennedy Krejdl was second Emily Standage finished third. Sigler said the race in B girls could be one of the best on Friday.
"But, we aren't satisfied yet," Sigler said. "We still think our best race is still out there."
Elkhorn South scored 18 points in the B-2 and in the B-4 out west, Scottsbluff scored 23 team points. The Huskies have seen both teams, Sigler said.
"There is a reason why you run the race," he added. "Every team knows that they have put the work in. I think the girls race those three teams are kind of on an island.
"In my mind, I'll really enjoy watching the race. All three teams are maybe in the top-five or ten in the state."
Junior Grant Moody, a fifth place finisher last year, leads a boys team that has no seniors. One that Sigler hopes can crack the top-five in the team race. Moody was second to York's Luke Stuckey at districts.
"We think Grant has higher expectations for himself than the coaches do," Sigler said. "He loves the work and the grind of training and the pain involved. He really goes after it.
Races begin at 12:00 tomorrow with the Class D girls race. Other girls races will follow each half hour with the final race in Class A boys at 3:30.
Striv Schools
BOYS — Millard West, Kearney, Aurora, Syracuse, Cozad, Malcolm, Yutan, East Butler, Thayer Central.
GIRLS — Millard West, Omaha Central, Kearney, Aurora, Cozad, Malcolm, Wilber-Clatonia, Harvard.