MALCOLM — If you look at a census number, it says the population of Malcolm is 395 people. You'll find, however, a growing school district just barely west of Lincoln, though, that resides in the middle of Class C in most sports.
So, occasionally, a town the size of Malcolm might put together a pretty good team during the same sports season. Football and volleyball, you'd think or cross country, where the boys are the defending Class D champions. But, two girls sports in the same season? Surely that's out of the realm of possibility right?
Not this year. Softball coach Andrew Edwards and volleyball coach Amber Dolliver have a wealth of talent and the result has been successful so far. Dolliver's volleyball team, ranked eighth in Class C-1, has yet to drop a set in 16-0 start and Edwards, in his first season, has the Clipper softball team at 18-5 and ranked fourth in Class C.
The success, not surprisingly, comes in much the same fashion. Both coaches said their players had high expectations.
"I think our girls expected to do pretty well," Dolliver said. "So, we aren't complaining about how we have started. They are a really good group to work with and they support each other well."
Edwards, in his third season with the district but first as head coach, inherited a talented, but fairly young team as well. They took a game from eventual state champion Conestoga in districts last year, something no team at state could do.
"We had some good success last year," he said, of the team that finished 20-8. "We knew that we had a chance to be good again. As the season has progressed, I think we have leaned on each other a little more. The girls have worked together really well."
The volleyball team was 26-3 last season, but lost in the sub-district final to Lincoln Christian and missed the state tournament on wild card points. The coach said scheduling has been difficult as the school has grown. She hopes adding North Bend (15-1) who they play tonight and currently top-ranked Wahoo Neumann, who they play in mid-October, will help for postseason play.
"We went into sub-districts last year and we didn't really know what to expect," the coach said. "So, we have Wahoo Neumann in a few weeks and our game (tonight) will be a good test. I think the girls have some nerves, but I think at the same time they are ready to go."
It doesn't hurt Dolliver's cause to have a pair of NCAA Division I volleyball recruits on her side. Senior Haley Densberger (118 kills and 113 digs) will walk-on at Nebraska next season, while junior Jaela Zimmerman is a full scholarship commit to Creighton.
Dolliver said Densberger, who Nebraska thinks can be a serving and defensive specialist, can do a "little bit of everything." Zimmerman is the big swing for Malcolm at 235 kills. "She's our go-to player," the coach said.
The fun part, for Dolliver, has been seeing other players develop around Densberger and Zimmerman. Junior Gracey England is in her first year playing setter and has continued to develop. The Clippers also rely junior Brooklyn Minzel and sophomore Chloe Schumacher who both have around 70 kills on the season.
"We had two D1 players, but no setter on June 1st," Dolliver said. "So, Gracey has done of really good job of learning the position, getting the ball to the right player and playing defense as well. That's the most important role on your team. She's worked really hard."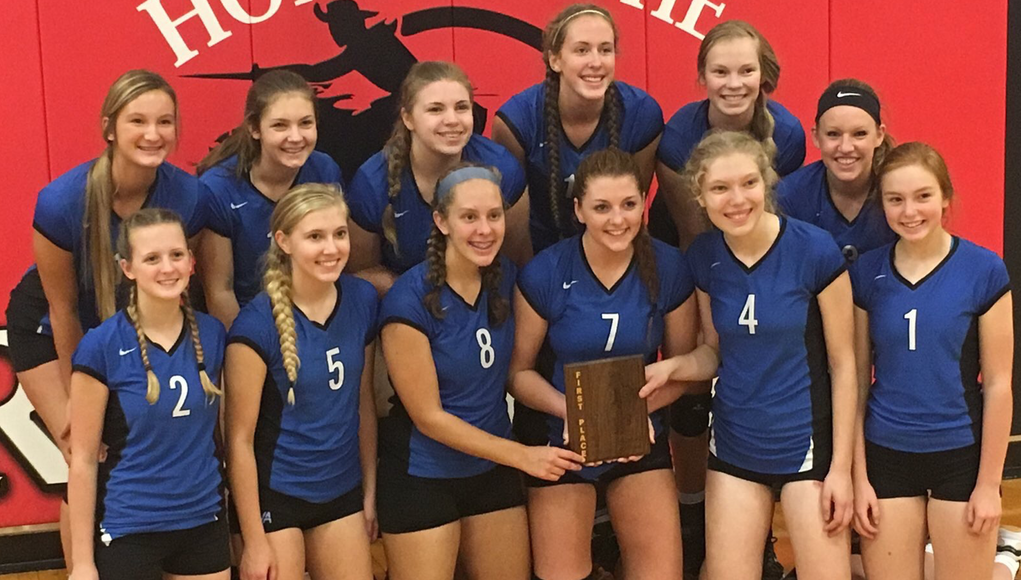 The softball team has lost little momentum from last year. Their 18-5 record heading into tonight's game with Conestoga, features just one Class C loss and that's to the defending champions. The 4-3 game earlier this season could have gone either way, Edwards said.
"A home run," he said, "was basically the difference. They got a couple girls on base and had a home run. We out hit them for the game and I think we played well. We know we can play with the best teams in the class."
The Clippers have just two seniors. Mikayla Brady plays left field and Edwards said she "uses her speed well" while batting .281 and is second on the team with six doubles. Shortstop Courtney Sandell, a Creighton softball pledge, is batting a team-leading .582 with 13 RBI for a team that's averaging nearly 10 runs per outing.
"She's our vocal leader," Edwards said. "She leads by performance and expects her best every time we play."
Sophomore Laura Reiling controls the circle with a 2.60 ERA and 96 strikeouts while she has only walked 29 batters all season.
"Laura has really improved her control," said Edwards, who co-coaches the team with Marly Christian. "I think she knows she has good defense behind her and that helps and it puts pressure on the other team when we get our bats going well."
A bunch of things have been going well in Malcolm, but Dolliver says there is just one problem. Like tonight, the teams won't get to cheer for each other.
"I know when we are home the gym is full and the bleachers are full at the softball diamond," she said. "But, sometimes, we just have to catch up the day after the game."
Not a bad trade for success.
---
Striv Standouts
SOFTBALL: Karlee Seevers, Maria McDougal, Jenny Kadavy, York. Duke threesome all batting over the .400 for the 23-3 team that is ranked 8th in the all-class rankings by the Omaha World-Herald. Seevers, a Nebraska pledge, is batting .475 and had 38 RBI while also has a .70 ERA with 210 strikeouts in 120 innings pitched. McDougal and Kadavy are batting .464 and .439 respectively.
CROSS COUNTRY: Seth Hirsch, Millard West. Senior won the prestigious Roy Griak Invitational last weekend in Minneapolis, one of the top cross country meets in the nation with a time of 15 minutes, 44 seconds.
GIRLS GOLF: Lacie Fox, West Point-Beemer and Danica Badura, Aurora. Fox, the defending champion in Class C, won the Wayne Invitational with a score of 80 and Badura, a freshman, won the Holdrege Invitational with an 83.
VOLLEYBALL: Liz Selting, Elgin Public/Pope John. Senior had 61 kills in six matches last week. For the season she leads the Wolfpack with 154 kills. The Wolfpack at 15-0 and ranked first in Class D-1.
FOOTBALL: Austin Stuhr, Heartland. Lightest load of the season for the senior, with 18 carries against McCool Junction in a 58-0 win. Still, 227 yards and touchdown runs of 64, 45 and 5 yards. Through four games, at 1,360 yards total.
FOOTBALL: Dawson Graham and Bennett Folkers, Gothenburg. Connected on a pair of touchdown passes (57 and 25 yards) as the Swedes defeated Chadron 37-20 to move to 3-2 on the season. Graham added an interception return for a touchdown.
Coaches: Want your athlete recognized as a Striv Standout or featured On the Sideline? Drop us an e-mail to tony@striv.tv or eric@striv.tv. Even better? Enter your stats into maxpreps.com and we'll go looking. We can spot a good performance if it's there for us see.