OMAHA — How was your Saturday afternoon?
You started Memorial Day weekend kind of lazy, sat on the couch, worked the social media channels, did a little shopping maybe?
Bruning-Davenport/Shickley junior Catherine Mick laughed at you.
The two-time defending Class D pole vault champion, earned her third straight title in record fashion and added a pair of championships in the 100 and 300 hurdles giving her five state track titles in her high school career.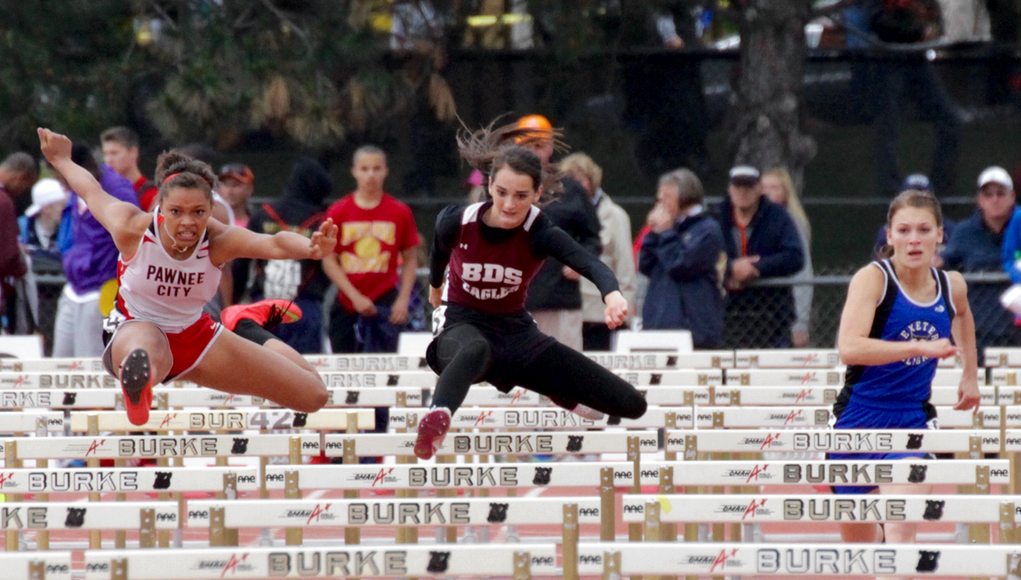 12:00: Mick enters the blocks in the Class D 100 meter hurdles. She is in lane five right next to defending champion Mariah Willey of Pawnee City. A neck and neck race the entire way, Mick edges Willey at the finish line — 15.35 to 15.38.
The result was a reversal of last year's race when Willey won with a time of 15.21 and Mick finished second at 15.58. The year of experience helped.
"Getting second in both (hurdle events) last year, just kind of pushed me to want to get that much better," Mick said. "It made me want to work that much harder and to go win it this year.
"Obviously getting older and another year stronger must have helped, too."
1:00: Warm-ups and run throughs begin in for the Class D girls pole vault. In a field that includes 22 competitors, Mick won't even enter the event for nearly an hour. Only six other vaulters will clear 10-feet, but Mick is just getting started.
At 10-feet, 4-inches, four vaulters leave the competition leaving just Mick, High Plains' Abby Collingham and Bertrand's Sydney Siekman. Siekman, clears 10-4, but bows out of the competition at 10-8, leaving Mick and Collingham to attempt 11-feet.
In the middle of a run through for a new height, she is called to the medal stand to accept her 100 meter gold medal. Later, both Mick and Collingham clear 11-feet, which is just a half-inch short of Mick's meet record from 2014.
2:55: The competition still in full swing, Mick has to leave. It's time for the finals of the 300 hurdles. With the fastest qualifying time, she is again in lane four next to Loomis freshman Skylar Hadley.
There is no need to lean at the tape this time. Mick controls the race from the first hurdle and her time of 45.39 seconds is over one second faster than Hadley who finishes second at 46.54. She wins by nearly 15 meters.
"There are a lot of people at the track meet helping me," Mick says of balancing the difficult schedule. "They would make sure I could stay at the pole vault as long as I could get a couple of jumps in before I had to go to the hurdles."
3:05: Back at the pole vault pit, Collingham won't go away. They both clear 11-4, which ties Mick's state record that she set earlier this year in Henderson at the Heartland Invitational. But, Collingham bows out at 11-8 and while Mick clears — clinching her third straight title — and she is left to continue adding to her all time mark.
3:35: After consultation with her coach and father, John, she moves the bar to 12-1, a mark inside the top-10 all-time in state history. She clears it like the bar is not even there.
3:42: With the 1600 meter relay looming, Mick raises the bar to 12-3 in hopes of getting a few attempts in before running the anchor leg of the meets final race for the Eagles. The mark would be the sixth best in Nebraska history.
She clears the bar easily, but catches it coming down. Except, miraculously, the bar bounces a few inches in the air and lands safely on the standard. She's not quite sure how it all happened.
"I went over and I felt like I was over it pretty good," Mick said. "But, when I hit it the first time, I thought it was coming off. Laying on the mat and seeing it still sitting up there was a pretty good feeling."
It was time for a hug from dad. And, one last run.
The @bds_eagles Catherine Mick has bettered her own Class D record at 12-3. Now to the 1600 relay she goes. #nebpreps pic.twitter.com/dsJ9XAKNqg

— Striv Sports (@strivsports) May 23, 2015
3:55: Mick teams with Kristin Troyer, Tristen Mosier and Courtney Kamler to run a 4:18.17 time in the 1600 meter relay. The time is just less than a second off of medal pace.
She heads back to the pole vault pit for a shot at 12-5. And, she's spent. She's not able to get a good attempt.
"After the (1600 meter relay), I was exhausted," Mick added. "I pushed myself hard in that event and I think with all my other events it caught up with me. It's been a long day."
It was that. But, a successful one. And, quite frankly, one very few athletes could have pulled off. But, Catherine Mick made it look easy.
The @TheFHSWarriors are the Class D 1600 meter relay champs! Congratulations ladies! #nebpreps pic.twitter.com/pTY2oRGIzC

— Striv Sports (@strivsports) May 23, 2015