I first laid eyes on the York City Auditorium 30 years ago this week.
January 28, 1986. The day the Challenger exploded. I watched it happen in Mrs. Ough's fourth grade class. Later that afternoon, my dad coached his first game there with the Hampton Hawks girls basketball team.
I remember it being unseasonably warm that year. Six of the 10 boys teams in the field were ranked in Class D-1 or D-2. So, just getting to Friday was a pretty special feat. Exeter was top-ranked in D-1 (it was just the third year of six NSAA classes) and McCool Junction – defending D-1 champion – was top-ranked in D-2.
There is something about 1986 that I keep coming back to 30 years later. The sports probably shaped me more that year than any other. Consider:
That was the first state tournament I ever remember attending. Specifically, watching Exeter's double title in boys and girls hoops.
I fell in love with Duke basketball and Coach K's first Final Four team that lost to Louisville in the finals.
I watched Jack Nicklaus win the Masters at the age of 46. The first sporting event I remember watching with him.
Ummm, Hoosiers.
My dad coached his first playoff football team later that fall and I was student manager (or chief water bottler chaser if he threw it) for the first time.
But, it was love at first sight in York. We'd gather with our buddies and sit in the west balcony. I mean, watching a game from behind the hoop? You didn't even care if your team was playing the basketball was so good. You got a cheap hot dog and an RC cola and you were set.
The first guy I learned to hate was Ryan Ruhl. Exeter point guard. Exeter quarterback. All-American kid. Guy who should have been born two years later so I could watch him shoot 3-point baskets.
Thirty years on, he's the principal at Norris High School just south of Lincoln. Most of what he learned started in the Crossroads Conference.
"You knew everybody in our conference," he reflected. "And, you knew every night was going to be a battle — football or basketball. You just couldn't ever take a night off.
"So after high school, it led to a great network for me. I still have so many friends from the conference."
He can still remember the 1986 roar. Dressed in suits, the place went nuts as they walked across the floor during a break in the girls final. In a few minutes, they'd play McCool for the title. Two top-ranked teams. One conference.
"The place was full and then some," Ruhl said. (As an aside, I seem to remember sitting on the stage for this one.) "The crowd was nuts; it was raucous."
The joke then was that if Exeter won the tip, Ruhl would "check his temperature." Take the ball down and fire one from the top of the key.
"I used to live there," he admitted. "But that game was insane. I don't think anybody missed a shot until about five minutes in."
McCool won that night. A classic. Later that year, Exeter won the state title by beating Beemer. McCool was upset in the district final by Polk – no need to tell you what conference they were in.
Ruhl was back just in time for the state tournament. After the finals, he had a blister on his foot pop in the locker room shower. It got infected resulting in a staph infection. He was in the hospital for a week.
"There wasn't Facebook then, but you can't believe the letters and phone calls I got from everybody around the conference," he said. "Players and coaches and parents."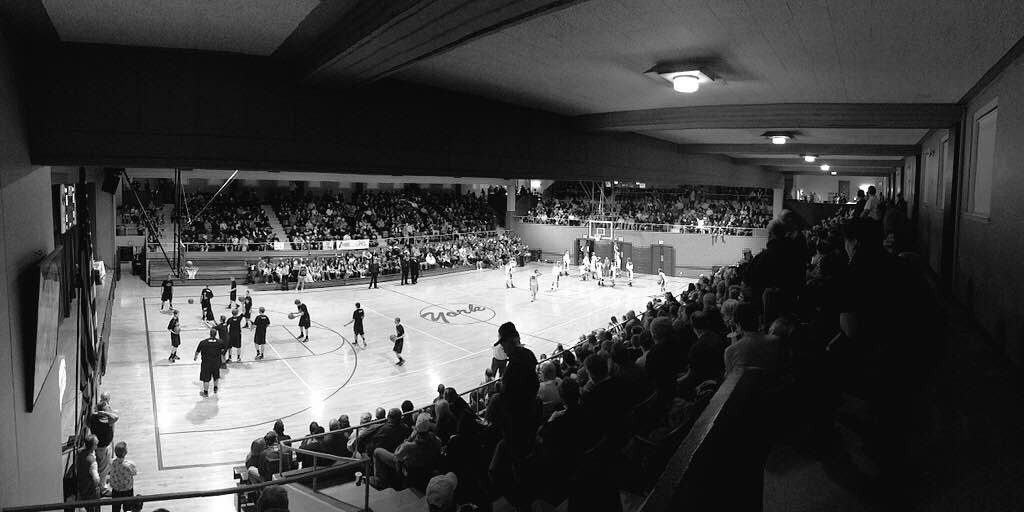 Four years later, Hampton pulled a double. I got to be on the bench for both of those games keeping stats. So many heroes in that gym for me during tournament week.
Four years after that I cut the nets down with my buddies. I even made a basket in that final game against Friend. The Bulldogs immediately went to a triangle-and-two defense when I came in. I was not one of the "two." All you need to know about my hoops prowess.
Made more memories and learned more lessons though. The net we got didn't really matter.
Trevor Hoegh was on that team. Scrawny (I'm being nice) sophomore shooter. The guy Friend hounded when I was in the game. Confident. Brash. No fear.
He played in three of those CRC finals. Won one. Coached in another and won it, guiding our alma mater to the 2010 state finals. The play never let up after all those years.
Twenty years since his last tournament, he's the elementary principal and curriculum coordinator in Yutan. Probably putting a few of those lessons and memories to good use.
"There is something about that Friday night."
Hoegh remembers it well. "The cold locker room. The people on top of you. We just loved that place."
It was mostly what you learned after you left that made it special. That most of the kids – like Ruhl said – were your friends off the field of competition.
Hoegh was a roommate with current High Plains coach Cameron Hudson for three years at Nebraska Wesleyan. They are still close friends. Hoegh was quick to relate a story from earlier this summer of a playing in a tee-ball league with his son and talking to a conference mate from Friend. One we had beat in 1994.
"It's a small world out there," Hoegh said. "I think anyone you talked to about the tournament would say they enjoyed the same things: the competition, the friendship, the sportsmanship. It is a tight knit conference."
What did all your players – he was an assistant on Syracuse's 2001 title team, in addition to coaching Hampton to the 2010 final – and current students learn from that tournament, I asked.
"You'd answer that better than me," he fired back. So I thought.
As a dad who has girls involved in many team activities you'd want them to learn everything I learned at the York City Auditorium.
That sports can teach you things. That you should try to make your teammates better. That relationships and those experiences matter.
"That you work hard," my old teammate interrupted. "That the team comes first. And, when you struggle, someone might pick you up."
All those things will be on display in the New Deal gym built just after the Great Depression this week. Six teams are ranked – three boys and three girls. So, the basketball won't change much from 1986 or 1996.
The names are a little different now – Tegtmeier, Young, Mason, Mick – but, the lessons are the same. That's the story that goes on in the final week of January in York.
"I always tell our kids," Ruhl said, "that high school sports are the best show in town. You can make a difference. For us, now and then, the whole town showed up. That's what makes it great."
It will be great in York again this week. Do yourself a favor. Go watch. You just might learn something.
---
Have a favorite CRC memory? We'd love for you to share it with us! Post on our Facebook page, tweet us @strivsports, or use the hashtag #CRCBB16. We'll compile your thoughts and share them throughout the week, ending with our live stream of the third place and championship games on Friday beginning at 3pm.