The gym at Johnson-Brock is filled with a little different kind of volleyball player than there is at most "big schools" this time of year.
Sure they are friends on and off the court just like most places. But the standouts — some of them anyway — may not have played a rigorous club schedule during the summer. They were doing other things.
Team camps and weights, sure. But, 4H and leadership trips to Washington, DC were also part of the summer for seniors Brynn Westenburg and Katilynn Simon.
"They are just great kids to coach and to lead our team," J-B head coach Tera Stutheit said. "They are so active. And they were busy this summer so they did some things to help motivate their teammates even when they couldn't be here with us."
Stutheit knows they are a nice nucleus to build around as the Eagles embark on their quest for a third consecutive state championship in Class D-1. Simon will be a four-year starter and Westenburg is entering her third year as the J-B setter.
Little has changed on the goal list for 2017, Westenburg said.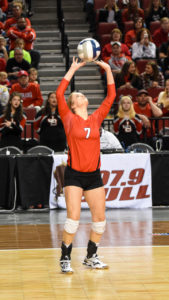 "We lost two seniors from last year and we'll have to work hard as a team to be able to replace them," Westenburg said. "But we have had a great summer, working hard in the weight room and going to team camp."
Stutheit says Westenburg is the unquestioned leader of her team, who set the Class D-1 record for assists in a season last year.
"She is our floor captain, there is no doubt about that," coach Stutheit said. "She's a hard worker and she's level- headed."
Simon, who plays middle blocker, is a six-rotation player that is receiving recruiting interest as a defensive specialist in college. She had 301 kills and 44 blocks in 2016.
"We moved her to middle last year and it wasn't an easy transition for her," Stutheit said. "But she is such a natural athlete and we needed her there. You can really tell that she is starting to enjoy it.
"She has just always done what the team needs her to do."
Juniors Fallon Stutheit — a Nebraska walk-on commit — and Mattie Nichols also provide returning starting experience. Stutheit set a class record with 539 kills as a sophomore.
"All these girls have really been playing together since third grade," coach Stutheit said. "It's been fun to watch them grow up together and play together and see their friendships develop over time."
Heading into another schedule that is loaded with top southeast Nebraska teams, coach Stutheit knows that the Eagles will have to be sharp from the beginning of the season which begins tonight against Nebraska City Lourdes.
J-B has used the schedule to their advantage the past two seasons qualifying for state as a wild card each time. It is something that has turned into a bit of a team joke amongst team members as the Eagles lost to both of their championship game victims (Diller-Odell and Meridian) in district final games.
"It's kind of this laughable thing now," Stutheit said. "But the schedule is really tough again this year. The Pioneer Conference is always good and I think Class D-1 in general plays quality volleyball."
Westenburg is ready for one final round of volleyball fun with her teammates. Her best friends.
"We have been playing together — all of us — since third grade," the setter said. "Back when we all had knee pads that were way too big.
"We have set high goals as a team and we are working together to achieve them."