LINCOLN — Emerson-Hubbard's climb to the top is finally complete.
After qualifying for the state tournament the three previous seasons — finishing fourth in 2013 and 2014 — the Pirates held off a furious Howells-Dodge rally for a 41-38 win the Class D-1 championship Saturday morning at Pinnacle Bank Arena.
"This is a storybook thing, don't you think," Emerson-Hubbard coach Troy Haberman said. "I mean, you can't get much better than that."
The Pirates six seniors had qualified for the state tournament each year of their high school careers, and last year were knocked out by Howells-Dodge in the first round, 55-43.
"We have a resilient team, and it's a game of swings," E-H coach Troy Haberman said. "Sometimes you get a run in and sometimes not. We told them to just hold in there and we didn't get down to awful much.
"Our girls really don't worry. And, I could see in the back of their mind that we were just going to get this thing done."
E-H led 20-19 at the half on the heels of an Ashley Bokemper 3-point basket at the buzzer, but then Howells-Dodge went to work after the break. Sam Brester scored six quick points and added a Macy Kulhanek 3-point shot to bolt ahead 28-22.  
Then, things went south for Howells-Dodge. They missed 11 straight shots as the Pirates went on a 14-0 run for a 36-28 lead with just over 6:00 left in the game.
"We were on 28 for a long time," Howells-Dodge coach Scott Polacek said. "Finally we got a couple of stops and a couple of rebounds and that shows the kind of guts are team has."
Down 39-30, the Jaguars nearly climbed all the way back. A steal and basket from Kulhanek and a 3-point basket from Chelsea Bayer cut the lead to 39-35. Brester scored to cut the lead to 39-37 and later made a free throw to cut the lead to 39-38 with just over a minute left.
A single free throw from Payton Blanke gave E-H a 40-38 lead and with 17 seconds left set up Howells-Dodge with a chance to tie or win. Polacek drew up a play for Brester, but Abby Dreiling came up with a steal, was fouled and made a free throw for the final margin. Kalli Brester's 3-point shot at the buzzer was long.   
"We had a play drawn out and (Abby) made a great play," Polacek said. "But, she's one of the best players in Class D-1 and that's what they do. If they are number one, we are probably one-and-a-half. We have been following them all year. It's been a war between two great programs."
Blanke, Dreiling and Bokemper each scored 13 points for Emerson-Hubbard (28-1). Sam Brester had 19 points and 15 rebounds for Howells-Dodge, which ended their season 21-7. Bayer had seven points.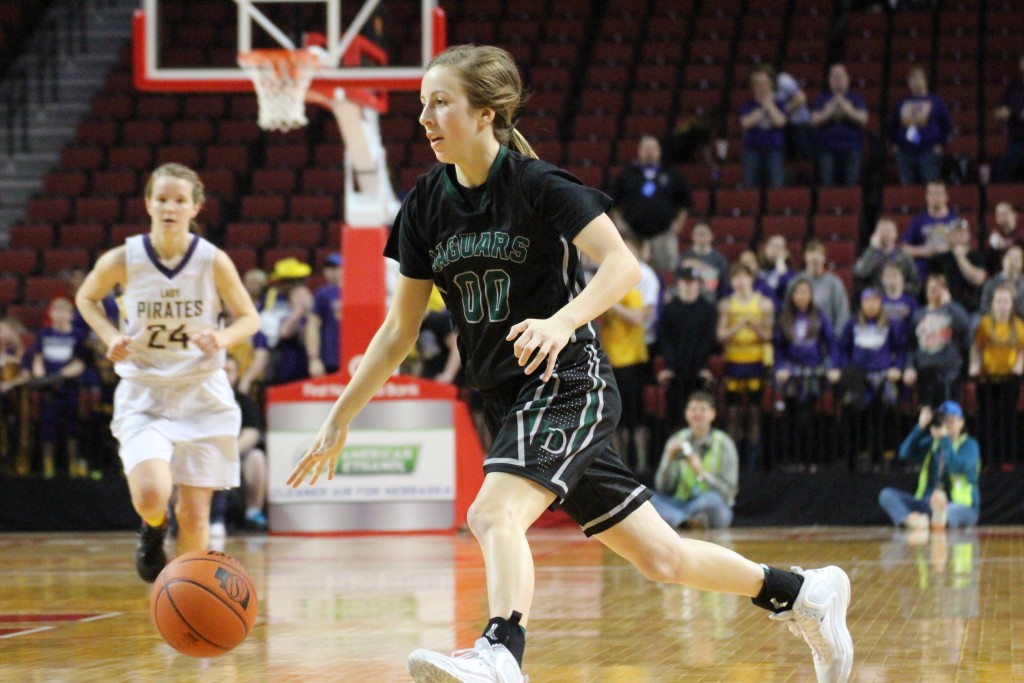 Polacek was proud of the effort he got from his team after they lost to Fullerton in the sub-district final and qualified for state as a wild card.
"When the wild card was invented, that was a beautiful thing," Polacek said. "We had a lot of heartbreaks when there wasn't a wild card. We live in northeast Nebraska and there is some really good basketball up there.
"Our regular season schedule was really tough with all C-1 and C-2 schools. We obviously deserved to be here."