GRAND ISLAND — Besides the state meet in Omaha, the track athlete from the "little school" rarely gets a chance to showcase their talent against athletes from larger schools.
For 25 years, the Grand Island Independent has given central Nebraska athletes that chance at the Central Nebraska Track and Field Championships in Grand Island.
And, Monday's meet at Northwest High School was an opportunity for a pair of Class D athletes to wow the crowd as Riverside's Alix Bloom and Fullerton's Brent Wetovick took home meet athlete honors as given by media and coaches input.
It was the first time in the history of the event that both honorees were from Class D schools. Both athletes said the jump in competition — and near perfect weather — fueled their personal best performances.
"It was amazing," Bloom said after nipping Northwest's Karsen Sears in the 200 for her third gold of the day. "Just an awesome day. You feel like no one is really expecting anything from you, and then today, it just came out perfect."
Bloom was a thorn in Sears side all day. After Sears had won athlete of the meet honors last year, Bloom took the 100 (12.58 seconds), the 200 (26.12 seconds) and the long jump at 17 feet, 2 ½ inches. All were personal bests.
"Overall I think this was a picture perfect day for Alix," Riverside coach Jeff Schwartz said. "She came out and set PR's in all three of her events on a big stage. All of her marks were pretty amazing, but for a girl who doesn't like the 200, I felt that was the most impressive one overall.
"Hopefully this gives her the confidence she needs going into the end of the year."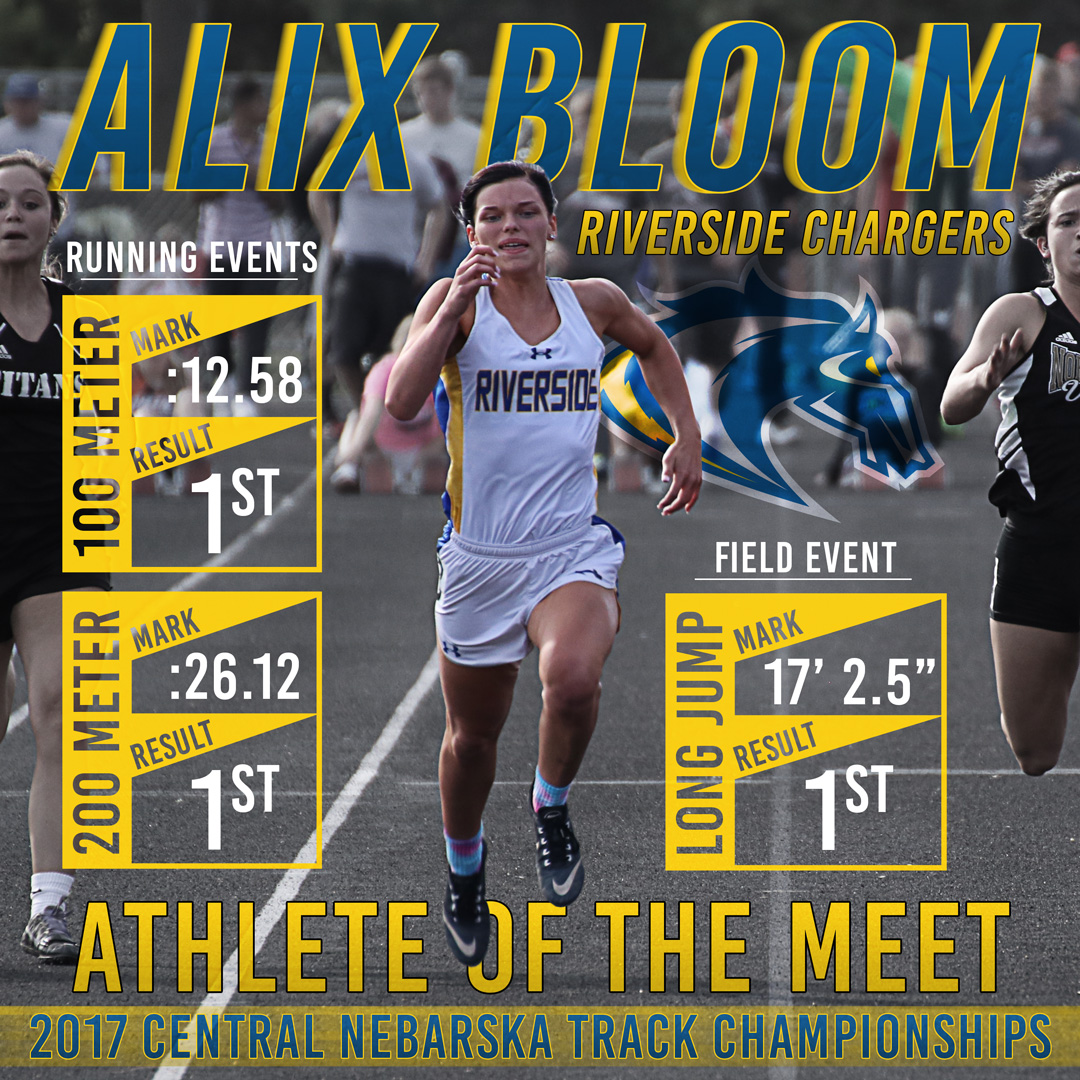 Wetovick was equally impressive dominating the 400 in Fullerton school record fashion. His mark of 49.76 broke a 47-year old school record and one that coach Ryan Haughton said Wetovick has been looking at for awhile.
"He's had his eye on that thing since elementary school," Haughton said.
Now, the sophomore still has two more years to better the mark and catch all-time area leader Cody Rush who competed at Nebraska.
"There is nothing like it to be able to come out in front of a big crowd like this and get that 400 I have been itching for for so long," Wetovick said. "It felt great, it was a perfect day to run."
Then, Wetovick did what any sane person would do after a fast race. He threw up.
He had just enough time to run a personal best in the 800 at 2:00.05 and pulled away from the field once again. Later, he added a sixth place finish with teammates John Wetovick, James Lesiak and Riggs Patton in the 1600 relay to end the night.
"I am always excited for this meet," Wetovick said. "This is a big meet — this one and state and districts — are what you train for."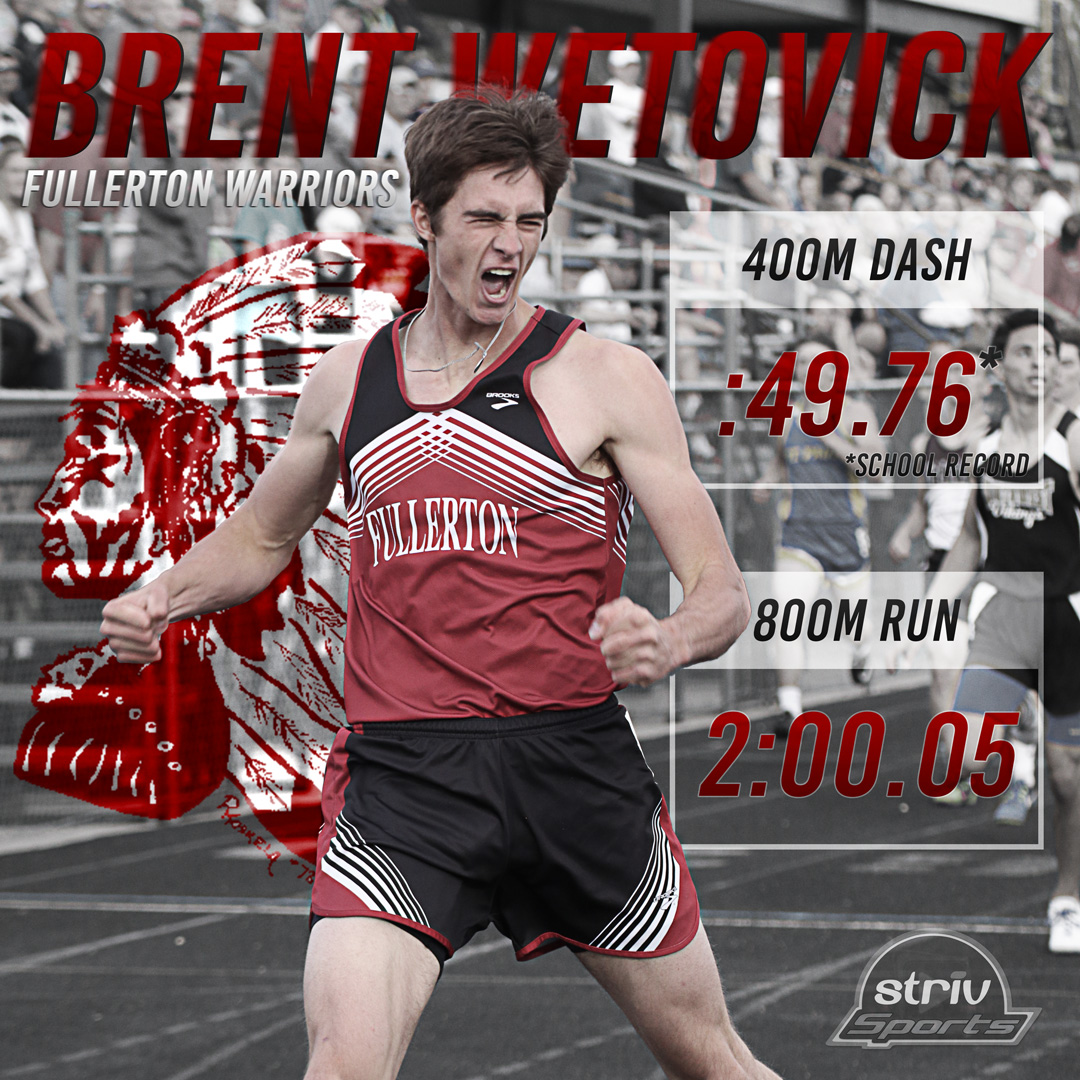 Overall, Striv athletes won 11 girls events (10 on the track) and 12 boys events. Other individual double winners included: Dalton Peters of Aurora in the shot put and discus and Vincent Ohlman of Central City in the 100 and 300 hurdles.
On the girls side, Aurora won the 3,200 relay for the sixth meet in a row with a record time of 9:40.83 beating Central City's 2004 mark. Team members were: Kennedy Kredjl, Emily Standage, Adyson Narber and Jonna Bart. Bart added a win the 3,200 run as well for the Huskies.
---