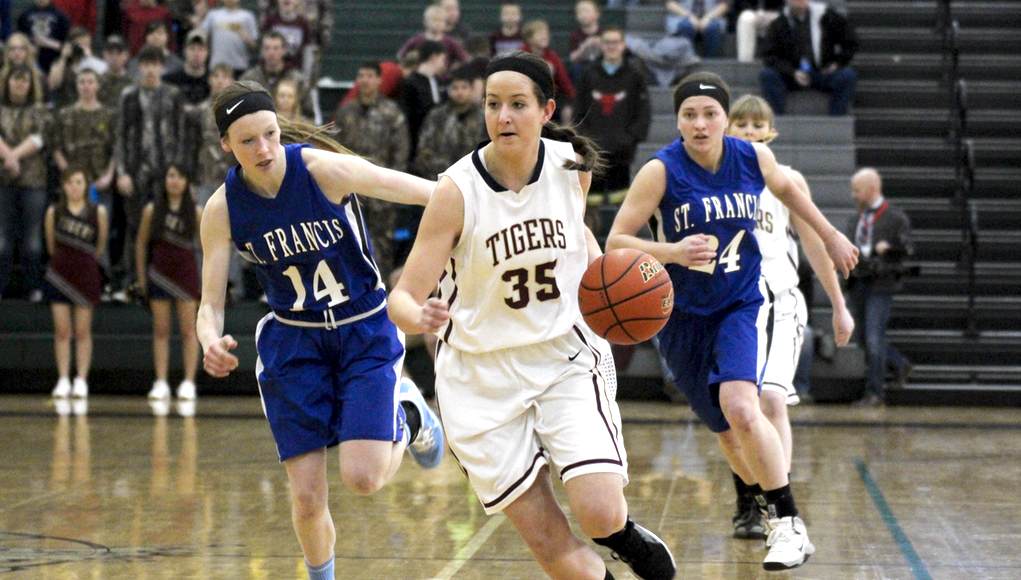 LINCOLN — Kaylee Burke's left hand got her in plenty of trouble for top-ranked Dundy County-Stratton in the first round of the 2015 Girls State Basketball Tournament on Thursday.
It also saved the day.
Burke, hampered with three reach-in fouls in the first half and multiple turnovers against fourth-ranked Humphrey St. Francis' press, made a free throw with 1.7 seconds left for a 59-58 Tiger win that advanced DCS to tomorrow's 9:00 AM semifinal at the Devaney Center.
The @dcstigers win it in OT 59-58 over HSF to advance in the Class D-1 GBB State Tournament.
#nebpreps
pic.twitter.com/9OcKmrCtzM

— Striv Sports (@strivsports)
March 5, 2015
"She was nervous," Tiger coach Nathan Behlke said. "She is very fast and we just have to calm her down. It was kind of fitting that she made that shot. She's been a saving grace for us."
St. Francis had the ball in a tie game with 16 seconds left and in the huddle after a Flyer timeout, Behlke called the play that the Flyers used to set up their game winner. "We went through that play in practice and we thought we'd have a chance to have to sweep the ball from behind," Behlke said of the steal that came with just under five seconds left.
"We were fortunate enough to get that steal." On the run-out, Burke was foul and hit the first of two free throws for the win and after her miss on the second shot, Faylee Sanford intercepted a Flyer pass that sealed the Tigers' first state tournament win in school history.
It didn't look good for the Tigers when Morgan Bender made a pair of free throws for a 58-55 lead with 55 seconds left. But, Nicole Kent scored on a three-point play that tied it and which set up the final basket.
Kent led the way for DCS with 18 points.
[soundcloud url="https://api.soundcloud.com/tracks/194471163″ params="color=ff5500&auto_play=false&hide_related=false&show_comments=true&show_user=true&show_reposts=false" width="100%" height="166″ iframe="true" /]
Norfolk goes Hickory
In what has to be the most unlikely win in state tournament history, Norfolk got 34 points from Jaycee Bradley in a 46-37 upset of top-ranked, unbeaten, defending champion Omaha Benson.
The Bunnies led just once at 33-32 in the fourth quarter, but then Bradley took over from the free throw line and helped the Panthers pull away.
The final moments of
#TheUpset for
@npspanthers over Benson, 46-37.
#nebpreps
pic.twitter.com/Bn4uVoOnM1

— Striv Sports (@strivsports)
March 5, 2015
Quick Hits
– In second-ranked St. Mary's 75-73 win over defending champion Friend, the Bulldogs broke their own dubious record for most points in a state tournament loss. The previous record was 66 set in 1990. The 148 points was also the most combined points in a D1 game in tournament history.