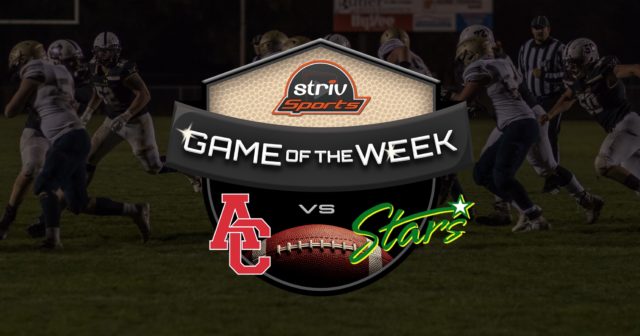 The playoffs — and positioning for the state football playoffs — begin a few weeks early for Adams Central and Kearney Catholic when they meet in a key district matchup on Friday night in the Striv Sports Game-of-the-Week.
For the Patriots, 5-2 and ranked sixth in Class C-1, they are working to make next Friday's game with Cozad a winner take all district final. A balanced offense comes with coach Shawn Mulligan's team. They average 394 yards per game with Evan Johnson passing for 201 yards per contest and Gabe Conant running for 135 yards a game. Senior Landon Weber leads the defense — which has pitched two shutouts — with 60 tackles.
The Stars have lost three straight since a 3-1 start but a win against AC could keep them in the playoff hunt. Senior Linden Howe is running for 106 yards per game and the Stars play two quarterbacks — junior Kamden Schwartz has thrown for 625 yards and sophomore Heinrich Haarberg has thrown for 427.
Watch the game LIVE on the Adams Central Striv channel here.