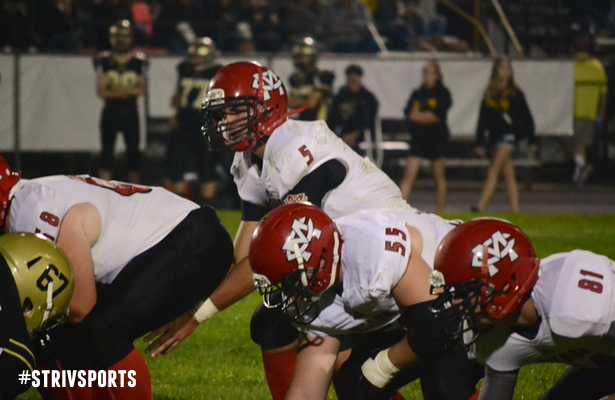 I'm no football genius by any means, but I'll make a stab at McCook playing a whole bunch of football in November this year. The Class B, third-ranked Bison play an excellent brand of defense and had Grand Island Northwest handcuffed from the start on Friday night.
It led to a 45-0 dismantling of the Vikings as the Bison moved to 2-0 heading into a showdown at Scottsbluff next Friday. The Bearcats are also 2-0 after a 49-34 win over Hastings last night.
McCook has not missed the playoffs since 1999 and it's likely they won't have any issues this year either. They held Northwest's spread attack to just 160 yards on Friday night. The Vikings crossed midfield three times, once in the first half while the Bison went ahead 24-0.
"Our kids have got to the point where they get mad if the other team is gaining yards," McCook coach Jeff Gross said after the game. "They know if the other team doesn't score, we can't lose."
On Friday, the Bison played without quarterback-linebacker Colton Sis who suffered a knee injury last week against Alliance. Gross thought he would be out for possibly two more contests. Junior Caleb Sheets filled in just fine, throwing for 107 yards and a pair of scores as the Bison racked up 357 total yards.
"We really though Colton and Caleb would share snaps this year," said Gross, who is not a stranger to the two quarterback system. "Colton really is a leader for us on defense; we had no hesitation with Caleb playing quarterback tonight."
Sheets best play may have not been in the passing game, but on the Bison's first touchdown when his dive fake on the option to fullback Spencer Powell was so good that the entire Northwest defense thought play was over as running back Trevor Matson walked in from 11 yards away on the pitch.
Matson, a 200 pound senior bruiser, had another 147 yards on Friday. He had 111 by the end of the first quarter. It's likely we'll see the Bison again soon. In Aurora perhaps? First things first.
Let's Rewind
Defense ruled the roost for Omaha North and Omaha Central, which beat Papillion-LaVista 43-3, on Friday.
But, the rest of Class A was a suggestion: Creighton Prep, Millard North and Bellevue West all won shootout's.
Crete shutout Seward in the second half for a 20-17 win.
Lincoln Pius bounced back from a 2OT loss to Gretna with a thumping of Benson.
Norfolk Catholic is playing defense, too. Two straight shutouts for the Knights.
Wahoo Neumann has outscored two opponents by three points. Still unbeaten. Norfolk Catholic is next.
Ashland-Greenwood sends Syracuse to an 0-2 start.
Class C-2, top-ranked Battle Creek pulled away from No. 7 Oakland-Craig in the second half.
Hemingford states case out west — routs Twin Loup, 60-22.
Parting shot
A pair of 0-2 teams close to our heart, Syracuse and Millard West have lost four games to four ranked teams. Two 8-man games did not disappoint last night in Crossroads Conference land. High Plains' late comeback against West Point GACC fell just short in a 42-38 loss and BDS held off Blue Hill 30-23. All four of those teams were ranked in the preseason.